Marvel fans worried if Avengers: Endgame will live up to their anticipation can rest easy, because the movie is among the best in the entire franchise, according to many of the early reviews.
The film, which is officially released on Friday, currently holds an astonishing 97% rating on the review aggregating website Rotten Tomatoes.
"Exciting, entertaining, and emotionally impactful," the website summarized. "Avengers: Endgame does whatever it takes to deliver a satisfying finale to Marvel's epic Infinity Saga."
One of the most rousing reviews came from the Guardian, which gave the film a five-star rating.
"I have to admit," wrote critic Peter Bradshaw, "in all its surreal grandiosity, in all its delirious absurdity, there is a huge sugar rush of excitement to this mighty finale, finally interchanging with euphoric emotion and allowing us to say poignant farewells."
Associated Press reviewer Jack Coyle was a touch less excited, but still gave it 3/4.
He called Endgame "generous in humor, spirit and sentimentality" and declared it (with, perhaps, a light spoiler!) "a surprisingly full feast of blockbuster-making that, through some time-traveling magic, looks back nostalgically at Marvel's decade of world domination."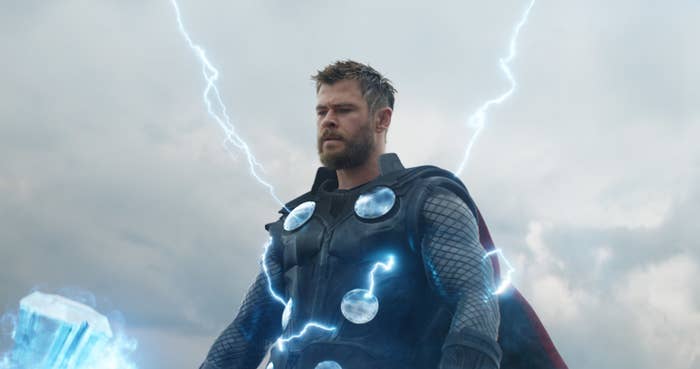 Fans have been aching to find out what happens next for the superheroes since the release of 2018's Avengers: Infinity War.

In that film's shocking final act, villain Thanos (Josh Brolin) acquired all six Infinity Stones and turned half the population of the universe — including 50% of the Avengers — into cosmic dust with a snap of his fingers.
Bringing the series to a conclusion, Endgame promises to deliver plenty of fan service with a running time of a whopping three hours — by far the longest film in the Marvel Cinematic Universe.
"It's a different kind of movie [than Infinity War], I would say," screenwriter Christopher Markus told BuzzFeed News.
But his writing partner, Stephen McFeely, promised the film was "equally ambitious."
"It's a story that honors 21 other movies, a dozen characters, and tries to honestly finish most of their stories," McFeely told BuzzFeed News. "...It was a big undertaking. And I think once people see it, they'll hopefully have an understanding of what it took and whether or not we hit the mark."
Many critics certainly seem to think they did.
"Oh, what a going-away party these old friends have thrown for themselves," Washington Post critic Michael O'Sullivan declared.
Metacritic, another aggregator website, counted dozens of "generally positive" reviews."

Among them was Richard Roeper with the Chicago Sun-Times, who said it was "a serious contender for the crown" of the best film in the MCU franchise.
"They saved maybe the best for the end," he wrote.