Turkey Is Trying To Connect The Ankara Assassination To A US-Based Cleric
The body of Ambassador Andrey Karlov arrived in Moscow on Tuesday, a day after he was shot dead by a gunman in a Turkish art gallery. Turkish authorities do not believe he acted alone.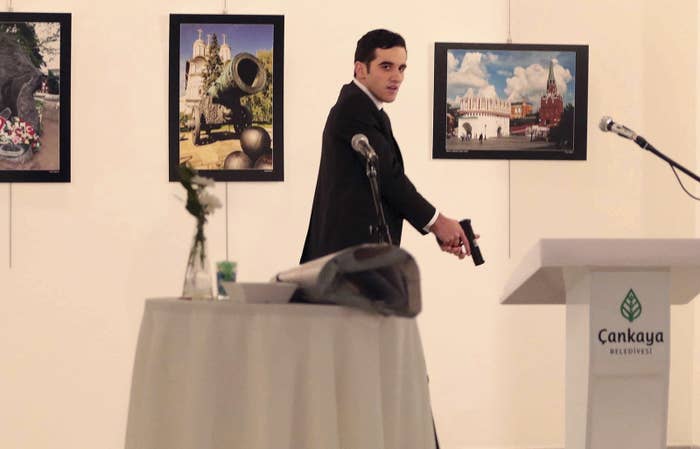 Authorities on Tuesday continued to investigate whether the gunman who assassinated Russia's ambassador to Turkey acted alone, as Turkish officials moved closer to formally blaming the incident on a US-based cleric.
Ambassador Andrey Karlov's body arrived in Moscow on Tuesday, a day after he was shot dead while attending an exhibition at an Ankara art gallery by a man authorities have identified as Mevlut Mert Altintas, a 22-year-old riot police officer.
Three others were injured in the attack while the assassin, who was filmed screaming that the shooting was retribution for Russia's involvement in the Syrian civil war, was subsequently killed by special forces.
However, Turkish foreign minister Mevlut Cavusoglu on Tuesday reportedly told US Secretary of State John Kerry that supporters of Pennsylvania-based cleric Fethullah Gülen were behind the assassination, state-run Anadolu Agency reported, citing diplomatic sources.

A State Department readout of the call confirmed that Kerry and Cavusoglu had spoken by phone, but did not say whether the Turkish foreign minister had mentioned Gülen.
Turkish authorities have urged the US to extradite Gülen after blaming him for orchestrating a failed July coup, but he has denied any involvement.
Gülen has been in the US since 1999, when he fled following charges that he was attempting to undermine the Turkish state. After a 2013 falling out between Gülen and the government of Recep Tayyip Erdogan — currently the nation's president and the prime minister at the time — state officials have worked to blame many of the country's major ills on the cleric or his followers, whom they call the Fetullah Terrorist Organization, or FETO.
Deputy Prime Minister Numan Kurtulmuş also appeared to to try to link the ambassador's murder to FETO on Tuesday, saying that officials had warned after the botched coup that the cleric's supporters would commit "dirty acts."
"Turkey has been under attack since July," Kurtulmuş said.
An unnamed senior Turkish official told the Associated Press the attack was well-planned and "fully professional, not a one-man action."

But video from the ambassador's murder showed the gunman yelling repeatedly about Syria war and the humanitarian crisis in Aleppo, while making no mention of the Gülen movement.
Representatives for Gülen did not immediately respond to requests for comment, but the cleric on Monday condemned "in the strongest terms this heinous act of terror."
"No terrorist act can be justified, regardless of its perpetrators and their stated purposes," he said. It is the expectation of the Turkish people and the world that the government investigate the circumstances of this incident, identify those who aided the perpetrator and take the necessary precautions so that such an attack cannot be staged in the future."
State Department spokesman John Kirby told reporters Tuesday that Kerry did raise concerns with Cavusoglu about "some of the rhetoric coming out of Turkey with respect to American involvement/support, tacit or otherwise, for this unspeakable assassination."
Kirby described as "ludricous" and "absolutely false" claims that Washington was somehow involved in the assassination because Gülen resides in the US.
Police have meanwhile arrested and questioned six of Altintas's relatives, as well as his roommate, according to Anadolu.

Among those detained is the shooter's uncle, who the state-run news agency reported was the director of a school linked to Gülen.
"The incident must be investigated thoroughly," Deputy Prime Minister Kurtulmuş told reporters Tuesday, according to Anadolu. "[We] are focusing on the person and connections behind this incident."
Eighteen Russian investigators also arrived in Ankara on Tuesday to begin their own investigation of the ambassador's murder, Anadolu reported, and have visited the museum where he was killed.
Following an autopsy performed by Russian experts, Karlov's body was taken to Ankara's airport at a ceremony attended by mourners, including the ambassador's widow, who wept over his coffin.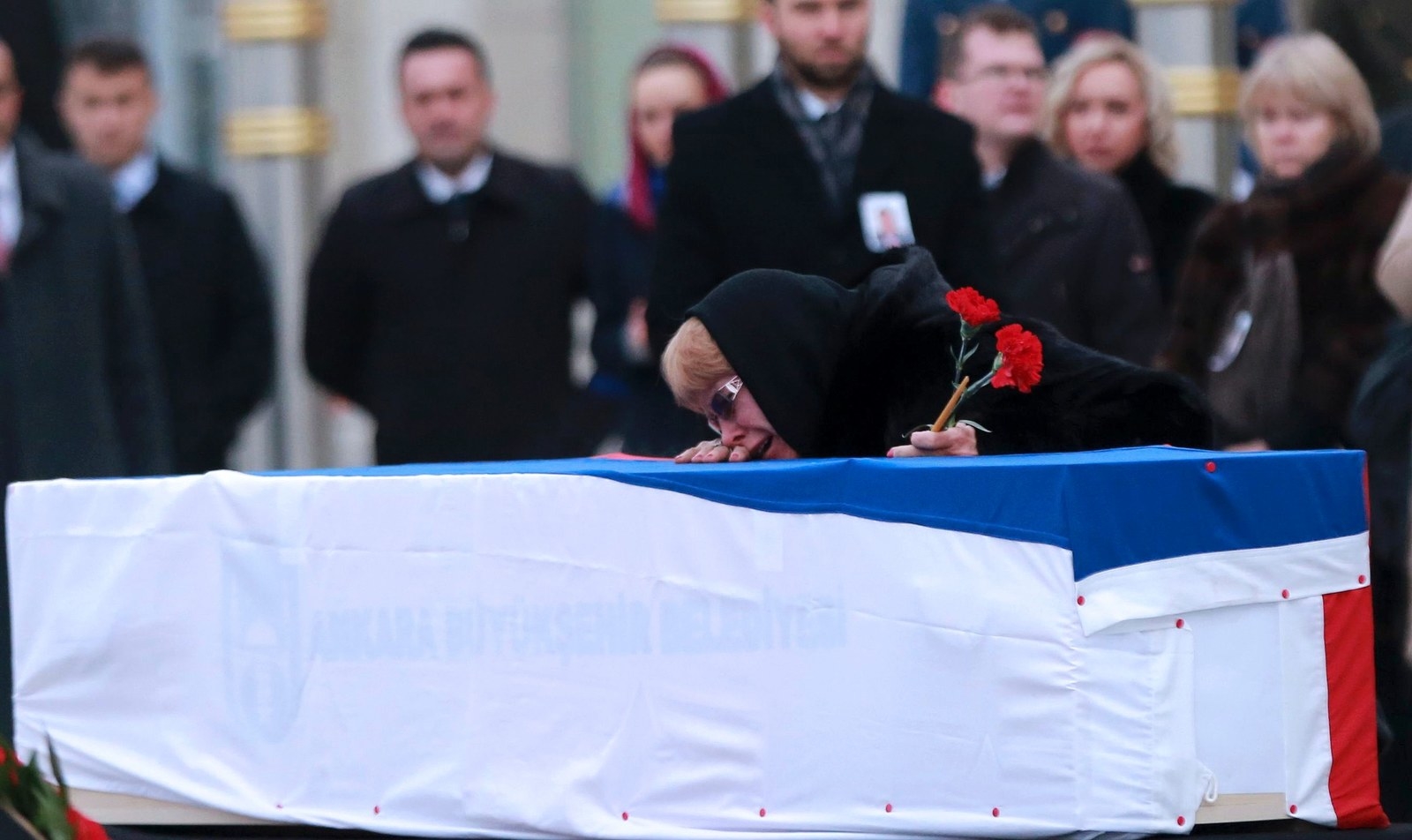 An honor guard of soldiers carried the coffin, draped in the Russian flag, as it was loaded onto a Moscow-bound plane, touching down in the Russian capital later on Tuesday.
Turkey also announced Tuesday that the art gallery where Karlov was killed and the Ankara street where the Russian embassy is located will be re-named in his honor.
Kerry spoke by phone on Tuesday with his counterpart in Moscow, Sergey Lavrov, to offer his condolences, the Russian foreign ministry said.
Lavrov has been inundated with condolences, the ministry said, but was busy on Tuesday meeting with Turkish and Iranian foreign ministers to discuss the Syrian crisis.
In a joint statement following their meeting, the three ministers said they were convinced there could be no military solution to the Syrian conflict.