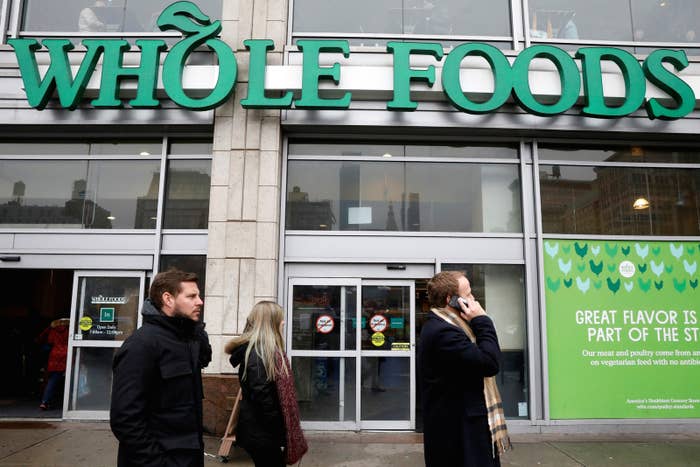 Amazon sent a shockwave across the retail industry on Friday, announcing it would buy Whole Foods in a $13.7 billion deal.
The combination of a high-end supermarket chain and the US's dominant online shopping business looks set to wreak havoc in the grocery industry, where big chains are already struggling with low profit margins and the creeping power of Silicon Valley.
The deal gives Amazon a physical foothold in hundreds of the country's wealthiest urban areas and a heavily trafficked testing ground for its experiments in physical retailing. Last year the company released details of its plans to roll out high-tech convenience stores, where sensors and image recognition technology replace checkouts and allow customers to simply pick up items and walk out the door.
Stocks in major US food retailers began tanking soon after the deal was announced. By midday, shares in Kroger were down 11%, and Wal-Mart stock was down 5%, wiping away more than $10 billion from the market value of the world's largest retailer. Shares in Costco and Target were both down about 6%.
It's a brutal scenario for the rest of the industry. Whole Foods, with 460 stores in the US, Canada, and the UK, will now have access to technology its competitors can only dream of — as well as the financial backing of the world's fourth-largest company, and one that is famous for its willingness to slash profit margins in its relentless quest to gain customers.
The news was also received with trepidation by some in the labor movement, who said they feared for the future of the Whole Foods workforce.
"Amazon's brutal vision for retail is one where automation replaces good jobs," said Marc Perrone, the president of the United Food and Commercial Workers union. "That is the reality today at Amazon, and it will no doubt become the reality at Whole Foods."
The supermarket will continue to operate stores under the Whole Foods brand, the companies said. Its headquarters will stay in Austin, and John Mackey will remain as CEO.

"Whole Foods Market has been satisfying, delighting and nourishing customers for nearly four decades – they're doing an amazing job and we want that to continue," said Jeff Bezos, Amazon founder and CEO, in a statement.
"This partnership presents an opportunity to maximize value for Whole Foods Market's shareholders, while at the same time extending our mission and bringing the highest quality, experience, convenience and innovation to our customers," Mackey said.
The deal is subject to approval by Whole Foods shareholders and regulators but the companies expect to finalize the acquisition by the end of 2017.
This is a developing news story. Check back for updates or follow BuzzFeed News on Twitter.
Cora Lewis contributed to this article.