It's about two and a half hours southeast of the White House, but a little field in Croaker, Virginia, is now home to some very presidential figures.
The farm belongs to Howard Hankins, who salvaged the giant statues from an open-air "Presidents Park" that closed in 2010. Hankins was supposed to destroy the concrete heads, but instead he offered to give them a new home.
"They called me and wanted to know if I would come down there and crush [the heads] and haul them away," Hankins told the website DCist last year. "I said, 'Heck no, can I have 'em? I'm going to preserve them.'"
Here's what the statues used to look like in their former home in Williamsburg, before the Presidents Park museum went bust.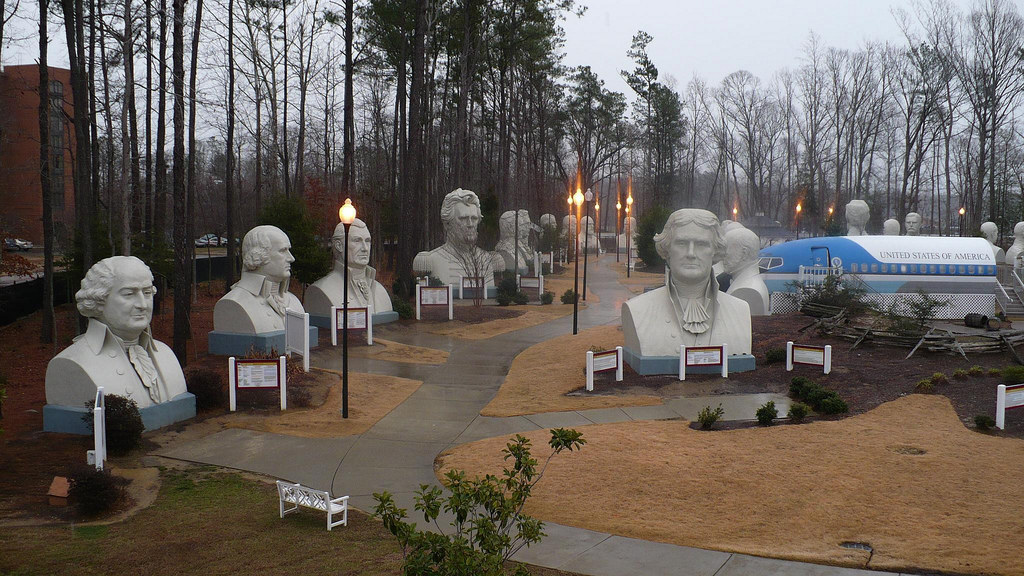 Speaking to Smithsonian magazine last week, Hankins estimated he spent around $50,000 moving the sculptures, which each weigh between 11,000 and 20,000 pounds.
The busts had to be broken in the neck and at the top of their heads in order for a crane to load them onto a truck that transported them to the farm 10 miles away.
There the former presidents have sat ever since, exposed to the elements that have left them weathered and cracked in a sort of ghost town Mount Rushmore.
Photographer David Ogden visited the property, and his stunning pictures were recently featured on the @abandonedearth Instagram account.
Now, Hankins is working to raise money to restore the busts and rebuild the museum.
He started a Facebook page to publicize the project.
"Plans include a new facility with exhibits featuring an Oval office, Presidential transportation, The White House, First ladies, a secret service and covert ops area and other Presidential documents and memorabilia," he wrote.
He hopes the museum will benefit the community and serve as a more fitting home for the presidents.