A college supporter of Bernie Sanders used a speech at a Hillary Clinton rally in Iowa on Saturday to blast the Democratic candidate as someone who is more concerned with billionaires than students.
Kaleb Vanfosson, who identified himself as the president of Iowa State University's "Students for Bernie" club, was among the speakers to address the crowd before the Vermont senator spoke on Saturday.
But instead of backing Clinton like Sanders has done, Vanfosson used his remarks to assail her for her ties to banks.
"She is so trapped in the world of the elite that she has completely forgotten what it's like to be a normal person," he said to a scattering of both boos and cheers.
"She doesn't care! Voting for the lesser of two evils, there's no point!" he said.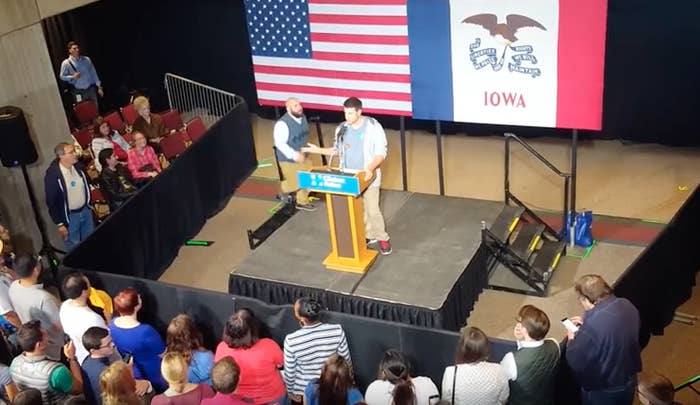 The student was then escorted off the stage by one of the event's organizers, as people clapped.
Sanders' endorsement of Clinton in July following his primary loss irked many of his most passionate supporters, who view her as too close to corporate America.
Vanfosson told local NBC affiliate WHO-DT he had planned to use his speech to show he was "still angry."
"They were wanting me to be this puppet boy that they could use to show that hey, Bernie people are bowing down to the establishment now, we're all good," he said, "but we're still angry, we're still tired of this system of oppression that we live under and I knew I had to do it the moment I got the call."
A Twitter account that appeared to belong to the student posted also defended his actions, making clear he thought Donald Trump was also "terrible."
"Donald Trump is terrible too, just in case that wasn't clear when I called him a bigot in my speech," read one tweet.