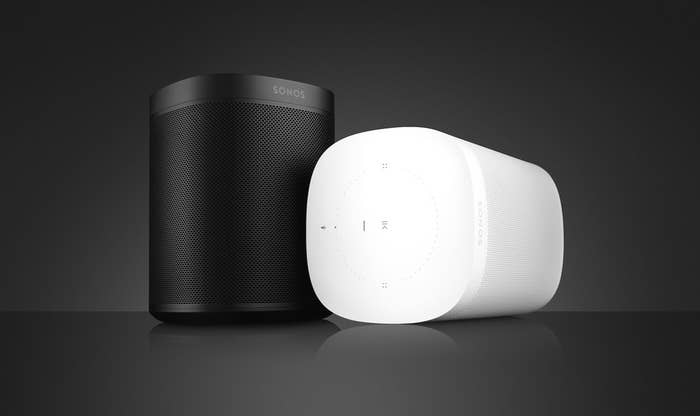 Sonos, the wireless speaker company, was a pioneer in its category before tech giants like Amazon and Google came along with their own voice-controlled speakers for the home. The competition cut down Sonos sales, and the company struggled to remain relevant. But now, Sonos is making its catch-up strategy clear: if you can't beat em, join em.

Today at an event in New York City, Sonos unveiled a slew of partnerships with its competitors. It announced that Alexa would be the first voice assistant available on its wireless speaker products (via a beta software update for Echo and Echo Dot users in the US, UK and Germany). It launched its first Alexa-enabled smart speaker, the Sonos One, for $199. It said it would support Apple's Airplay 2 by 2018, letting Apple device owners control their Sonos speakers using the built-in voice assistant Siri. Also by 2018, Sonos said, it plans to integrate Google's voice assistant. Sonos speakers now even support 80 music services, including Spotify, iHeartRadio and Tidal, plus smart home integrations like SmartThings.
"That's our goal: to build a sound platform for the home," CEO Patrick Spence said at the event. "A platform for the 'sonic internet,' that just works."
For Sonos, the announcements have been a long time coming. The company first said that it was working on bringing voice control to its speakers in August, and the move came on the heels of Sonos reportedly laying off staff and refocusing its efforts on software improvements.
While Sonos initially built a healthy user base off the popularity of its networked wireless speakers that let people stream music throughout their home, the home speaker market has evolved, spurred by the popularity of Amazon's Alexa-enabled Echo. Nowadays, the ability to ask simple queries of a voice-enabled speaker at home is the norm, and the threat was that Sonos would get left behind. In 2016, Google came out with its own device, the Google Home, and the company is expected to unveil a new version of the gadget at its Pixel 2 event in Mountain View, CA, today. A few weeks ago, Apple announced a $349 HomePod speaker, which is slated for release in December.
Now, Sonos seems to be saying, you don't have to choose which platform or service to be locked into (or out of). You can enable them all.