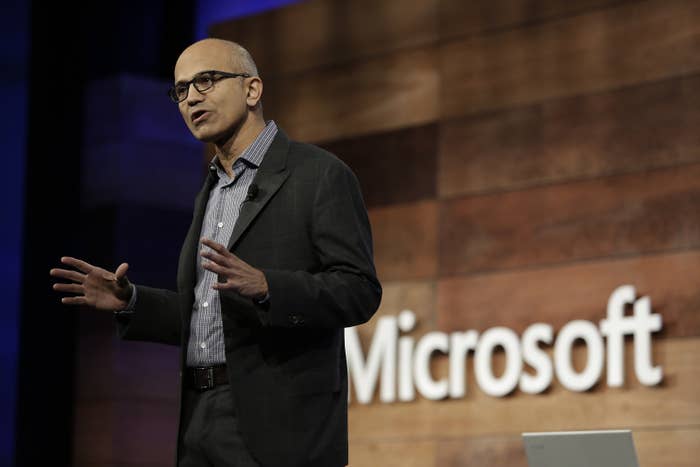 Microsoft deleted a section of a January 2018 blog post in which the company said its Azure cloud software has a role in enabling the US Immigration and Customs Enforcement (ICE) agency to deliver services like "[accelerating] facial recognition and identification" with the help of deep learning AI, BuzzFeed News has learned. After questions from BuzzFeed News, the company put the section back online.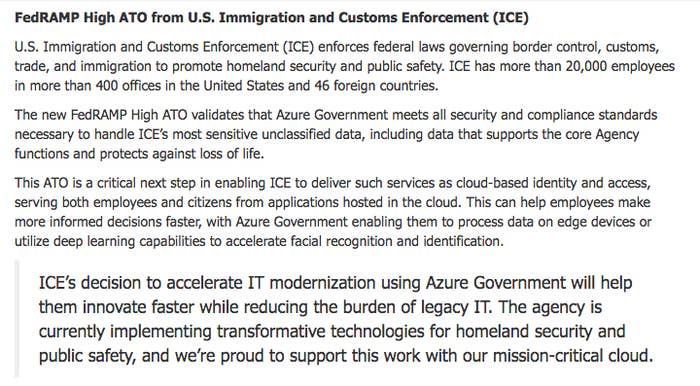 When viewed at 9:50 a.m. PST this morning, the blog post included a section that said Microsoft's government-specific cloud platform, called Azure Government, "meets all security and compliance standards necessary to handle ICE's most sensitive unclassified data, including data that supports the core Agency functions and protects against loss of life." In February, Microsoft made the formal announcement that its Azure Government cloud platform received Authority to Operate (ATO) designations from both the US Air Force and ICE.

"The agency is currently implementing transformative technologies for homeland security and public safety, and we're proud to support this work with our mission-critical cloud," the post reads.
The post goes on to say that the Azure Government software enables ICE employees "process data on edge devices" or "utilize deep learning capabilities to accelerate facial recognition and identification."
Then, as of 10 a.m. PST, the section was missing from the blog post, though it could still be accessed via an Internet Archive link.
Microsoft then replaced section of the blog post shortly after it was taken down. A Microsoft spokesperson told BuzzFeed News, "An employee briefly deleted the blog after seeing commentary in social media. This was a mistake and as soon as it was noticed the blog was reverted to previous language."
Microsoft told BuzzFeed News that it provides broad platform technologies like Azure to many of its customers, one of which is ICE. The genesis of the blog post was the fact that Azure had received an Authority to Operate certification but, according to the company, the blog post would not have been worded in the same way had it been written today.

"As a company, Microsoft is dismayed by the forcible separation of children from their families at the border," a company spokesperson said in a statement.

Though Microsoft's Azure cloud software does include capabilities like facial recognition, natural language processing and image recognition, and these services are available to ICE, the company said it does not believe the services were being purchased or used by ICE on anything to do with separating families at the border.