UPDATE
Two days after BuzzFeed News published this story, Facebook said it decided to take down the offending post.
"Our Community Standards set out what we do and do not allow on the platform. While the original post did not violate our policies, our investigation showed that a large volume of the comments associated with the post did violate," a company spokesperson said in a statement. "We don't want content on Facebook that encourages and creates opportunities for abuse. Based on the large quantity of violating comments shared in response to this post, we have removed the original post and all associated comments."
Facebook says a post by a widely followed Filipino influencer winking at a possible firing squad execution for Sen. Antonio Trillanes IV, a vocal opponent of Philippine President Rodrigo Duterte's bloody war on drugs, does not violate its rules on hate speech and violent content. The post, which has more than 100 comments calling for the senator to be executed, electrocuted, skinned alive, and fed to army ants, remains up, despite the company's stated commitment to keeping its community in the Philippines safe.

"Just cremate Trillanes alive."
Specifically, in the Philippines, Facebook says it is building better safeguards against "bad content." It says it is partnering with experts to increase digital literacy. Facebook says it knows it "didn't focus enough on preventing abuse or thinking through all the ways people could use the tools on the platform to do harm." And in a lengthy blog post today, Facebook CEO Mark Zuckerberg once again promised to mitigate the divisive messages and misinformation that have spread so widely on the site.
Yet the company told BuzzFeed News the post that's inspiring calls for violence against Trillanes does not violate its Community Standards. And so it remains — with 12,000 reactions, nearly 3,000 shares, and more than 1,200 comments. Here's one: "Can we just shoot him now and explain later?" Here's another: "Just cremate Trillanes alive." (Facebook deleted a handful of comments after BuzzFeed News inquired about the post.)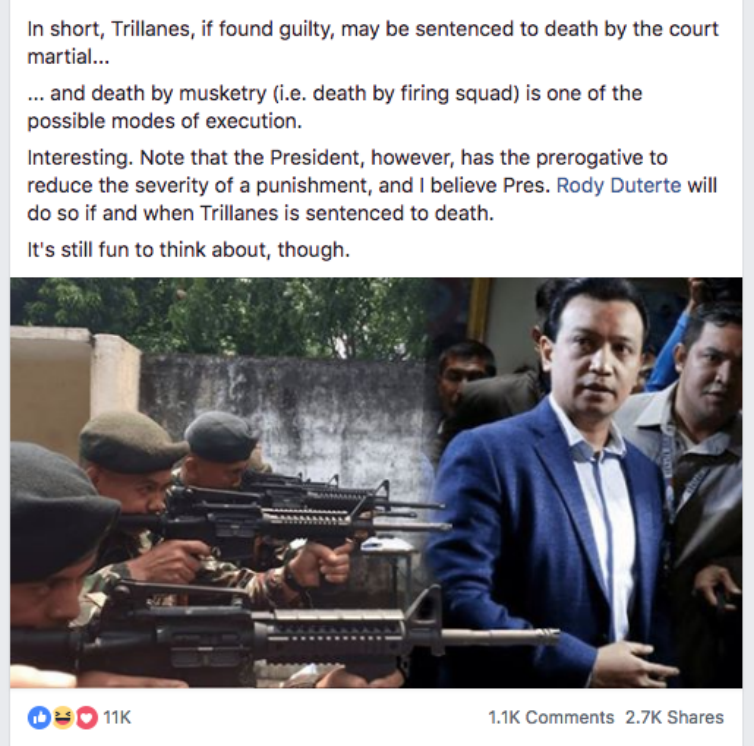 The post — and the threatening comments it's prompted — illustrate Facebook's particular dilemma in emerging internet markets like the Philippines, where political discourse is polarized and contentious. It lives in a troubling gray area. It's not quite violative of Facebook's Community Standards. It's not hate speech or harassment. But it's clearly a substrate — or a dog whistle — for both. In many ways, it's a perfect example of Facebook's ongoing failure to balance its convenient free speech ideals with the hate, abuse, and incitement "at scale" that its platform has birthed. And for the Philippines, it's just further proof that the company was not and is not prepared for the information war it helped create.

"This is exactly the sort of expression that Facebook amplifies — and yet Facebook denies its power."
"These posts are clearly detrimental to the political culture of the Philippines, the prospect for effective democracy in the Philippines, and someone's life and safety," said Siva Vaidhyanathan, a professor of media studies at the University of Virginia. "This is exactly the sort of expression that Facebook amplifies — and yet [Facebook] denies its power."
Even if the post doesn't violate Facebook's current community standards, "that doesn't mean these standards are effective or good for society as a whole," added Jennifer Grygiel, a Syracuse University professor who studies social media. "And now that political leaders and governments around the world have gotten used to abusing Facebook, Zuckerberg will be pressed to allow this type of harmful content to remain on the platform, or face expulsion from operating in places such as Myanmar and the Philippines."
Trillanes's arrest has been looming since last week, when Duterte withdrew a 2011 amnesty granted to the senator for his involvement in three failed military coup attempts protesting official corruption. Duterte ordered the Philippine military to detain him and so, for the past few days, Trillanes has taken refuge in the Philippine Senate building to avoid what he says he considers an illegal arrest.
And on Facebook, a mob of Duterte's online supporters has gathered in pro-Duterte groups and pages to enthusiastically call for Trillanes's imprisonment. RJ Nieto — a pro-administration influencer with 1.3 million followers — went further.
"A firing squad for Trillanes?" Nieto, who goes by the moniker "Thinking Pinoy," wrote on Sept. 5 on Facebook. "Trillanes, if found guilty, may be sentenced to death by the court martial … Death by firing squad is one of the possible modes of execution."
"The President has the prerogative to reduce the severity of a punishment, and I believe [Duterte] will do so if and when Trillanes is sentenced to death," he continued. "It's still fun to think about, though."
A review of more than a thousand comments on the post reveals it to be a hive of invective; BuzzFeed News counted more than 100 comments that directly called for violence against Trillanes.
"Can he face death by army ants instead?" asked one commenter, whose reply garnered the most likes — 637 of them — and which Facebook removed after receiving questions from BuzzFeed News.
"Skin him alive first, then get his nails one at a time, then pour some alcohol over his body then pluck his teeth one at a time… That must be exciting!" said another. The reply had 85 likes; Facebook also removed this comment. BuzzFeed News sent Facebook four violent comments as examples of potentially hateful speech.
While Facebook took action against the four comments, it left Nieto's post untouched. The company explained that while some comments violated its credible violence policies, the post that inspired them did not. Facebook did not provide a rationale for this determination.

"Facebook has this bizarre idea that it has some responsibility to protect violent hate speech because it might, under some complex parsing of the grammar, not directly call for violence against this specific person at this specific time," Vaidhyanathan told BuzzFeed News, noting that as a private company, Facebook is under no obligation to do so. "Facebook has decided it has to bend over backwards to [fulfill] this commitment to a diversity of voices."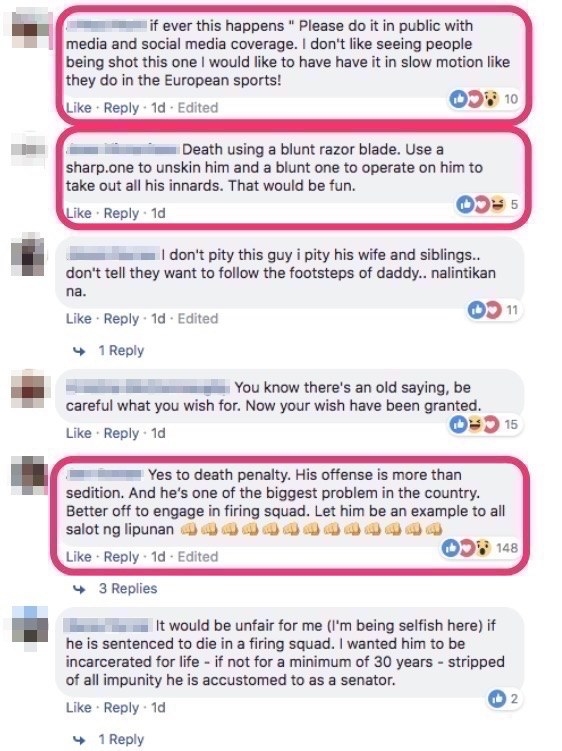 Last November, Facebook partnered with the Duterte government to build a submarine cable system that would connect Philippine internet systems to the rest of Asia and the US. (Officials reportedly denied to disclose how much Facebook invested in the system.) The social network has also been available to anyone with a smartphone for free in the country since 2013, thanks to deals the company struck with local carriers. For many in the Philippines, a persistently poor nation, Facebook is the only way to access the internet — where partisan political propaganda has become native on the platform.

"Facebook has become the best possible platform for authoritarian and nationalist movements to spread threats and terror against those who would stand up for democracy and human rights," Vaidhyanathan said.
The political issue with Trillanes is not the first of its kind in the Philippines. In February 2017, the government arrested Sen. Leila de Lima, an outspoken opponent of Duterte, following a spate of false news and propaganda on Facebook seemingly meant to damage her reputation. A former human rights commission chief, de Lima had investigated Duterte for his alleged involvement in extrajudicial killings in Davao, a city in Southern Philippines where Duterte had previously been mayor for three decades. De Lima has now been in jail for over a year, despite outcry from international human rights groups over what they consider a politically motivated detention.
And in November, nearly two dozen pro-Duterte Facebook pages and websites shared the fake news that Chief Justice Maria Lourdes Sereno, another Duterte critic, tried to leave the country to escape the impeachment complaint filed against her. In May, she was ousted by fellow justices from the Supreme Court on government charges that alleged her appointment by Duterte's predecessor was legally flawed.