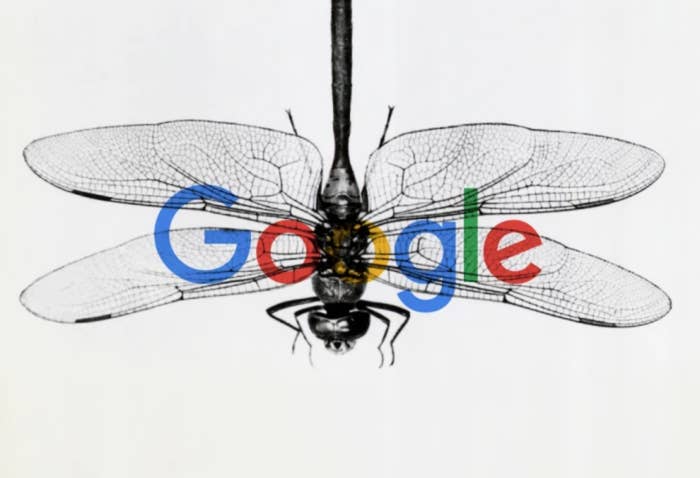 In a letter published Tuesday morning, Google workers, along with the human rights nonprofit Amnesty International, openly asked their bosses to cancel a project called Dragonfly, a controversial censored search app for the Chinese market.
"Our opposition to Dragonfly is not about China: we object to technologies that aid the powerful in oppressing the vulnerable, wherever they may be," the Google employees said in their letter.

A spokesperson for Google said the company had no new comment on the workers' letter, but pointed BuzzFeed News to a previous statement: "We've been investing for many years to help Chinese users, from developing Android, through mobile apps such as Google Translate and Files Go, and our developer tools. But our work on search has been exploratory, and we are not close to launching a search product in China."

Most Google employees only learned of the secretive program Dragonfly when the Intercept reported it in August. Leaked information about the ongoing project prompted a backlash within the company's rank and file — and it wasn't the first time. After Google's contract with the Pentagon's Project Maven was revealed in March, over 4,000 employees signed a petition asking the company to cancel the effort. A dozen engineers resigned, and Google eventually promised not to renew the contract.
Months ago, hundreds of Google workers had already signed their names to a letter demanding more transparency about whether their work was being put to use in an ethically acceptable way. But this time, Googlers are attaching their real names to the new letter — a remarkable decision in an industry where workers publicizing secret projects are maligned and often badly punished — and, notably, the Googlers published the note on an open, public platform.
At the time the letter was published, 12 Googlers had signed their names to the letter; the workers said they would be updating their post with additional signatures as they come in. By Tuesday afternoon, nearly 200 employees had signed the letter. The number of signatures is growing fast, and at one point appeared to be doubling hour by hour.
Read the Google workers' letter in full below:
We are Google employees. Google must drop Dragonfly.




We are Google employees and we join Amnesty International in calling on Google to cancel project Dragonfly, Google's effort to create a censored search engine for the Chinese market that enables state surveillance.




We are among thousands of employees who have raised our voices for months. International human rights organizations and investigative reporters have also sounded the alarm, emphasizing serious human rights concerns and repeatedly calling on Google to cancel the project. So far, our leadership's response has been unsatisfactory.




Our opposition to Dragonfly is not about China: we object to technologies that aid the powerful in oppressing the vulnerable, wherever they may be. The Chinese government certainly isn't alone in its readiness to stifle freedom of expression, and to use surveillance to repress dissent. Dragonfly in China would establish a dangerous precedent at a volatile political moment, one that would make it harder for Google to deny other countries similar concessions.




Our company's decision comes as the Chinese government is openly expanding its surveillance powers and tools of population control. Many of these rely on advanced technologies, and combine online activity, personal records, and mass monitoring to track and profile citizens. Reports are already showing who bears the cost, including Uyghurs, women's rights advocates, and students. Providing the Chinese government with ready access to user data, as required by Chinese law, would make Google complicit in oppression and human rights abuses.




Dragonfly would also enable censorship and government-directed disinformation, and destabilize the ground truth on which popular deliberation and dissent rely. Given the Chinese government's reported suppression of dissident voices, such controls would likely be used to silence marginalized people, and favor information that promotes government interests.




Many of us accepted employment at Google with the company's values in mind, including its previous position on Chinese censorship and surveillance, and an understanding that Google was a company willing to place its values above its profits. After a year of disappointments including Project Maven, Dragonfly, and Google's support for abusers, we no longer believe this is the case. This is why we're taking a stand.




We join with Amnesty International in demanding that Google cancel Dragonfly. We also demand that leadership commit to transparency, clear communication, and real accountability. Google is too powerful not to be held accountable. We deserve to know what we're building and we deserve a say in these significant decisions.




Signed,




David H. Alexander, Senior Software Engineer
Pierre Bourdon, Senior Software Engineer
Damien Desfontaines, Privacy Engineer
Liz Fong-Jones, Staff Developer Advocate
Amr Gaber, Software Engineer
Colin McMillen, Staff Software Engineer
Steven Monacelli, Program Manager
Matthew Siegler, Senior Software Engineer
Joëlle Skaf, Staff Software Engineer
Zora Tung, Software Engineer
Meredith Whittaker, Google Open Research Lead
Jean Zheng, Senior Staff Technology Manager




*We will be updating this post with additional signatures as they come in.
See the original Medium post for an updated list of Google employees signing the letter.
UPDATE
This post has been updated with the final wording of the Google workers' statement.
UPDATE
This post has been updated with a response from Google.