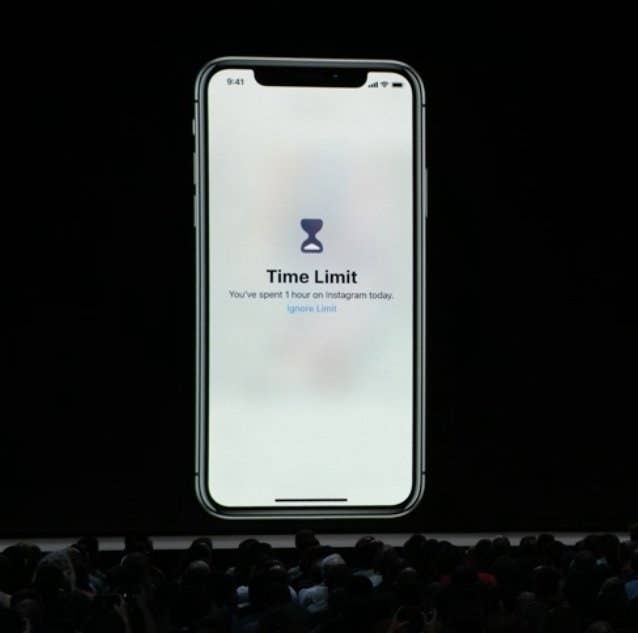 Midway through Apple's annual Worldwide Developers Conference, Senior Vice President of Software Engineering Craig Federighi brought up a serious topic: how much time we spend on our iPhones, and how addicted we've gotten to apps over the years.
It all goes back to Silicon Valley companies having an existential crisis, in general, over "time well spent." Nowadays, companies are positioning themselves as trying to help address humanity's overreliance on tech, and they're giving customers new tools to help them manage their digital lives better. (In fact, Google announced a similar initiative a month ago at its I/O developers conference.)
Apple's first tool for managing your attention is called Do Not Disturb During Bedtime.
At night, you can turn this feature on to make your notifications go dark. If you fumble around for your phone and turn on the screen, you won't be hit by a barrage of notifications — and you can delay getting all of the messages in the morning until you're ready for them.

Apple also introduced a tool called Instant Tuning, which would allow you to mute a particular notification right on the lock screen (similar to a feature Android already offers).
And a feature that got one of the biggest rounds of applause from the crowd? Group notifications. If, say, a friend sends you a bunch of texts in a row, they'll appear together as one bundled notification, instead of a wall of separate messages.
Apple also introduced a thing called Screen Time.
Screen Time gives you weekly reports on how much time you're spending on certain categories of apps, including Social Networking, Entertainment, and Productivity.
You can even set time limits for a particular app, and once you reach the limit, a notification will take over your screen to remind you to move on and consider doing something else. (On the other hand, you can also just tap "Ignore Limit" and continue doing what you were doing.)
Finally, if you're a parent, you can control how much time your child spends in the apps they use, by category or by app.
Don't expect the kids to be pleased about their parents getting a report of their phone activity, though.