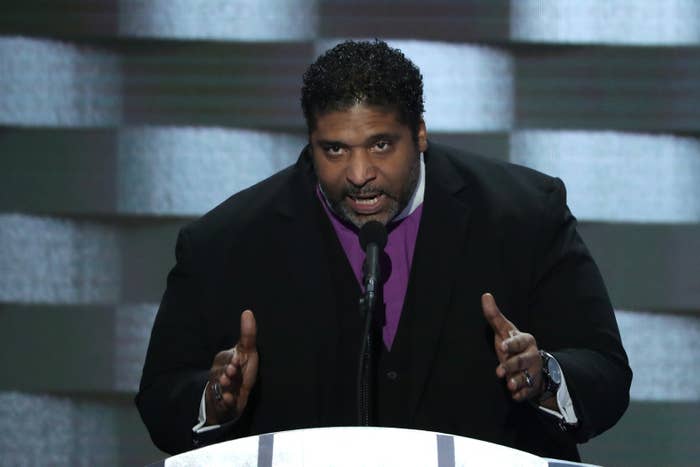 WASHINGTON — Rev. Dr. William Barber II said he thinks Donald Trump is trying to "dehumanize" the Khan family as part of an effort to relaunch the Southern Strategy.
"Trump is so committed to this strategy he has to speak out and try to dehumanize Brother Khan because the strategy can't work if you humanize or embrace somebody among those whom you need others to fear for your own political exploitation," Barber said in an email to BuzzFeed News.
The Southern strategy was a tactic of appealing to racism against blacks for political gain; the strategy is most often associated with Richard Nixon's campaigns. Barber, the North Carolina NAACP president, said Trump is relaunching the tactic against Muslims "in a way we haven't seen since George Wallace's run for the presidency... A key part of the strategy [is] find out who hates who and exploit it."
Trump mocked Ghazala Khan, the mother of a fallen soldier, for not saying anything during her husband's address to the DNC. "If you look at his wife, she was standing there," Trump said on ABC's George Stephanopoulos. "She had nothing to say. Maybe she wasn't allowed to have anything to say. You tell me." (Ghazala Khan said on Friday that she remains overcome by grief and could not speak.)
Barber addressed the DNC on the fourth night of the convention in a well-received speech just before Hillary Clinton spoke. Barber argued that when America fights for the Voting Rights Act, a $15 minimum wage, and protects immigrant and LGBQT rights, "we are reviving the heart of our democracy."
"What is probably worse than Trump are the number of those in society go along with him and refuse to stand against him and his slander," he said.