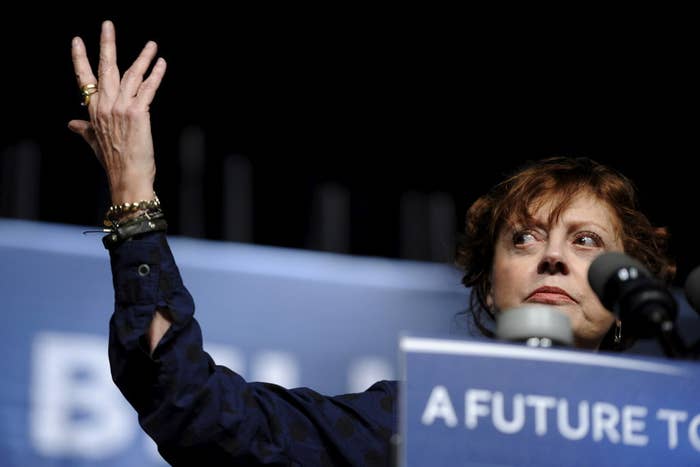 WASHINGTON — The Sanders campaign isn't backing away from Susan Sarandon. In fact, black campaign staff and surrogates says they have heard many people express similar sentiments as the actor — namely that she's not sure she could support Hillary Clinton in the general election.
In an interview with MSNBC on Monday night, Sarandon was sharply critical of Clinton's record, and said she was unsure she could vote for her. (After she was pressed by the host about the prospects of Donald Trump as the alternative, Sarandon then said that some feel Trump "will bring the revolution immediately if he gets in.") Sarandon walked back her comments via a tweet Tuesday night. But staffers come to her defense, describing her as a passionate surrogate with a right to feel the way she does.
"Susan Sarandon is very passionate and has the right to feel the way she does," national spokesperson Symone Sanders told BuzzFeed News. "She's been a fabulous surrogate for our campaign. I heard her in Mason City, Iowa, and the introduction she gave to Bernie Sanders literally brought tears to my eyes. So she's someone who feels passionately about this issue and has every right to express her views."
Black staffers inside the Sanders campaign are not offended. Several declined to speak on the record about the comments, describing the issue as a potential third rail in politics. But no one condemned her, either.
Justin T. Bamberg, a state representative from South Carolina backing Sanders, said that while he doesn't agree with Sarandon, many feel the same way, because they feel Sanders is best positioned to defeat Trump in November.
"I really respect and like her and think she's a great person. Like any individual they have a right proceed as they need or want to," after the primary, Bamberg said. "I'll be with [Sanders] through the Democratic primary, but if Hillary wins the nomination, I am going to back her in the general and be an active voice in unifying the national Democratic party."
But to Bamberg, the comments echo a larger problem, indicating a potential split in the Democratic Party.
"She's not the first person I have heard say that," Bamberg said, alluding to Sarandon's comments on MSNBC. "There's a lot of that going around and it plays into the electability factor. They need to consider who has the best chance of beating Trump. My position is that Bernie has the better chance of doing that over Hillary Clinton."
On MSNBC's All In With Chris Hayes, Sarandon indicated Sanders "probably would encourage" voters to vote for Clinton "because he doesn't have any ego."
"I think a lot of people are, 'Sorry, I can't bring myself to do that,'" Sarandon said.
"How about you personally?" Hayes asked.
"I don't know," she said. "I'm going to see what happens."
Clinton will need the support of Sanders' backers in the general election if she wins the nomination. A recent poll said a third of Sanders supporters say that they "could not see themselves supporting Clinton" in the general election.

Bamberg said he's not a fan of division in the party, but that Sarandon she was within her right to say what she did about Trump's candidacy.
"It's important that elected officials that supported one candidate or another unify the party as a whole, but whether you agree or not, [Sarandon's comments] evidences something important: We have come to a time in American politics where people are fed up with the status quo way of doing things in the American realm. What she said is something that a lot of people say. It just so happens that they're not famous it just doesn't end up in news reports."
Similarly, Bamberg said there are Republicans who are considering voting for Bernie Sanders or Hillary Clinton if Trump is the Republican nominee.
One black South Carolina Democratic operative said they were disappointed by what Sarandon said — just not especially surprised. "I saw so many people in South Carolina come to the Democratic Party table at the state fair looking for Bernie literature. And that was after getting Trump literature at the GOP table. They are both populist candidates, but really, they couldn't be any more different."