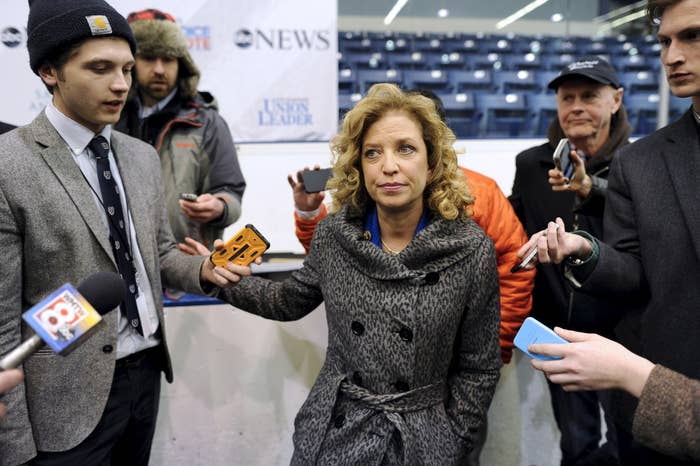 WASHINGTON — In recent weeks, two key officials have left the Democratic National Committee: the organization's top black and Hispanic outreach officials.
Ashanti F. Gholar and Albert Morales both resigned their posts as the black and Hispanic outreach leads for the DNC, respectively. Both had applied to be the DNC's national director of community engagement, according to five sources with knowledge of the process. Instead, the DNC filled the position from the outside, and Gholar and Morales are headed for new roles elsewhere.
The departures come at an inconvenient time — Hillary Clinton seems likely to soon secure the Democratic nomination, and the national convention is just months away. Three Democratic sources said the Clinton campaign, including senior staff, have expressed concerns with the depth and resources of the DNC's Latino ground operation — and that was before Morales left.
"He was in a key position and it's important that we be firing on all cylinders for November," said one Clinton surrogate.
Still, the turnover is not unexpected at this point in the campaign. Operatives say Gholar's and Morales's exits are natural before the nominee comes in and brings in their own people.
Their roles are close to being filled; Davis is close to hiring away DeJuana Thompson from the Small Business Association to replace Gholar, according to a source with knowledge of the hire. Bridgette Gomez, an up-and-coming operative who served as the deputy field director for the Center for Community Change, will replace Morales, according to a source with knowledge of the hire.
In a statement to BuzzFeed News, a DNC spokesman downplayed the significance of the departures and emphasized a broader approach.
"Our political director, communications director, community engagement director, director of the chair's office, director of party affairs, director of the secretary's office, CEO of our convention, and many other critical positions at the DNC are filled by African-American and Latino professionals, so any talk of a departure of institutional knowledge of these communities is an outdated way of thinking that presumes a single point of contact is needed to check an imaginary box," the DNC's deputy communications director Mark Paustenbach said. "Our party reflects diversity across the board. It looks like America."
But the departures haven't been received totally favorably. In her role as director of black outreach, Gholar worked with groups like NAACP, National Urban League, and the National Action Network, serving as the official liaison between the groups and the DNC. Her departure has angered many of the DNC's black caucus's 108 members, three sources said, because she had already begun planning the caucus's activity during the convention.
In previous hirings, black caucus and council chairs were provided an opportunity to give input and talk to some of the candidates, two sources said. This was not the case for Gholar's replacement, those sources said, angering the black caucus.
"We did not have any input," on her replacement, said Virgie Rollins, chair of the DNC black caucus. "And we were not happy that she was leaving."
"She was the best that the DNC could ever have," Rollins said. "You couldn't have have had a better person. It's a real loss for the DNC that she is gone."
"It was hard on folks," a DNC aide said. "It's the relationships she had."
"She was a genuine connector who understood the importance of not only building relationships with black Democrats in Washington, but black Democrats at every level," a well-known party activist said.
Gholar has accepted a job as the political director of Emerge America, a Democratic women's group.
"The DNC will always be my home, and the Democratic Party is a huge part of who I am," Gholar said in an email to BuzzFeed News. "However, so is Emerge America. I was a founding board member of Emerge Nevada and have stayed connected to the organization for many years. A lot of my work over the past year and a half at the DNC has focused on engaging and empowering women of color. When the opportunity came to serve as Emerge America's first political director and help get more women, especially women of color, elected to office it was an opportunity I couldn't pass up."
The DNC pointed to its Univision debate in Miami last month as evidence that it is engaging Hispanic voters where they are and said those black and Latino efforts are buoyed by increased funding to state parties by 50% over its previous baseline.
Still, Democrats say the DNC was already being roundly outspent by the RNC, which has staffers on the ground in key states for Hispanic outreach, but Morales was able to leverage his relationships with Latino leaders and experience from multiple DNC tours to try to compete.
Responding to the departures of Gholar and Morales, a DNC official said politics is a fluid business and both will remain valuable allies for the DNC in their new positions.
Morales, who joined the U.S. Hispanic Chamber of Commerce as vice president of government affairs and policy, was an experienced operative who understood the nuance of engaging different Hispanic communities, Latino Democrats say, and was cognizant of the power and influence evangelical churches can have.
A result of his work: a database of 6,000 Hispanic elected officials — both Democrats and Republicans — and when they're next up for re-election, for use by the eventual nominee.
But the Mexican-American Morales also knew the limitations of being a one-man Hispanic engagement machine, said Democratic strategist Jose Parra, who served as a senior advisor to Harry Reid, pointing again to the diversity within the community.
"I cannot be expected to walk into South Florida and stump for the party with my Tejano boots and my big belt buckle," he recalled Morales saying.
"This is something that whoever the nominee is is going to have to place a premium on replacing these two operatives," said Democratic strategist Andres Ramirez, a superdelegate supporting Clinton. "This creates a deficit of two very good organizers in minority communities."
A Clinton surrogate said Democrats would be making a mistake by treating 2016 as a normal election, and not having the party apparatus primed to take advantage of "an opportunity to have historic Hispanic turnout that far exceeds any election before, because of how nasty the Republicans have gotten."
In a short interview, Morales declined to get into the specifics of his time at the DNC and made it clear his new role was something he was excited about. Instead, he shared a story of being 19 when his boss's chief of staff told him that the minute he started putting his personal interests ahead of the boss would be the day he needed to walk away from politics.
"I wish more young people heeded this advice today," he said.
And he made clear that his departure wasn't personal.
"At the end of the day, Will Rogers' quote still holds true," he said. "I am not a member of any organized political party. I am a Democrat."