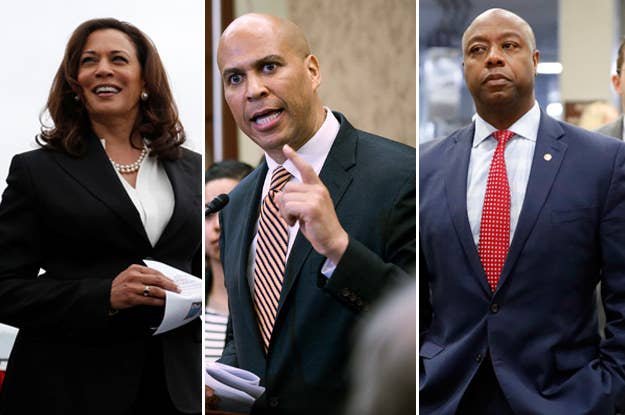 The only three black Americans in the United States Senate — Kamala Harris, Cory Booker, and Tim Scott — will introduce a bipartisan bill Friday to make lynching, defined as "the willful act of murder by a collection of people assembled with the intention of committing an act of violence upon any person," unlawful at the federal level.

The bill from Harris and Booker, both possible candidates for the Democratic nomination for president in 2020, and Scott, a South Carolina Republican, will make the law that lynching is punishable as a hate crime.
"Lynching is a dark, despicable part of our history, and we must acknowledge that, lest we repeat it," said Harris, who announced her intention to introduce the legislation. "From 1882 to 1986, there have been 200 attempts that have failed to get Congress to pass federal anti-lynching legislation. It's time for that to change."
The Justice for Victims of Lynching Act of 2018 comes on the heels of the erection of a national lynching memorial in Montgomery, Alabama, known as the National Memorial for Peace and Justice.
"It is never too late for our nation to express our sorrow for the decades of racial terror that traumatized millions in this country," said Bryan Stevenson, the executive director of the Equal Justice Initiative and the founder of the lynching memorial. "Passing an anti-lynching law is not just about who we were decades ago, it's a statement about who we are now that is relevant, important and timely."
Harris previewed the bill during an appearance on Sirius XM's Joe Madison Show earlier this month.
During Harris's appearance, the hosts played audio of Senate Majority Leader Mitch McConnell being asked if he would support such legislation. He said he didn't know that, despite hundreds of attempts, lynching had actually not been banned by federal law. "I thought we did that many years ago," he said. "Honestly I hadn't thought about it. I thought that was done back during LBJ or some period like that. If we need one at the federal level I certainly would support it."
Booker pointed to the attempts to pass legislation previously, saying that failure to get a law was a "travesty Congress still hasn't put anti-lynching legislation on the books. This bill will right historical wrongs by acknowledging our country's stained past and codifying into law our commitment to abolishing this shameful practice."

Scott, an outspoken voice on race in America, and on how racism has affected him during his career in Congress, said the bill was "well past due" and that he was glad to "join in efforts that will underscore the severity of this crime.
"This piece of legislation sends a message that together, as a nation, we condemn the actions of those that try to divide us with violence and hate," he said.
Harris's office pointed to data from the Equal Justice Initiative which said that 4,000 black American men, women, and children were lynched in the 19th and 20th centuries. Democratic senators who also will introduce the bill include Tammy Baldwin, Patty Murray, Richard Blumenthal, Patrick Leahy, Dick Durbin, Tim Kaine, Chris Van Hollen, Bill Nelson, Kirsten Gillibrand, Doug Jones, Jack Reed, Mazie Hirono, and Amy Klobuchar; independents Bernie Sanders and Angus King will also introduce the legislation.