Protests In Baltimore For Something Unusual: Supporting A Prosecutor
Activists on Wednesday said their protests were as much about standing with State's Attorney Marilyn Mosby as they were about standing for justice for Freddie Gray.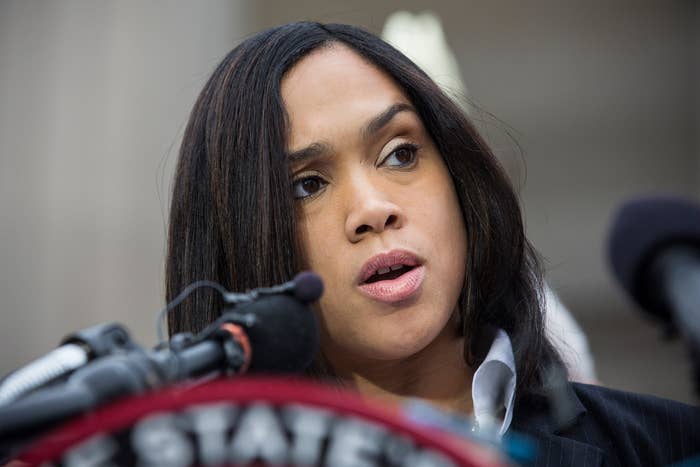 BALTIMORE — The tone of protests on the first day of hearings in the case of Freddie Gray was somber and uneasy.
Chants about getting justice for Gray ("All night! All day!") came from a few dozen protesters who, at times, looked less than enthused.
Then a young activist in a black shirt and hat bearing the Malcolm X logo grabbed the megaphone and started riling up the crowd. He was not here for the cameras, he said, nor was he ready for the protests to end. Rose bounded into a street a few blocks away, leading the charge to block traffic; some witnesses said he was hit by a car. He was arrested and treated in an ambulance as protesters looked on. The status of his whereabouts and condition were unknown well into the afternoon.
"Once the one kid got locked up," one officer said, "they all started to behave."
Another kind of protest had already begun playing out in front of the media: one supporting a government official, the State's Attorney Marilyn Mosby.
Protesters offered passionate, pleading expressions of support for the young prosecutor, who on May 1 brought charges against six officers in connection with Gray's death.
On Wednesday, a judge denied two of the defense's motions: one to have charges against the officers dismissed, and another to force Mosby to recuse herself.
The protest community that embraced her on Wednesday morning said it took personally the attacks levied against her professionalism, saying they were unfair at best, racist at worst. Others were perplexed by what they said was a smear campaign against her for attending a Prince concert.
"Y'all wanna scrutinize her for doing her job?" said Tawanda Jones said in front of the media throng observing the protests. She later told BuzzFeed News she wished Mosby had been elected to her position when her brother, Tyrone West, died in 2013. During a traffic stop, West died after died after police beat him, and exacerbated a heart condition.
"We put her in office," she said, holding a sign emblazoned with her brother's name. "Had it not been for us getting the outgoing state's attorney Greg Bernstein out of office, this case would have no transparency. I just wish that she was in office when my brother was brutally murdered."
Shai Crawley, a young preacher from East Baltimore, addressed the audience by reading a passage from the Bible's Book of Amos to explain Mosby's meaning to their community as a deliverer of justice. He said the protests were as much about lifting her up as they were about calling for justice for Gray.
"She's our hero," he said, rattling off the names of murder cases in Baltimore devoid of the transparency and accountability they say is being exhibited by Mosby's office. "We're out here basically begging that she's going to stay on the case because this an elected official who actually charged these officers. We'll all for her. She was our hope when we didn't have any hope."
Some were cynical about the prospective length of the case, potential pitfalls, and the risk a non-conviction might have on her career and their morale — when the news came down that she would not be removed from the case, there was no celebration. Many of the activists had already departed.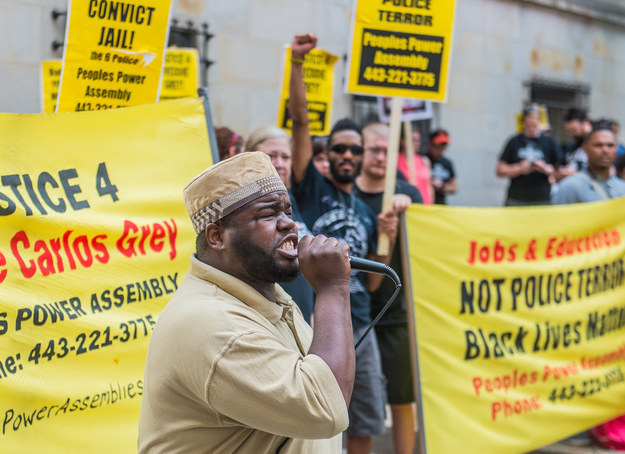 "There's a sense that the [Fraternal Order of Police] and other forces are trying to remove her, so protesters want to be really clear that they stand in support of her," said Rev. Cortly "C.D." Witherspoon, president of the local SCLC chapter.
The most vocal support came before the direct action to block traffic ended with one officer injured and the arrest of the young protester, Kwame Rose:
"She said she heard the calls for No Justice, No Peace. So what?"
Hold strong, hold the line, sis!
That's right!
"Be strong, my sister, and of good courage!"
"Our hope is that she might be like a tree planted by the rivers of water."
"The part I like about her is she's handling it," Jones said. "And she's handling it with dignity and class."