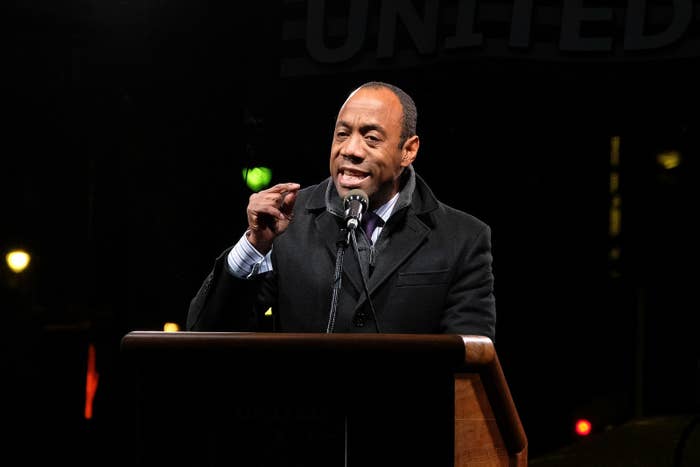 The NAACP has decided not to renew the contract of its president and CEO, three people tell BuzzFeed News.
Cornell William Brooks will not continue on at the helm of the nation's oldest civil rights organization after a three-year stint. The executive committee informed Brooks of their decision Thursday, and an announcement on the development could come as early as Friday, a source said. Executive board committee Leon Russell and Derrick Johnson will handle the organization's day-to-day operations.
Dr. Amos C. Brown, a national board member, confirmed the news, saying that Brooks' contract ends in June, and leadership felt now was the right time to go in another direction, moving on to fight racism and "dealing with the fallout of Trumpism."
His ouster comes at a particularly sensitive time for the country. Donald Trump's presidency has ushered in a wave of enthusiasm from the far right, and amid setbacks already established by the administration on criminal justice and voting rights.

Reached by BuzzFeed News, a spokesperson for the NAACP declined comment. In a statement issued later Friday, Derrick Johnson, a vice-chair of the board, said "In the coming months, the NAACP will embark upon a historic national listening tour to ensure that we harness the energy and voices of our grassroots members, to help us achieve transformational change, and create an internal culture designed to push the needle forward on civil rights and social justice."
In an interview with BuzzFeed News, Brooks said he was informed Thursday of the situtation and was "disappointed" in senior leadership's decision.

"We were beginning to turn the corner" as an organization "that was beginning to be taken seriously."
Brooks said he received the final decision today, receiving a letter from the executive committee Thursday. "For decades the NAACP has had a revolving door of CEOs, and it's unfortunate that it's still spinning," said Brooks.
Brooks told BuzzFeed News that his exit comes at the "worst time," with communities facing an existential threat of increased racism, a Justice Department intent to bring back mass incarceration, and a voter fraud investigation coming from the White House — all issues that adversely affect black Americans. "This is not a good a time not to be about the business. It's time for boldness."
Inside the organization, Brooks was known as an energetic leader with a penchant for engaging in direct action, staging civil disobedience and willingly being arrested in support of causes that he and his deputies posted to forums like Facebook Live. Brooks said that in this era, it was important to show up rather than simply [craft] statements to the press. But asked whether he thought this leadership style had rankled some in senior leadership, Brooks said, "Possibly, probably."
"In the [social media age, how else are you supposed to do civil rights unless you show up," he said, saying the group had come from the legacy of giants like Rosa Parks and Dr. Martin Luther King.
In addition to gains in social media engagement — a campaign he said was designed to increase the group's national visibility — Brooks said he was proudest that the NAACP helped lead in the fight against Attorney General Jeff Sessions, organizing a shut down of the Senate phone lines and testifying at his Senate confirmation hearing. He said the organization had increasing online membership and donations under his leadership, and had broadened collaboration across the progressive political grassroots spectrum.
In recent days, Brooks expressed optimism about the immediate future of the organization, saying that he looked forward to welcoming President Trump.
"Our question to him is the same one that he posed to us: "What in the world do you have to lose?" Brooks told BuzzFeed News in a separate interview regarding whether Trump would visit this summer's NAACP convention.
"This is a racial tinderbox," Brooks told BuzzFeed News. "Among millennials, racial justice issues rank at the very, very top. The republic is deeply divided. Donald J. Trump is no longer a candidate, he's President Trump. This is a moment where it's not a matter of choosing the conventions you want to breeze through for a cameo — this is a real leadership moment.
"So the president should come. He should stand flat-footed, and speak to the country from the rostrum of the NAACP about the nation's concerns."
A somber Brooks said he's not leaving a perfect organization, but one, that under his leadership was "certainly better off."