The Black Lives Matter Movement Is About To Jump Into The 2016 Marijuana Battle
Marijuana legalization advocates want the support of Black Lives Matter activists in 2016. But a debate on tactics is brewing with legalization groups and Black Lives Matter activists who worry people of color are being left out of the burgeoning legal marijuana industry.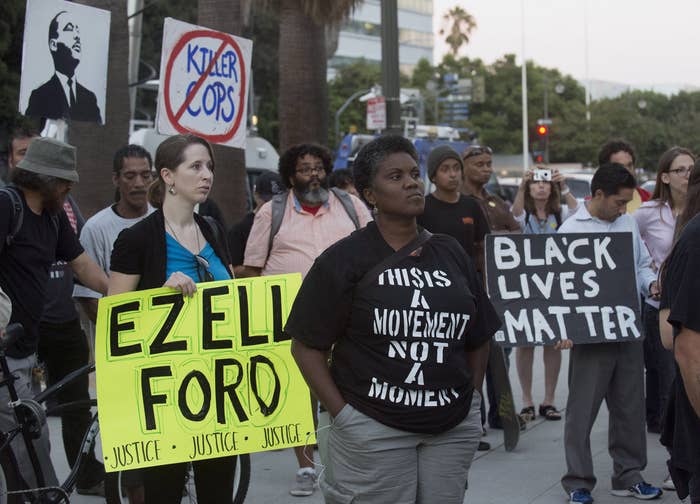 WASHINGTON — Leading up to his meeting with the Black Lives Matter group Campaign Zero at the Frederick Douglass House in September, Democratic presidential candidate Bernie Sanders steeled himself for an argument.

He'd only previously come face-to-face with Black Lives Matter protesters who wanted to interrupt him. But over the course of the meeting, the activists spoke authoritatively on policy recommendations to curb racial disparities in the criminal justice system, while Sanders impressed by synthesizing their talking points on police militarization, community empowerment, and systematic oppression.
The activists brought up one issue, however, that Sanders hadn't considered: creating pathways for black Americans to take part in the emerging legal marijuana economy, which they said represented unprecedented wealth-building opportunities for people of color.
"He acknowledged that he hadn't thought about ways to ensure black people had access to the legalized marijuana economy," Campaign Zero's policy analyst and data scientist Samuel Sinyangwe told BuzzFeed News. "But he said he was willing to start thinking about strategies to do this."
Since the meeting, Sanders has introduced legislation to remove marijuana from the federal government's list of controlled substances and said rolling back the drug war would improve the lives of black Americans.
Campaign Zero's push on legalized marijuana that day was a precursor to a more formal alliance being forged between Black Lives Matter — the diffuse civil rights movement that grew out of protests following the police shootings of young, unarmed black men last year — and drug policy groups heading into big, election-year ballot fights over marijuana in states like California, Massachusetts and Missouri.
Drug war opponents agree that marijuana prohibition has disproportionately affected black Americans — and they also acknowledge that their movement is too white. Leaders attempting to bridge this gap have turned to Black Lives Matter.
National drug policy advocates will appear on Thursday alongside Patrisse Cullors, co-founder of Black Lives Matter, in a town hall during the Drug Policy Alliance's (DPA) International Drug Policy Reform Conference.
But the prospect of joining forces for the marijuana policy debate in 2016 is fraught with philosophical and tactical dilemmas for both movements.
Black Lives Matter activists ultimately believe legalization is inevitable and are eager to start discussing how legal marijuana can change the lives of black Americans. Legalization advocates are, above all, concerned with getting state ballot initiatives passed in 2016 and continuing to build on the momentum they established in 2012 and 2014.
Daunasia Yancey, a prominent Black Lives Matter organizer in Boston, said her chapter's involvement would require measures to address mass incarceration and retroactive changes in drug laws. The "wait-and-see" approach to legislation after a successful ballot initiative isn't enough, she said.

"That's exactly how everything happens," Yancey said. "They'll say, 'Oh, we just need to get what we want and then we'll put you in it.' But we know that if we're not in it from the jump, we're not going to be included. And at the end of the day, they don't owe anything to anyone. If they're serious about making sure black people get involved, they need to say how, explicitly."
Black Lives Matter Boston will push Boston-based marijuana legalization advocates to talk about creating lucrative opportunities for black people to legally grow marijuana, oppose against mandatory land-ownership requirements, and demand any changes in the law apply retroactively to people with criminal records related to marijuana.
According to the Marijuana Arrest Research Project, 210,000 people who were arrested for marijuana possession in Colorado between 1986 and 2010 are either still behind bars or still face consequences from their arrest or citation. (This number is disputed).
"In many ways the imagery doesn't sit right," said Michelle Alexander, an associate professor of law at Ohio State University and author of The New Jim Crow: Mass Incarceration in the Age of Colorblindness, in a conversation with the Drug Policy Alliance's asha bandele last March.
"Here are white men poised to run big marijuana businesses, dreaming of cashing in big—big money, big businesses selling weed — after 40 years of impoverished black kids getting prison time for selling weed, and their families and futures destroyed," Alexander continued. "Now, white men are planning to get rich doing precisely the same thing?"
Legalization advocates are not colorblind, however. Advocates say the inclusion of people of color in the fight for legalization is necessary if, for nothing else, than the fact that black communities were victims of the drug war.
"The voices of the communities of color who have been disproportionately targeted and punished under failed marijuana prohibition laws could not be more important in the emerging national debate about legalization," Tom Angell, the founder of Marijuana Majority, told BuzzFeed News in a statement. "We should absolutely make sure that those individuals who have been victimized by the drug war are able to participate in a meaningful and prosperous way in the newly-legal economy that is now being brought aboveground."
The DPA released policy recommendations in a June 2015 report titled "The Drug War, Mass Incarceration and Race." The report recommended decriminalization of marijuana possession, elimination of "broken windows" police tactics that lead to disproportionate arrest and incarceration of black people, and called for an end to policies that exclude people with a prior felony conviction from the rights to vote.

Part of the initial conversations with Black Lives Matter is to draw out what the two movements' shared ideals can accomplish in the short- and long-term, bandele said.
"Our challenge is how can we deepen that conversation between such a vibrant new movement and a growing, more established movement," she told BuzzFeed News.
That marijuana activists are looking for allies in the Black Lives Matter movement — and not, say, through black clergy or lawmakers — means the movement has toppled traditional leadership pathways, said Decker Ngongang, senior fellow at Frontline Solutions, a Washington, D.C.-based consulting firm. "One of the things the debate over legal marijuana has done is that it not only forces us to think about how policy is made, but it makes us think differently about what leadership looks like."

But drug policy advocates who want Black Lives Matter involved say state ballot initiatives require — in addition to expensive, high-level organization and the sway of popular opinion — single-mindedness from supporters.
Art Way, the DPA's Colorado state director, who is black, suggested that while he and others wanted to work with Black Lives Matter, some were leery that the movement is focused on more than just policy.
"It's one thing to call out white people, but it's another thing to get involved with policy change," he said. Working together successfully, he said, means "making sure their approach doesn't impact what we're trying to do and vice versa."
Way said the primary goal of legalization advocates in Colorado, which legalized recreational marijuana in 2012, was to get the ballot initiative passed and then take steps afterward to ensure fairness and inclusion.
"States don't allow ballot initiatives that create a tax and regulatory structure for marijuana, and simultaneously end collateral relief for people charged with marijuana crimes and set aside avenues for black people to join the economy," he said. "That kind of expansive change usually has to go through the legislature."
Black Lives Matter activists said they were concerned about the effect of a drug charge on an individual's economic prospects later in life.
"Simply talking about making marijuana legal or decriminalizing it is not enough," Sinyangwe said. "Ending the criminalization and incarceration of black people for marijuana is essential, but it is not enough, either. We really have to be thinking about who has access to the economy and asking ourselves if the same people who had been criminalized for participating in the informal marijuana economy are going to have access to the formal marijuana economy?"
The regulated marijuana economy is already rife with barriers, Way said. Depending on the state, poorer communities of color are blocked from joining the economy — which could be an $11 billion industry by 2019, according to many estimates — by background checks that reveal a felony conviction, the large amounts of financial capital needed to get started, and minimum land-ownership requirements.
Pro-marijuana advocates are split on whether the legal marijuana industry has an unwritten mandate, on moral or other grounds, to ensure it includes black people.
"The industry needs to be social-justice minded and remain partners with the social justice community to help set a new tone of inclusion when it comes to hiring former felons, poor people, black and brown people folks as well as drug testing," Way said.

The successful campaign to legalize marijuana in Washington, D.C. in 2014 focused heavily on social justice issues surrounding the drug war. However, basing whole arguments around legalization on racial grounds can be a tricky proposition for other parts of the country, Way said. For example, he questioned whether a hypothetical initiative in Colorado that ensured at least 20% of the legal marijuana economy went to the groups most affected by marijuana prohibition — low-income people of color — would pass.
"The rural dude in Pueblo might want to legalize marijuana, but he's not trying to do all of that," Way said.

However, bandele is not so worried about impediments. She said there's plenty that Black Lives Matter and drug policy organizations can rally around, because they have something in common: They both agree black lives matter.
Both movements, she said, opposed a failed ballot initiative in Ohio that would have legalized recreational and medical marijuana but restricted entry into the industry to a handful of wealthy investors.
"At its core the Black Lives Matter movement demands and recognizes the fullness of someone's humanity be honored," bandele said. "And the beauty of its marriage with the drug law policy reform movement is that at its best, it demands that, too."
Heading into 2016, the challenge is clear for both movements: "Now how do we pull that apart and mix it back up so that it becomes policy?" bandele asked.