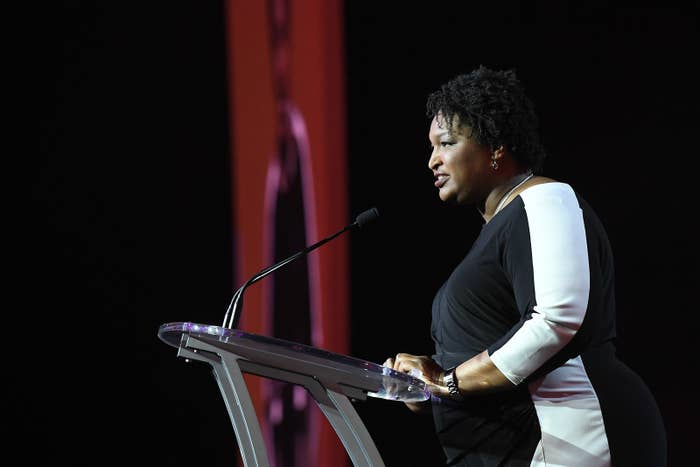 To become governor, Stacey Abrams hopes to get more Democratic voters to turn out than ever before — especially black, Latino, and younger voters who are less likely to turn out in midterm elections without significant investments.

But if the path to getting those votes lies in contrast between Democrats and Republicans or attacking President Donald Trump, Abrams isn't going there yet.
Republicans last month nominated Georgia Secretary of State Brian Kemp as Abrams' opponent — a Trump-endorsed candidate with whom Abrams shares a long history, tangling specifically over voting rights in the state.
And Abrams is running on the theory that Democrats can be successful by employing campaign-to-voter contact and organizing inside communities Democrats typically neglect or write off as politically dormant, rather than try to persuade Republican-leaning voters and moderates. Her primary success — and insistence that Georgia is a swing state — makes for an attractive early testing ground for national Democrats vying for the party's nomination for president and for Democrats who see energy around Abrams as a potentially game-changing political development.
Still, in an interview, she repeatedly turned the conversation away from the president's endorsement of her opponent and said that her campaign is focused on turning out everyone, a hint that her campaign expects to compete in Georgia's more conservative northern counties. "My mission is to make certain that no matter who I'm talking to they understand that my platform and plans affect their lives," Abrams told BuzzFeed News.
Abrams' campaign is deeply personal; her content on the trail is replete with narratives about her upbringing, stories of her parents' journey as pastors and activists, and personal challenges such as her brother's incarceration, mental illness, and financial debt. Trump already tweeted that she's weak on veterans, the military, and the Second Amendment.
During an onstage interview at the annual convention of the National Association of Black Journalists with Suzanne Malveaux, Abrams joked to the audience that she's looking forward to the president's nickname for her, but that it won't change how she runs — she said she doesn't really think her voters will be motivated if, say, Kemp and Trump say a lot of mean things about her as much as they will be by her résumé and specific policy ideas.
Her primary win — decisively defeating challenger Stacey Evans — shows early success for her thesis, she's argued. And onstage, she spent a lot of time delivering pithy lines reflecting her beliefs. It felt at times like a TV self-help program. "The barrier to winning is eliminating the barrier to information," she said. "It is a transformative moment to bring someone who sits in that seat who has had the experiences that I've had."
Abrams and her new opponent do have a long history, however, specifically around one of her core achievements. When Abrams founded the New Georgia Project to register and mobilize hundreds of thousands of voters, Kemp took notice of Abrams' activity, telling a group that Democrats were "registering all these minority voters" and that Republicans needed to keep up.
He launched a criminal investigation after allegations that the New Georgia Project oversaw forged voter registrations shortly thereafter. Civil rights groups then sued Kemp's office, alleging that it, along with several counties, had failed to process tens of thousands of voter registration forms.
Abrams said she'll emphasize to voters how important it is to have the right to vote and that access to the vote is vital. She'll talk about broader protections for people fighting to expand the right to vote she'll push for as governor, as well as automatic voter registration and ensuring that voters know if they've been purged from the rolls.
"We have to run a campaign that anticipates that those are the impediments and we're going to make certain that voters are not going to be hobbled in their ability to cast their votes," Abrams told BuzzFeed News.
Democrats frame the lead-up to November as a confrontation in part because, despite black women's influence in American politics, none have been nominated for governor before — and that represents a real difference from the past. But Abrams is clear about her campaign's refrain that she's not running a campaign against Kemp or Trump's movement. Insofar as defending the press can be considered a critique of Trump, she said that it's "deeply, deeply troubling that we live in age where elected leaders and those who work for them are willing to cast aside more than two centuries of progress made in protecting the freedom of the press. The minute we shut that down we start our slide into ignominy." (Abrams said she sometimes takes exception with how she's covered, but she'd "never participate" in demonizing the First Amendment, and the reason she was at NABJ was that "I believe not only in the freedom of the press but I respect the press.")
"I can't speak to the Republican zeitgeist," she said, answering a question about whether she felt Kemp's election symbolized a shift in Georgia Republican politics. She called not worrying about Kemp's style "a different methodology and mentality for running a campaign. When you are focused on what hurtful or harmful things are going to be said about you, you are not paying attention to the voters in front of you. My job is to explain to voters why I am the best person to hire for this job and to not think about all of the nasty things that I can say about the other guy that wants the job."
Abrams fretted at the suggestion that she's famous (there was a line to get into her appearance Friday) but said her relatability is a form of currency; people feel comfortable with her and her vision for leadership because people know that she's a lot like them.
"Success is truest" to Abrams — if she can win in November, or deliver Democrats down the ballot big wins, that will be the validation of what she's been arguing about how Democrats should run campaigns.
"It's going to be our opportunity to not just talk to each other but to the broader community of Democrats who have been waiting to see this come to fruition. We've been in the wilderness for a while," she said, "and folks are ready to come home."
Are there any hard feelings? She has detractors: a formula for campaigning that a lot of people disagree with, an unapologetic political ambition that has rubbed members of her own party the wrong way, and a willingness to negotiate with Republicans. People have even said that her desire to be governor was misguided and that she'd be a better fit for Congress.
Her thoughts here are that there is work to do to turn Georgia blue and she's not looking back. "I have been consistent in my belief that to win elections there is a way to do so," she said. "And my campaign was testing that theory. It worked. I don't begrudge anyone who doubted my theory [because] they hadn't seen it done that way in Georgia, therefore they were skeptical and that's OK. I am leading the party now as the top of the ticket and my responsibility is to bring everyone to the table whether they showed up early or if they're coming now to sit down."
"Everybody's welcome."