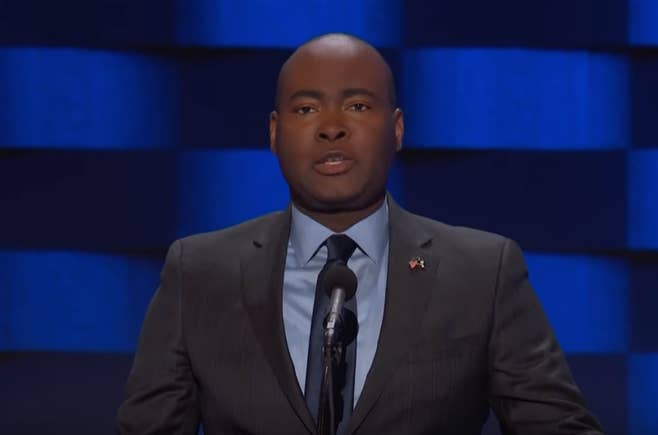 WASHINGTON — Jaime Harrison, the South Carolina Democratic Party chair is said to be "seriously considering" a bid to run for chair of the Democratic National Committee. A decision could come as early as next week.
In recent days, Donald Trump's shocking win over Hillary Clinton drastically shifted the landscape over who the next chair of the party would be. Two favorites, former Michigan Gov. Jennifer Granholm and Rep. Xavier Becerra, both indicated they had no intention on running. Bernie Sanders has launched a campaign behind Rep. Keith Ellison, who is backed by heavyweight names like Sens. Chuck Schumer and Elizabeth Warren.
Harrison's possible entry comes as a debate continues to brew about whether the face of the Democratic party should reflect the vast coalition of people of color Democrats need to win elections.

As chair of the SCDP, Harrison built his reputation on relying on creativity and data to build out the party infrastructure and amplify message in a red state. He hosted "Chair Chats" an interview series with prominent Democrats; he instituted the annual Issues Conference to discuss issues and policy and provide training to activists; and started the James E. Clyburn Political Fellowship to identify and train South Carolina's next generation of political talent.
A Yale graduate, Harrison is a Clyburn protégé and was the first black executive director of the of House Democratic Caucus. Insiders see Harrison's story as the son of a teenage mother as the right kind of background for Democrats who need to begin to engage and identify more with young people of color.
Hacked emails showed that Harrison advised the Clinton campaign before the primary, but told BuzzFeed News he similarly advised the campaigns of Martin O'Malley and Bernie Sanders. "Everything that the Clinton campaign got, they got," he said.

Politico on Friday reported that Ellison was likely to announce his candidacy on Monday, setting up a potentially brutal fight between he and Howard Dean. Harrison would be added to a that race, which could possibly include Labor Secretary Tom Perez.
In a post on Facebook late Friday, Harrison addressed his possible candidacy.
"I'm blown away by the tons of calls, emails, and texts urging me to run for DNC Chair," he said. "Praying about it. I'll decide soon!"