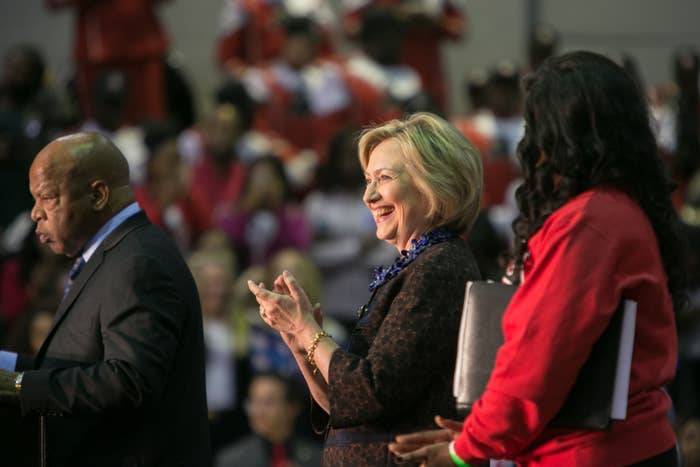 ATLANTA — Moments after renowned civil rights leader Rep. John Lewis delivered a rousing introduction of Hillary Clinton at an event in Atlanta Friday, protesters interrupted her speech, chanting in unison, "black lives matter."
After acknowledging the protesters ("Yes they do," Clinton replied), the Democratic presidential candidate attempted to move on with her speech, increasing her volume as the chants continued.
The Georgia congressman, who led non-violent protests during the fight to end segregation in the 1960s, went into the audience to intervene, trying to get the protesters to allow Clinton to speak.
"I just said to them that at some other time we could all sit down and talk," Lewis said in an interview with BuzzFeed News after the event. "Just that we shouldn't disturb the speech when she was trying to get a message [across]."

When that failed, he and Kasim Reed, the mayor of Atlanta, joined Clinton on stage in a show of solidarity. "We thought that would help move things [along]," Lewis said.
The students who participated in the demonstration were eventually shouted down by a throng of students who came to hear Clinton, shouting "Hil-lar-y!" and "Let her talk!"
Lewis said that, regardless of what side they were on, he was proud of the students' spirit of engagement.

"I think it's happening all across America," he said. "[Especially] on college campuses. I've been going around speaking to many colleges and HBCUs and it's a good thing. It's a good spirit."
Lewis' signature speech that he gives to groups in Washington and to future activists, operatives, and others, recalls his years as a protester, his several dozen arrests, and putting his body on the line for the cause of freedom and civil rights. "Good trouble," he calls it.
When asked about whether this new generation of activists — particularly the ones who confronted Clinton — had lived up the admonition, Lewis said they had.
"Most of the things that we did back in the 1960s was good trouble, it was necessary trouble. And so what I try to say to young people is when you see something that is not right, not fair or not just, you have to speak up. You have to speak and and make some noise. So in some sense, [protesters] were speaking up. They were speaking out.
"But we have to respect the right of everybody to be heard," he said. "And you do that in a non-violent, orderly fashion."
Lewis told the protesters in a brief meeting outdoors that he wanted them to come meet with him in his district office. As for Clinton, Lewis said he was flattered by Clinton's praise of his life's work and legacy as a freedom fighter.
"I think she gave a powerful speech," Lewis said. "It was all-inclusive as what she proposes to do as president. I think she'll make a great president and I meant everything I said in my introduction of her. I've been knowing for her for a long, long time. She has a good heart."