Ready For Hillary Ramps Up Its Outreach To Faith Leaders
It went much better than another recent meeting between Democratic leadership and black clergy, sources say.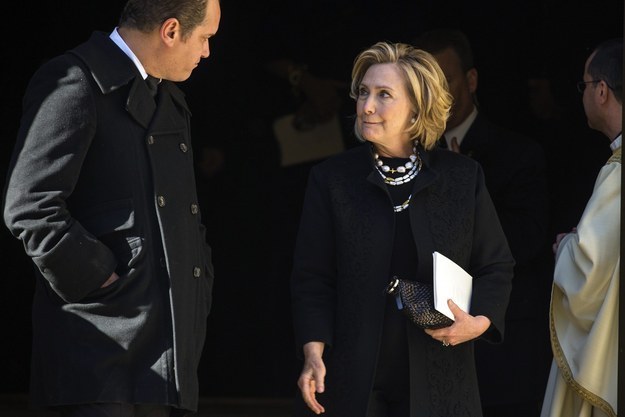 WASHINGTON — Ready for Hillary, the political action committee that raised $12 million in 2014 in anticipation of Hillary Clinton's announcement to run for president in 2016, has been reaching out to faith groups this month.
Just hours before the State of the Union address on Jan. 20, Ready for Hillary held an introductory call to rally clergy — many of whom supported Obama in the 2008 primary election — on what role they might play in 2016.
In addition to Burns Strider, senior adviser to Clinton in her 2008 campaign for faith and values outreach, and the Rev. Leah Daughtry, Joshua DuBois, former head of the White House Office of Faith Based and Neighborhood Partnerships, joined to discuss what the Obama campaign built in 2008. The faith community was instrumental "in moving the needle, and taking the temperature of the American people" in 2008, DuBois said, according to a source.
Outreach to the black faith community has played a significant role in the Obama administration, though not all Democratic outreach has gone smoothly recently. Months before the Ready for Hillary call, a similar kind of meeting — this one in Washington, D.C. — between national Democrats didn't go as planned.
Three sources confirmed a meeting between black clergy members and DNC leadership, including DNC Chair Rep. Debbie Wasserman Schultz, took place at the Democratic National Committee last month.
The group, one source said, felt slighted that DNC leaders seemed to differ on the level of importance placed on the meeting; another source said DNC leaders showed up to the meeting late and left early.
A DNC official confirmed the meeting in a email statement BuzzFeed News, but said the departure was related to Wasserman Schultz's other role.
"We value these relationships highly but the congresswoman was pulled out of the meeting on congressional business," the official said. "She followed up with the attendees immediately and maintains a dialogue with those in attendance."
Barbara Williams-Skinner, president of Skinner Leadership Institute, a leadership conference for black ministers, confirmed her own attendance at the meeting but did not want to rehash the particulars.
"It's just not helpful," she said. "We're trying to do something positive and we've got a big agenda of advancing African-American interests. You're bringing up old stuff that was just a misunderstanding."
The call with clergy leaders with Ready for Hillary "didn't feel like it was reactive to anything," said a source with direct knowledge of the Jan. 20 call. "It would was more pulling back and refocusing on who Secretary Clinton is and how she is setting an independent agenda."
"African-American pastors did a lot of getting out the vote, not just for candidates but for progressive issues as well," said a Democratic political operative with strong ties to faith-based organizations across the nation. "I think, beyond that, they want to think about what the party's relationship is with them. Party officials want to know what concerns they're hearing from people in the pews. They want to know how they can be more responsive to concerns."
Quentin James, black Americans director for Ready for Hillary, who confirmed the political action committee's outreach to ministers, said building a coalition of faith leaders around issues early is key for Hillary Clinton's momentum should she decide to run this spring.
"The purpose of our call was to start our outreach to the faith community because we realize they're going to play a very important role in determining the next president of the United States," he said. "Secretary Clinton has a long history for working closely with that community, so as we're organizing, we know we must engage them in this movement."