Progressive Group Criticizes Black Lawmakers For Meeting With Trump
#WeWillReplaceYou is likely the sharpest representative of a popular sentiment within the Democratic Party: Oppose Trump at all costs. And on Thursday the group took issue with the Congressional Black Caucus's decision to meet with Trump.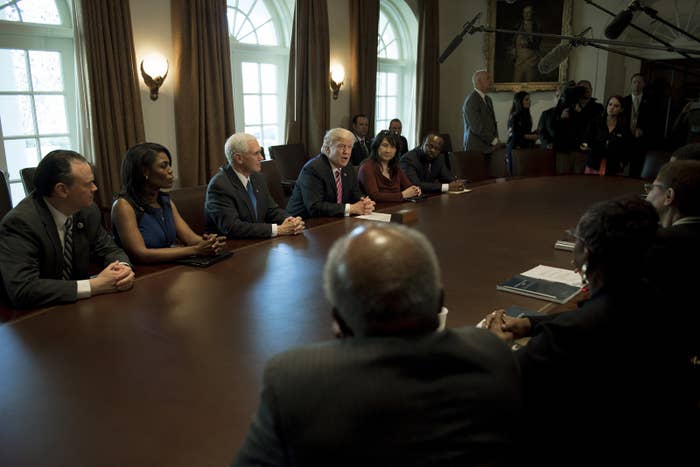 WASHINGTON — A progressive group urging primaries for any Democratic lawmaker who does not do everything they can to oppose Donald Trump on Thursday slammed a high-profile meeting between black lawmakers and President Trump as "shocking."
#WeWillReplaceYou also panned a statement by the chair of the Congressional Black Caucus that the largest Democratic caucus and Trump had shared goals. Richmond told reporters Trump indicated he wanted to have the meetings regularly.
"I don't how there can be shared goals with a president who in two months has directly cut services and called for more financial cuts or the complete elimination of programs that protect the black people in the most need in this country," #WeWillReplaceYou co-founder Jessica Pierce told BuzzFeed News.

"I will tell you that it was a meeting where both sides listened, and we were very candid about disagreements," CBC chair Rep. Cedric Richmond told reporters. "But the surprising part was that when we talked about the goals, there were more [similarities] than there were differences."

In an email to BuzzFeed News, a spokesperson for the CBC said leadership met with Trump to push him on matters affecting black Americans, armed with a policy paper titled "We Have a Lot to Lose."
"We understand that the policies and programs the president is promoting will hurt some of the most vulnerable African Americans across the country," they said. "This is exactly why we accepted the president's request to meet, talked with him for nearly 45 minutes about our concerns, and offered 130-pages of alternative policy solutions."