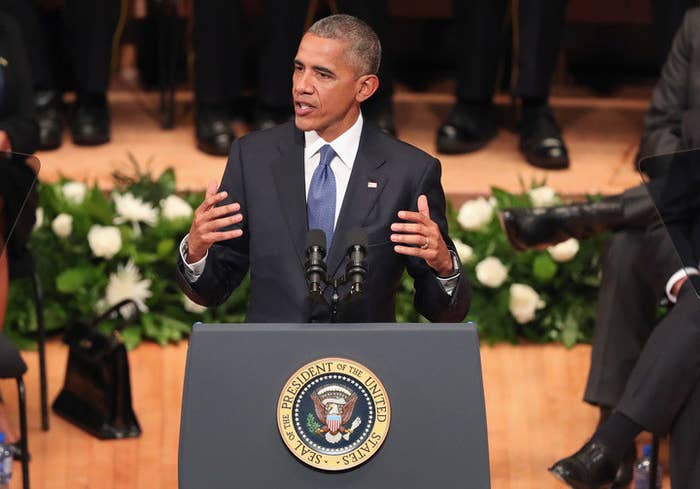 President Obama said "the deepest fault lines of our democracy have suddenly been exposed, perhaps even widened" at a memorial service on Tuesday for the five Dallas police officers who were fatally shot last week. The nation, he said, is trying to "find meaning amidst our sorrow."
But Obama, who said "I confess, I too, experience doubt," ultimately dismissed the idea that the country was irreparably divided. "America," he said, "gives us the capacity to change."
Obama sought to bridge the gap between police officers, who do a difficult job in dangerous neighborhoods, and protesters, who are outraged over videos of cops shooting and killing black people in America.
"We know that the overwhelming majority of police officers do an incredibly hard and dangerous job fairly and professional. They are deserving of our respect and not our scorn," Obama said to applause. "And when anyone, no matter how good their intentions may be, paints all police as biased or bigoted, we undermine those officers we depend on for our safety."
Still, he said, "we know that bias remains," adding, "and that includes our police departments."

"We also know that centuries of racial discrimination, of slavery and Jim crow, they didn't necessarily vanish with the law against segregation," he said, adding, "Although most of us do our best to guard against it and teach our children better, none of us is entirely innocent. No institution is entirely immune. And that includes our police departments."

"Can we do this?" he asked. "Can we find the character as Americans to open our hearts to each other?"
"I know we'll make it because of what I've experienced in my own life. What I've seen of this country and its people, their goodness and decency as president of the United States," he said.

"I know that Americans are struggling right now with what we've witnessed over the past week," he said, referencing the fatal shootings by police of Alton Sterling in Baton Rouge and Philando Castile in St. Paul. "The protests. Then the targeting of police by the shooter here. An act not just of demented violence but of racial hatred. All that's left us wounded and angry. And hurt."
"Faced with this violence, we wonder if the divides of race in America can ever be bridged," Obama said, adding, "we know that such divisions are not new, though they've surely been worse in even the recent past, that offers us little comfort."
Obama said he's "spoken at too many memorials during the course of this presidency" and "how inadequate my own words have been."
He said the police officers, reacting to the gunfire on Thursday night that killed five cops, "saved more lives than we will ever know."
"Scripture tells us that in our sufferings, there is glory. Because we know that suffering produces perseverance. Perseverance, character. And character, hope. Sometimes the truths of these words are hard to see. Right now those words test us. Because the people of Dallas, people across the country, are suffering," Obama began.
"We're here to honor are the memory and mourn the loss of five fellow Americans. To grieve with their loved ones. To support this community. To pray for the wounded, and to try and find some meaning amidst our sorrow."
Obama's remarks were well-received by those in attendance.
"For me it was life-changing, it really was," said Officer David Davis, first vice president of the Black Police Association of Greater Dallas (BPAGD). "I never thought I would see a sitting president and a past president offer those kind of words. How [Obama] was able to talk about issues that are affecting our society and integrating that into policing was masterful," Davis told BuzzFeed News.

"I probably talked to 20-25 officers in the last 15 minutes and the central theme with all of them is that they've never heard anything like it," said Thomas L. Glover, Sr., president of BPAGD. "I think we're all inspired to go out and pull together."

Officer Roberto Perez, a 21-year veteran of the DPD, thanked every officer on his way out of the memorial. Other officers from separate jurisdictions, including nearby Arlington, Ft. Worth, Grand Prairie police had volunteered to assist so that Dallas officers could mourn their fallen colleagues.
"They're a part of our family because they know what we're going through," Perez said. "For them to be here...it's moving."
A lot of people came to the Symphony Center to offer their support of officers, including Rebekah Solomon.

"We came to come and be unified a people. Not black against white. Not police officers against civilians," the 17-year-old told BuzzFeed News.
"We all love our cops. We just hate that there has to be bad things that happen to us. Everyone's just hurt but it's not hate. It's not hate. It's just hurt. I think a lot of people are just really hurt in this town. No hate," said Solomon, who came to the memorial with congregants of the Pathway Dallas Church.
Obama, toward the beginning of his speech, told vignettes of each slain officer:
— Lorne Ahrens, a father of two, used to proudly go to his kids' school in uniform. The night before he died he bought dinner for a homeless man. "They don't get it yet," Obama said of children understanding their father's death. "They don't know what to do quite yet."
—Michael Krol didn't shy away from his duty as a police officer despite knowing the dangers of the job. Originally from Michigan, Krol settled in Dallas to join the police force. Last year, he visited Detroit for Thanksgiving, and that would be the last time he'd see his family.
—Michael Smith won the "Cops' Cop Award" from the Dallas Police Association. "He was a man of deep faith," Obama said. "When he was off duty he could be found in church or playing softball with his two girls."
—Patrick Zamarripa served in the army before becoming a police officer. He was 32 years old and often posted videos of his kid on social media. On Thursday Zamarripa's partner took their 2-year-old daughter to a Rangers game, posting a photo of her on Twitter and tagging Zamarripa, so he could see it while on duty.
—Brent Thompson got married just two weeks ago to a fellow officer. "They had their whole life together waiting before them," Obama said. Thompson served as a Marine and later a contractor and spent time in Iraq and Afghanistan. He settled in Dallas as a transit officer.
"Like police officers across the country, these officers share a commitment to something larger than themselves," Obama said.

Michelle Obama, Vice President Joe Biden, and former President George W. Bush and former first lady Laura Bush were also in attendance at the at the service at the Morton H. Meyerson Symphony Center.
"The soul of our city was pierced," Dallas Mayor Mike Rawlings said motioning toward the five empty chairs holding American flags reserved for the officers who were fatally ambushed on Thursday. "The past few days have been some of the darkest in our city's history."
"We understand that Dallas' pain is a national pain," he added, ending his remarks by saying, "we may weep but we will never whine. For we have too much work to be done. Too many bridges to build that we will cross together. This I know. This i know will happen."
Bush, in a public address rare since he left office, said "the nation grieves, but those of us that love Dallas, and call it home, have had five deaths in the family."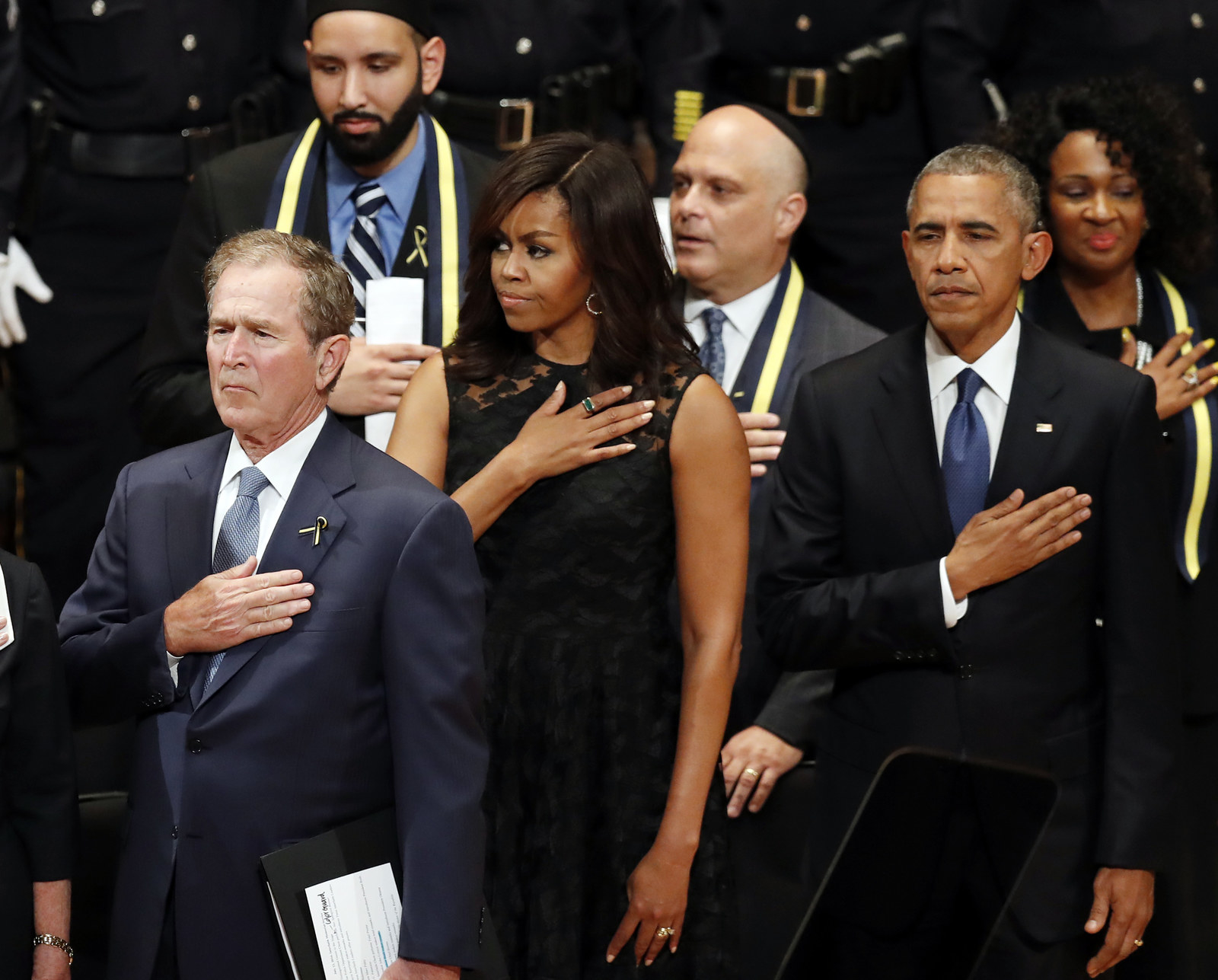 Throughout his speech, Bush struck tones of crossing racial and political divides.

"Disagreement escalates too quickly into dehumanization. Too often we judge other groups by their worst examples, while judging ourselves by our best intentions," he said.
"At our best, we practice empathy, imagining ourselves in the lives and circumstances of others. This is the bridge across our nation's deepest divisions. And it is not merely a matter of tolerance. But of learning from the struggles and stories of our fellow citizens and finding our better selves in the process," he said.

He ended on a note to the families: "Your loved one's time with you was too short. They did not get a chance to properly say goodbye. But they went where duty called. They defended us, even to the end. They finished well. We will not forget what they did for us."
Before the speeches, the Dallas Police Department Choir sang the hymn "Goodness Is Stronger Than Evil," which inclues the words, "Light is stronger than darkness."
As each slain officer's family processed in the hall, they were given a standing ovation.

Wounded DART Officer Misty McBride, her arm in a sling, was accompanied by her daughter as she was led to her seat. Again, the officers in their seats stood and applauded. She received hugs as she sat, and could be seen with her arm around her daughter speaking with her closely.
As he came to his seat, Biden put his left hand to his heart, looking down at the families as if to say, "I'm so sorry."

A soloist from the Interfaith Choir also sang "Total Praise." Bush bobbed his head during the powerful rendition and Michelle Obama swayed with her eyes shut. Here's a clip:
Following the memorial service, Obama and the first lady visited with the families of the slain officers and also with those who were injured in the attack.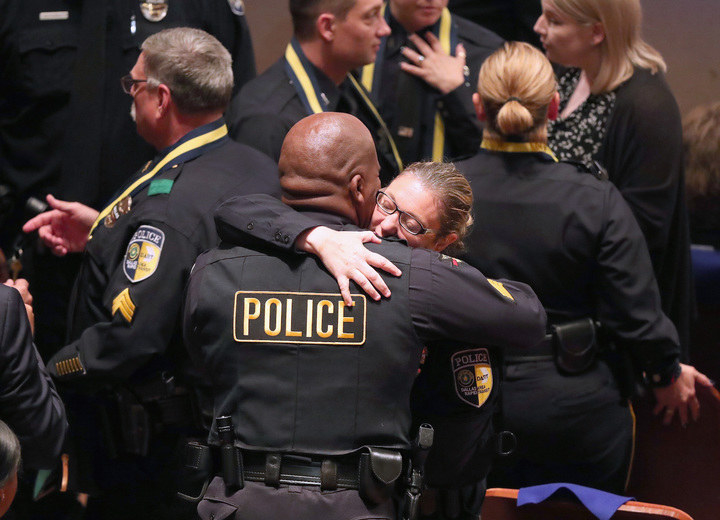 Obama reportedly called the families of Castile and Sterling aboard Air Force One while en route to Dallas. Their deaths prompted protests against police violence around the country, including the protests in Dallas where the five officers were killed.
Obama cut short a European trip following the attack in Dallas and the killings – by police – of two black men in Baton Rouge and Minnesota.
The five police officers were killed Thursday night when Army veteran Micah Johnson opened fire on law enforcement during a protest against the recent police killings. Seven officers and two civilians were also injured in the attack.