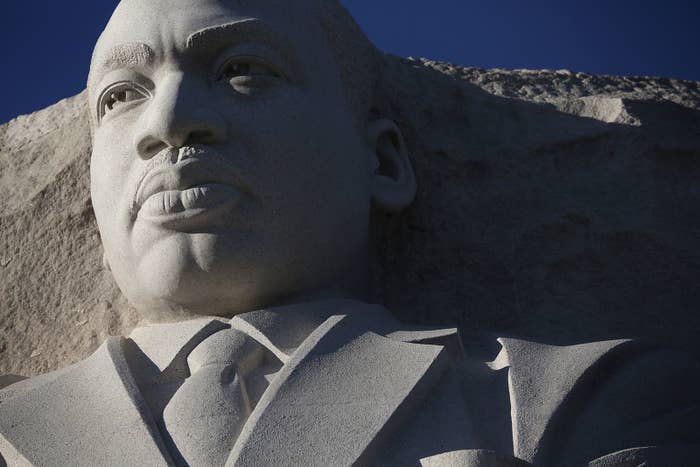 WASHINGTON — A new web video from the Martin Luther King Jr. Memorial Foundation slams Donald Trump, suggesting his candidacy for president is antithetical to King's legacy as a uniter and fighter for equality.
The public service announcement produced by the agency Bush|Renz depicts recent Black Lives Matter demonstrations and frames them as an extension of the the March on Washington, showing images of Aiyana Jones, Tamir Rice, and Mike Brown, who each died in a shooting by police.
The foundation's memorial to Dr. King in Washington, DC, was completed in 2011. This is the foundation's most overt foray into partisan politics. Trump's support among black voters is extraordinarily low, with two recent polls showing him with only a couple percentage points of support.
The video cites Barack Obama's words from the 2004 DNC, that there "is not a black America and a white America and Latino America and Asian America—there's the United States of America." The words 'Black, white, Asian, Latino, Indian, Arab, Middle Eastern...all American' flash across the screen against Trump's infamous characterizations of Mexicans a drug dealers, criminals and rapists."
Along with the video, a petition "calling on members of Congress to reject discrimination against American citizens based on race, religion or sexual orientation" will be posted to the foundation's website in the coming days, a foundation spokesperson said.
"In commemoration of the 53rd anniversary of MLK's 'I Have a Dream' speech, our goal is to sound the alarm to remind people of the vigilance required to safeguard against the erosion of MLK's dream for this country and just how fragile our experiment of democracy can be," Gerard Bush said in a statement to BuzzFeed News. "Great leaders of peace over the decades from John Lewis, to Barack Obama, to Barbara Jordan – pass the baton in narration, with segments from some of their greatest speeches against oppression and inequality."
Harry Johnson, the foundation's executive director, said they memorial foundation's purpose is to keep the spirit and work of Dr. King relevant "by serving as a global beacon that inspires people around the globe to apply the principles of democracy, justice, hope, and love in their lives."
"In commemoration of the 53rd anniversary of MLK's "I Have a Dream" speech we think it is important that we continue to encourage people to remember that his dream is worth fighting for and will require the best in all of us if we are to bring that vision to fruition. Our ardent hope is the 'Save the Dream' PSA film will activate people to get engaged."

Here's the full video: