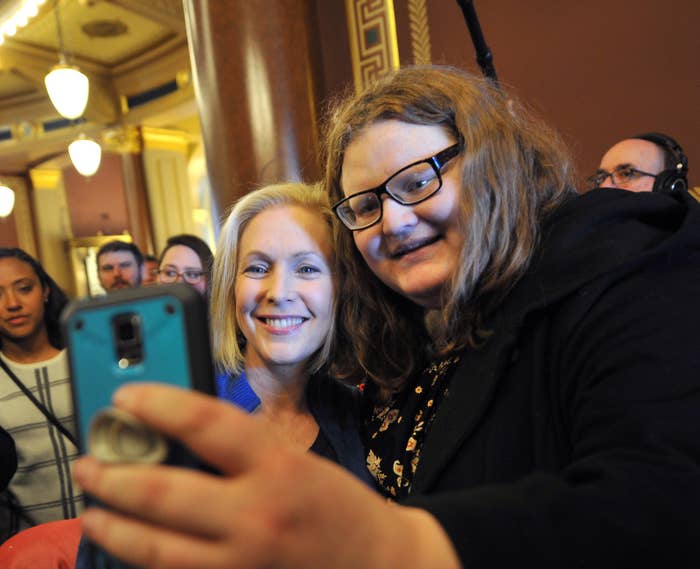 DES MOINES — The chair of the Stonewall Caucus of the Iowa Democratic Party told BuzzFeed News that she is endorsing Kirsten Gillibrand for president, citing the New York senator's emergence as perhaps the most prominent political figure speaking out against sexual harassment.

The endorsement from Kyla Paterson, a Jewish transgender woman and activist from Iowa City who spoke about inclusion at Saturday's Women's March in Des Moines, is Gillibrand's first in this early-voting state. Paterson said in an interview with BuzzFeed News that she was inspired by how Gillibrand handled herself after the negative reaction some members of her own party had to her decision to call on former senator Al Franken to resign after multiple accusations of sexual harassment were levied against him. As a candidate for president, Gillibrand has defended that decision and called those accusations "credible."
"People said it was an opportunistic thing, it's not," Paterson said of Gillibrand's Franken criticism. "Either she was going to stand with the rest of the party or she was going to stand on principle. And she stood on principle."
Paterson publicly endorsed Gillibrand at a press event with the senator at a brewery event Saturday night.
Gillibrand, in her own speech to the Iowa Women's March, contrasted a rousing oratorical style with a quieter, more intimate one that drew her audience in. She declared that "now is our time" as she rebuked all forms of hatred she said was dividing the country. She said, like she did at the launch of her campaign earlier in the week, that she believed that Donald Trump was tearing apart the social fabric of the country.
Gillibrand's decision to speak at the march Saturday comes as the national Women's March organization has been the center of allegations of anti-Semitism, which has left most Democrats looking at 2020 keeping the march at a distance.
She took those allegations on directly. "We know there is no room for anti-Semitism in our movement," she said in the speech.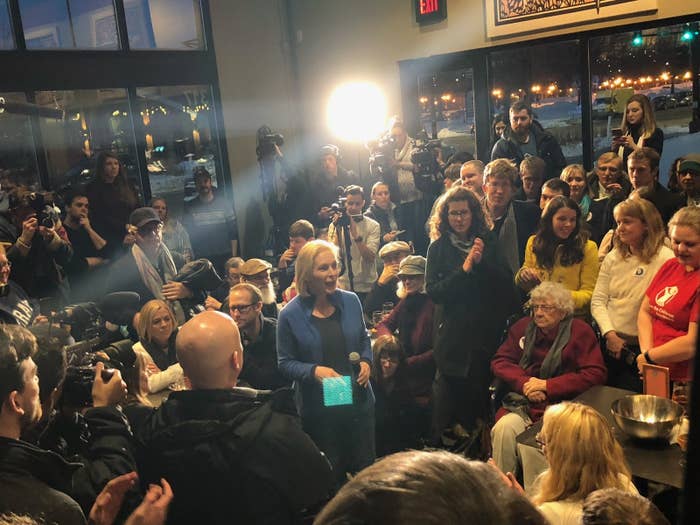 Gillibrand has been associated with the march since the beginning, speaking at the first march in 2017 in Washington. Calling the 2017 march "bigger than all of us" and the "largest global protest in the history of the world," Gillibrand encouraged marchers to "not grow weary."
She asked the audience to imagine what "America would look like" if there were equal representation, saying she doubted whether she'd be still fighting for basic rights.

"The truth is, if we change who is at the decision-making table, we can change everything," she said.
In a brief interview, Gillibrand, who has faced backlash over her decision to speak at the march, said she was "grateful" for her Paterson's endorsement and for her perspective on her stance on Franken. "It means the world to me," she said.

Gillibrand added that it is necessary to stand up for trans people.
"The discrimination that President Trump has shown towards trans members in our community is disgraceful," said Gillibrand. "I think denying members of the military who are serving this country and willing to die for their country based on their gender and identity is outrageous, and I will fight and stand for them as I would fight for my own children."
Paterson, who is also helping to convene a conversation between leaders of the Jewish and black American communities in Iowa next week, said she credits Gillibrand for forcing the idea into the national conversation that women live with the burden of facing harassment.
"I think it's ugly that she's been targeted for something that needed to be called out," Paterson said.