Iowa Governor: Chris Christie "Has What It Takes"
Terry Branstad tells BuzzFeed News he believes Christie is the type of retail politician who can win the crucial Iowa caucuses.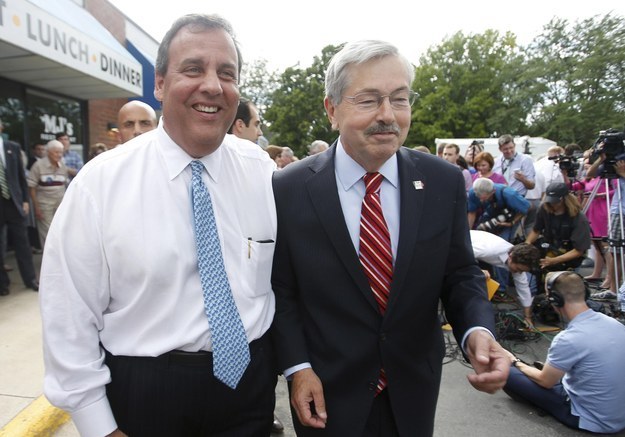 CLIVE, Iowa – Iowa Gov. Terry Branstad said Saturday that Gov. Chris Christie "has what it takes" to be successful as a presidential candidate in his state's crucial caucuses.
"I think he's got the retail political skills to do it," Branstad told BuzzFeed News at his annual birthday party, which brought the state's GOP bigwigs together here Saturday night amid nearly ubiquitous images of Branstad's logo — his trademark glasses and "Branstache."
Christie's 15-minute address sure sounded presidential in its aspiration. He lamented the state of the country, declaring an "extraordinary vacuum of leadership" in the White House, dubbing President Obama the "obstructionist-in-chief."
"Our fate is being dictated to us by others," Christie said. "And it's not because the American people are any less smart than we used to be. It's not because we have any less ingenuity. It's not because we have any less integrity. It's not because we have any less energy … or working any less harder today than we have before."
"It has been six long years, but I bring you good news: there are only two more years left."
And he contrasted his own leadership with Obama's: "Believe me, I'm not just talking about these things as hypotheticals," he said of his critiques of the Obama administration. "For goodness' sake, if I could do some of this stuff in New Jersey, believe me it can be done anywhere."
Christie is engaging deeply in the Iowa political process eight years after the last combative East Coast Republican moderate, Rudy Giuliani, disastrously decided to skip it in favor of less conservative states. He did note that he was in Iowa as a guest, not a candidate. "When Terry Branstad asks you to come to Iowa, you don't say no. Definitely not."
But his regular presence in the state — he'll make his fourth trip next week, he announced in his speech — has been noted. "He's back?" one conservative voter at a coffee shop in Des Moines asked at the mention that Christie was to address the Branstad gathering.
The candidate at the center of the Branstad event was Joni Ernst, a state senator running for the U.S. Senate seat being vacated by Tom Harkin, and she got a ringing endorsement from Branstad.
"Iowa is now again the center of political attention," Branstad said. "One year ago the Democrats thought that they were going to carry Iowa for sure, but it's all different today!"
For her part, Ernst addressed Christie directly. "Maybe you'll be making some more trips to Iowa soon? I don't know, what do you think?" she said to polite applause.
Introducing Christie, Lt. Gov. Kim Reynolds told Christie. "We hope we haven't seen the last of ya."
Indeed, Christie said he'll be back in the state Thursday to campaign with Rod Blum, Republican nominee for Congress in Iowa's heavily Democratic 1st district.
Then he moved slowly toward the door through a the crush of photographers and well-wishers, all to the tune of The Doobie Brothers' "Takin' It to the Streets."