Instagram: It Was A Mistake To Delete Black Lives Matter Account Posting #KKKorGOP Memes
During the GOP debate on Thursday, an activist group called Dream Defenders posted graphics emblazoned with #KKKorGOP — including one with Dr. Ben Carson and a man in a Klan hood. Instagram temporarily suspended the account.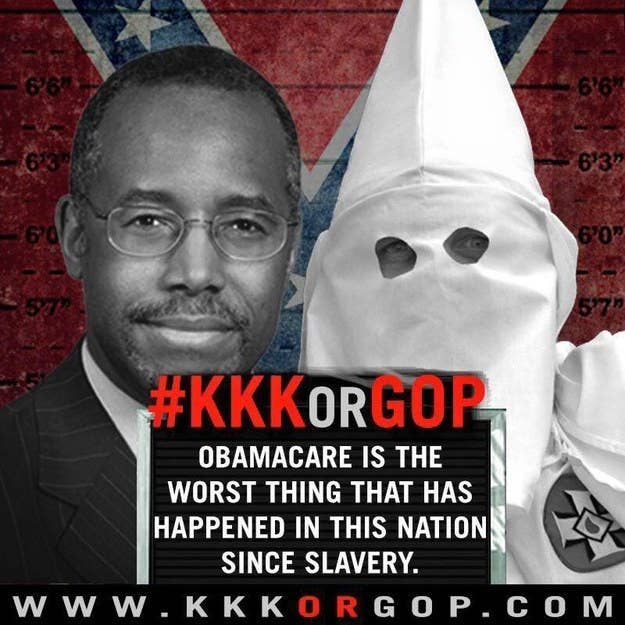 WASHINGTON — During Thursday's first Republican debate, a group of activists associated with the Black Lives Matter movement started a meme on social media: #KKKorGOP.
The activists, some of whom were the principals behind the Netroots presidential forum of three weeks ago, proceeded to post a series of images with Republican candidates — including Ben Carson, who is black — side-by-side with people in Klan hoods, and candidates' quotes against the background of the Confederate flag.
In the case of one group of activists, the Dream Defenders, Instagram suspended the account, which splashed its page with the images from the action.
Instagram confirmed to BuzzFeed News Friday that it "briefly" deleted the account.
"It was a mistake on our part and we've apologized to the account holders. Some of the content on the account was misinterpreted by a reviewer as violating our standards against hate speech," Instagram spokesperson Gabe Madway said in an email to BuzzFeed News. "But we fixed the error as soon as we were made aware of it and restored the account."
The images and hashtag reached millions on Twitter. Activists also used the hashtag #GOPDebate.
The objective, activists say, was to ask participants if they could identify platform similarities between the KKK and the GOP using direct quotes from the candidates who participated in last night's debate. The activists insisted that the images weren't an attempt to link the Republicans to the KKK, despite the imagery. One used Ben Carson's quote that Obamacare was the worst thing that happened to the country since slavery.
The GOP debate Thursday had over 1 billion impressions on Twitter, making it a prime target for activist groups using social media to advance its causes.
"We simply put the two together," Black Lives Matter activist Ashley Yates said, pushing back at the notion that the imagery conflating the GOP with a white supremacist group is unfair. "Folks really weren't able to tell who said what. These weren't things that we made up. If there's anything extreme it's the racist values the GOP and the KKK. We're simply posing a question."