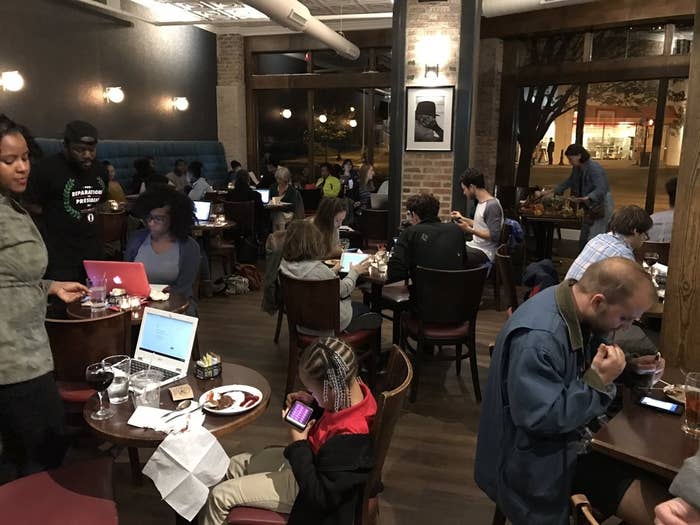 DURHAM, North Carolina — "Hey," the script reads, calling the voter by their first name. "If elected, Trump will limit women's access to health care. Have you made a plan to vote tomorrow?"

The script is for volunteers to use here Monday night in Durham, as part of a final, last ditch effort to get black voters out in North Carolina. The organizing program is called #VotingWhileBlack, which on Monday night was aimed at sending 40,000 text messages. Sponsored by Color Of Change PAC, the program has had over 2,000 volunteers and hosted 86 "Text-a-Thons" virtually and in 11 cities, according to Color Of Change PAC spokesperson Rashad Robinson.
All told, volunteers have sent 3.5 million texts sent in 14 local, state, and national races. A third of those voters have been black. Students from North Carolina A&T, as North Carolina Central University, Bennett College, and student organizers from Ignite NC and the Durham chapter of Black Youth Project 100 also worked to turn out voters.
Color of Change PAC worked with the Planned Parenthood Action PAC North Carolina, which spent in the seven figures attempting to reach 1.6 million voters this cycle (it estimates 285,000 of those were black voters).
In North Carolina, black voters have cast 8.7% fewer early ballots than they did in 2012.
On Monday, the North Carolina GOP touted the lower turnout from registered Democrats in a press release. "The once dynamic Obama Coalition," its chairman said, is "crumbling and tired."
Nia Martin Robinson, the regional field director at Planned Parenthood Votes, said "Black women and the black community in this country have paved the way in electing progressive candidates for the past eight years — and they will continue to be a political force to be reckoned with." Robinson said that's why the organization was working with Color of Change in hopes of driving "record black voter turnout" in North Carolina.
"I think our margins are really close here in North Carolina, so I think efforts like this can really make a difference," said Kimberly Rehberg, a volunteer who drove a van for Hillary Clinton's came last week, shuttling students to vote on Duke's campus. "There's definitely far less enthusiasm for Hillary than there was for Obama. Black voters are not nearly as excited but there was no question whether they would [in those elections]. But we need to be going all in. Sitting on the sidelines is just not an option."
The urgency voter Rehberg feels regarding the black vote in is reflected in a script given to volunteer organizers. "This is it — we can finally end Trump's racist platform. Can we count on you to vote for Hillary?"
William Cubbison, a Ph.D candidate in politics at George Washington from North Carolina whose recent research has focused on the mood of black voters, said purges, as well as confusion over voter ID laws — and drastic rules changes or unforeseeable circumstances in places like Robeson and Cumberland Counties (early vote hours, purges or hurricane fallout) have all made an impact in the early voting.
"There also seems to be a large share of black voters who voted in 2014, many of whom likely voted early in 2012 out of enthusiasm for Obama, but haven't voted yet. I expect that almost all of those voters will show up on election day, and that once all the votes are counted, overall black turnout will be similar to white voters, and I think the turnout percentage will be somewhere between 2008 and 2012."
At Beyu Cafee on Monday, BYP 100 had close to 15 paid volunteers texting voters. Beyu is black-owned, and the organization has led in helping engage its young black members with turning out young black voters. In particular, BYP 100 national chair Jessica Pierce has a list of 6,000 young black voters they're focusing on turning out to vote. They'll be giving out Election Day guides and "I Voted Black" buttons. They'll start at 7 a.m.
"I don't want to people to feel like it's just they're right to vote, I want them to feel like they're building power through voting," Pierce said. "Because our campaign work literally starts the day after Election Day."