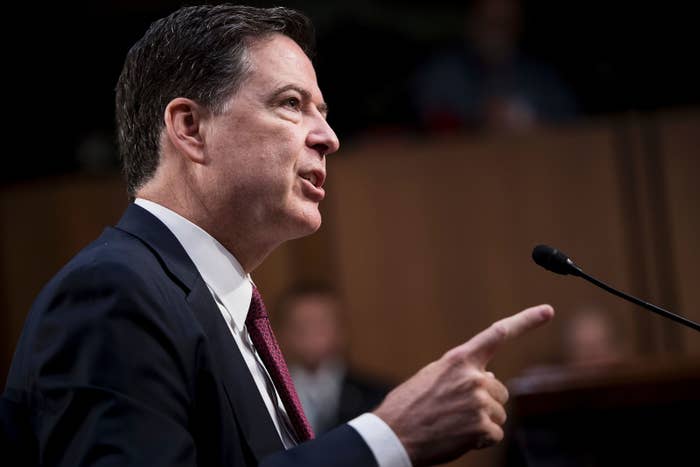 Howard University student activists say they believe they've been excluded from a lecture series with former FBI Director James Comey that begins Wednesday.

In a statement, HU Resist said that the school's administration "has done everything in its power" to ensure that students are "unable to challenge" Comey.
Students protested Comey's convocation speech at the school earlier this year, with activists contending that his FBI background makes him antithetical to the social justice movements championed by young black activists and Howard itself. The protest made national headlines and now the students claim Howard is going the extra mile to make sure their voices are silenced.
As an endowed chair, Comey is set to give five lectures on public policy, with the first of those happening Wednesday. Comey pledged to donate his $100,000 salary to a Howard scholarship for students who grow up in foster care.
But the student activists say Comey will speak to only a handful of members of the university community, with students carefully screened by administrators. A representative of the group said about three dozen students RSVP'd but that none had been approved. The group said this allows the university "to effectively ban student activists from participating." HU Resist contends questions directed to Comey after his lecture on law enforcement and race will be carefully curated.
After publication in a statement, the school told BuzzFeed News that admittance was done on first-come-first-serve basis and that questions would be selected by the campus newspaper editor who will be leading the Q&A.
The full statement: "The King Lecture Series is always a highly anticipated lecture on Howard's campus. Tonight's lecture featuring former FBI Director James Comey is no exception. We are expecting a full house tonight comprised of Howard faculty, staff and students. Due to the popularity of Mr. Comey on campus, and space limitations, the lecture was organized to include a RSVP requirement from attendees. Seat confirmations were issued on a first-come, first-serve basis. We are livestreaming the event for those that cannot attend in person. Tonight's lecture will indeed feature a Q & A session, led by the Editor of Howard's student run newspaper, The Hilltop. The Editor is soliciting questions from the Howard community to be answered by Mr. Comey."
A university spokesperson said Comey conducted a spirited discussion and meet-and-greet with a Constitutional law class at the law school Tuesday, presiding over a Q&A session for nearly 50 students.

"There are plenty members of our community who are eager and excited to engage in rich dialogue with Mr. Comey, as evidenced by yesterday's class," Crystal Brown, Howard's vice president and chief communications officer told BuzzFeed News.
But regarding Wednesday's event, HU Resist has questions. "How can we possibly engage in any real dialogue if the terms and conditions of the conversation are predetermined?" the group wrote. Added one of the activists, "It's interesting that Comey talked about freedom of speech at convocation, yet in order to attend the series you have to be pre-approved."

Wednesday marks the latest development in an ongoing back and forth between the administration and HU Resist, who contend that the university's choices do not square with its professed values, or that of its students. After President Wayne A.I. Frederick met with President Donald Trump, a graffiti message was scrawled on campus: "Welcome to the Trump Plantation. Overseer: Wayne A.I. Frederick." (HU Resist said it wasn't responsible for the message.) The group has also strongly opposed administration contact with Education Secretary Betsy DeVos.
HU Resist said in the statement to BuzzFeed News that they met with administrators expressing their concern that Comey was so closely affiliated with Howard; during that meeting, they said, their concerns were "blatantly disregarded and dismissed." They received Comey loudly last month singing "We Shall Not Be Moved" and chanting "white supremacy is not a debate."
"I love the enthusiasm of the young folks, I just wish they would understand what a conversation is," said Comey. "A conversation is when you speak and I listen, and then I speak and you listen, and we go back and forth, and back and forth. At the end of a conversation, we're both smarter."
HU Resist also expressed concern over a new extremist designation inside the FBI: "Black Identity Extremists." It's a new concept described in an internal FBI memo first reported by Foreign Policy, though the report doesn't specifically mention Black Lives Matter. "Black Identity Extremist (BIE) perceptions of police brutality against African Americans spurred an increase in premeditated, retaliatory lethal violence against law enforcement and will very likely serve as justification for such violence," the report read. Critics say the new designation is demeaning, dangerous, and racist; Reps. Terri Sewell and Andre Carson, both members on the House Permanent Select Committee on Intelligence, wrote in a letter to current FBI Director Christopher Wray that it was requesting a briefing explaining its rationale.
"The FBI has a regrettable and troubling history of targeting black political activists and nonviolent civil rights leaders, and mislabeling them as domestic terror threats," Carson and Sewell wrote. "Conflating American political activists with violent extremist with no obvious connection or hard evidence harms African Americans, harms the credibility of our law enforcement apparatus, and is an affront to our values as Americans."
On campus, the group is emphatic that bringing Comey to campus for lectures is an affront to the school's values.
"Comey, ironically, boasted many affronts to Black communities and communities of color during his tenure with the FBI, including the dismissal of racist state-sanctioned violence, and efforts to [dismantle] the growing Black Lives Matter movement, similar to the FBI's efforts to dismantle the Civil Rights and Black Power movements just a few decades prior," the joint HU Resist statement reads.
In a 2015 appearance, Comey said that the rise of "viral videos" was increasing scrutiny of cops and could be affecting police officers' ability to do their work — remarks which bore a strong resemblance to the "Ferguson effect" theory, which suggested that anti-police sentiment over the deaths of unarmed black men at the hands of police was resulting in an increase in crime because officers were hesitant to use some tactics in certain communities. (Then-President Obama offered a sharp repudiation of that idea, which was perceived as breaking with Comey.)
The HU Resist statement goes on, saying Comey was "no ally to Black liberation," and posited that Comey's involvement with the "Ferguson effect" influenced the "Black Identity Extremists" designation. (Comey was fired by Trump in May; the FBI's counterterrorism division's memo was published in August, per Foreign Policy.)
"We find it both appalling and disrespectful that such a person is given a platform to discuss 'law enforcement and race' at our Historically Black University," they wrote.
"Our message is clear: James Comey is not welcome here."