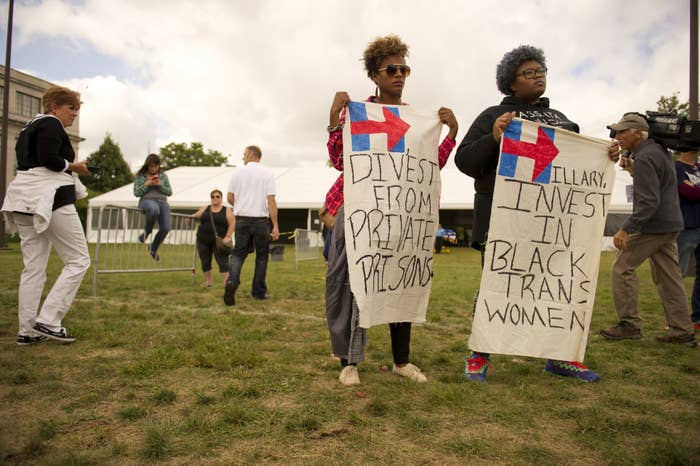 WASHINGTON — Black Lives Matter and immigration groups have increasingly called for Hillary Clinton to stop taking campaign donations from private-prison lobbyists, a demand highlighted by a recent protest of a Clinton speech from a DREAMer activist in October.
On Thursday, a spokeswoman for Clinton said she will no longer accept donations from PACs and lobbyists working on behalf of private prisons.
The spokeswoman said in a statement that Clinton believes that this aspect of the criminal justice system is the responsibility of the federal government, and that there is no need for "private industry incentives that may contribute — or have the appearance of contributing — to over-incarceration" in the United States.
"That is why the campaign will not accept contributions from federally registered lobbyists or PACs for private prison companies, and will donate any previous direct contributions to charity," the statement read. "This is only one of many ways that she believes we need to rebalance our criminal justice and immigration systems."
The Clinton campaign's decision was first reported by Fusion.

"It's a definite victory," Rashad Robinson, executive director of ColorofChange.org told BuzzFeed News. He said his organization began to reach out to the Clinton campaign about two months ago sharing background and data. "The conversations were open and substantive, and our goal was always was to get to get the campaign to see from our perspective, that although they had taken a policy position about ending privatized prison, that money from lobbyists matter. And they heard us."
Robinson said that the collective voices aided in getting Clinton to give the donations back. Clinton campaign officials declined to say which charities the funds would go to.
It became increasingly clear in recent weeks that immigration groups had zeroed in on the issue as well. When Clinton went on Telemundo in early October and said she would break from the Obama administration on its high deportation levels, United We Dream (UWD) said they welcomed the move but called on her to ditch her "prison-industry donors."
Later that week, as Clinton presented an award to Chef Jose Andres at the Congressional Hispanic Caucus Institute gala, Juan Carlos Ramos from UWD held up a sign that said "Hillary for immigrants in prisons" and tried to interrupt her speech.
"Because of pressure from immigrant youth and organizations working towards racial justice, Hillary Clinton has blocked campaign contributions from PAC's and lobbyists from the private prisons corporations that profit off the mass incarceration of the black and brown community," said UWD managing director, Cristina Jimenez.
"As we've gotten into this conversation, we have been inspired by many of the activists that have raised their voices in this conversation," Robinson said.
"We know that the campaign heard them, too," he said, referring to United We DREAM, Black Lives Matter, and GetEQUAL. "I know from leading the discussions that my team had with the campaign, the fact that young black and brown people were being vocal about this in this moment about criminal justice were very important."
The call that Clinton no longer accept funding from private prison interests was part of a weeklong action that began that week, calling for cisgender black people in the Black Lives Matter movement, and more broadly across the nation, to stand up against the violence against transgender women of color. The actions that took place across the country that week were in part a demand for cisgender black people to show up in solidarity with black trans people.
"Bankrolled by private prison companies and lobbyists like Corrections Corporation of America and the GEO Group, Hillary Clinton is part of the system of violence that criminalizes and kills black trans people," Angela Peoples, co-director of grassroots LGBTQ network GetEQUAL said in a statement last August. "How can we take her policy suggestions to curb mass incarceration and detention seriously while she's accepting this money?"

Peoples, who protested Clinton in Cleveland this summer with GetEQUAL's Rian Brown, said that the decision to stop accepting donations shows the power in the tactic of direct action, and displays what can happen when the candidates address the activists' shared intersectional analysis about specific issues — like mass incarceration.
"What we're seeing is a maturing of the electorate, particularly the emerging majority," she told BuzzFeed News. "It's not just about seeing how our issues are aligned, but folks are connecting these issues in a way that politicians haven't talked about in a long time. It's definitely a victory, but it's not just about Hillary Clinton doing the right thing."