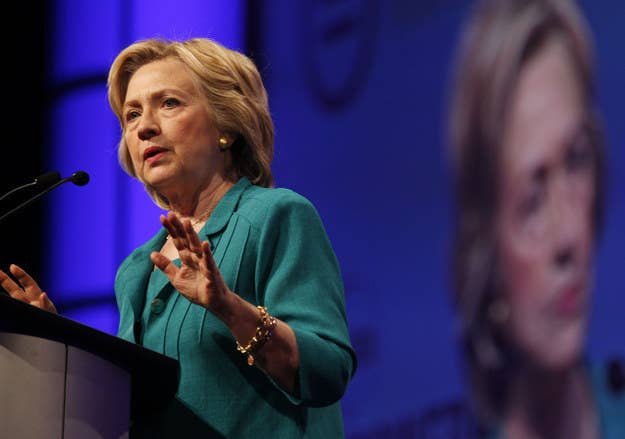 FORT LAUDERDALE — Long after she was done, a crush of black people four deep were still trying to get a glimpse of Hillary Clinton.
Some people posed for pictures in front of the crowd after Clinton's speech to the National Urban League's convention; others snaked their arms around well-wishers to snap pictures of the candidate, smiling and grabbing hands.
Marc Morial, the Urban League's president, had to politely ask the people still standing there to sit so he could introduce Martin O'Malley.
Clinton was undoubtedly the candidate folks at the annual convention had wanted to see most. She got the loudest welcoming applause, the most people clamoring for a brief audience with her, and the most widespread approval by members of the Urban League, who gave her speech the morning's only standing ovation.
This sort of response is familiar.
President Obama's appearances at the meetings of establishment groups like the National Urban League gave these organizations an unprecedented kind of legitimacy — Obama constantly states that were it not for the organization's work, he wouldn't be president. He'd communicated through policy and other cues that he was deeply on their side.
Clinton is not black, nor does she have a black spouse and black children, which Obama used effectively while campaigning to reach black voters in 2008. But Clinton showed a capacity for empathy that took some at the plenary by surprise.
"Over the years, I've gotten the chance to work with you, learn from you," she said, addressing the organization. "I've pored over your State of Black America reports, I've spoken at your conferences, but most importantly, I've seen how you change people's lives."
"That was dazzling," an attendee said, as Clinton spoke.
As her campaign powers along, conventional wisdom — in the likely event she becomes the nominee — says that Obama will be on the road campaigning for Clinton, positioning her as the candidate who will not completely change course from Obama. But whether Clinton can turn people out in the diverse coalition that elected Obama twice has been a source of speculation and analysis this year, especially as the dynamics of activism on criminal justice, immigration, racial disparities, and economic inequality change. In Fort Lauderdale, the reviews were very positive.
"One of the things that really impressed me today about her presentation was her ability to really empathize with the plight of African Americans and to not mince the words and try to make it politically correct," said Kevin E. Hooks, president and CEO of the Las Vegas Urban League. Hooks, a Clinton supporter since the early days, said her emotive comments about the injustice of racial profiling mark some of the most effective remarks he's ever heard her make.
"I really think she's coming into her own," Hooks said. "She's starting to hone her message and really understand how to communicate it to us in a way [black people] can receive it well. We're at the point now where we can tell really who she is and that this is truly what she believes. It almost felt like she was really good at freestyling."
Clinton didn't equivocate to the audience here as to whether she was on Obama's side or not. And she ripped Republicans — namely Jeb Bush on Friday — for saying they want to repeal Obamacare, snipping at the name of Bush's political action committee, to some of her most enthusiastic applause.
"I'm not saying anything you don't already know," Clinton said in reference to racial disparities. "You understand this better than I do, better than anyone. But I want to say it anyway. Because I'm planning to be president, and anyone who asks for your vote should try their hardest to see things as they actually are, not just as we want them to be."
No candidate will invoke Obama's name and record more closely than Clinton, but on Friday she was her own best advocate, people here said. Morial lobbed a few softballs her way afterward, including one in which she said she wanted to be the "small business president," and slipped in an applause line on the burden of student loan debt.
Attendees said she came off as being authentic and comfortable, characteristics that she doesn't always exhibit on the campaign trail.
LaToia Jones, a political operative and board member of Higher Heights (an Emily's List for black women), said Clinton alluded to why that was at the beginning of her speech. "I think she said at the beginning she's familiar with the Urban League, and it showed," she said. "She was much more comfortable the other speakers."
"You could see it in her mannerisms, her speech — and it's hard to put it into words — but it really felt like she felt she could be more direct with this audience. Even with the Q&A you saw that she was really comfortable in her skin — even in her smile, you could just tell from looking at her," Jones said.
At an event like this, though, not even a conservative like Jeb Bush can resist acknowledging Obama, referencing the same speech. "When President Obama says that quote, 'For too long we've been blind to the way past injustices continue to shape the present,' he is speaking the truth." It elicited some polite applause.
Clinton certainly played to the affinity that voters have for Obama, even alluding to the eulogy of South Carolina State Sen. Clementa Pinckney, in which Obama sang "Amazing Grace." Said Clinton, "Obama delivered a eulogy that sounded like it had come straight from angels."
But Clinton more than held her own with this audience, 95% of whom voted for Obama. "I thought she was more comfortable than Ben Carson," Jones said. "And he's black."