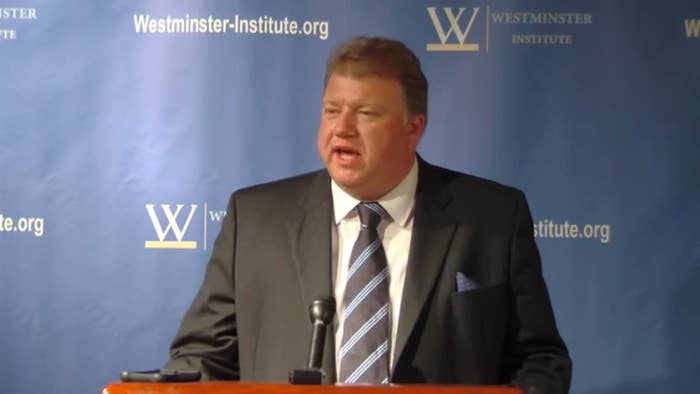 WASHINGTON — A right-leaning nonprofit has proposed an 11th-hour effort to place news articles critical of HIllary Clinton and other Democrats in black newspapers in the runup to the November election, BuzzFeed News has learned.

The American Media Institute has approached Republican donors to finance the articles, three sources said. They were to run in a nominally apolitical black wire service that serves the black press, the sources said.
One source shared details of the plan with BuzzFeed News out of concern that the proposal "looks like voter suppression," the source said. The group's founder, Richard Miniter, adamantly denied that charge. It is also unclear whether any donors have committed to financing the project in the election's final weeks.
Miniter, a former Washington Times editorial page editor who is CEO and founder of the American Media Institute, has told associates that the that the stories would be distributed by the nonprofit's Urban News Service, adding that the articles would include attacks on Obamacare and on the Clintons' failures regarding people of color.
Miniter's pitch, according to a source closely familiar with its details, centers on the prospect of reaching black voters through news articles, rather than obvious opinion pieces or advertisements.
Miniter heatedly denied that his group has any political agenda. He did not respond to more detailed questions about the Urban News Service plan.
"Urban [N]ews does not favor or oppose any candidate for office and its stories do not discuss any candidate for office anywhere in United States," he wrote in an extended email response to BuzzFeed News, which can be read in full here.
He also suggested that black Republicans were trying to plant a negative story on him because "think that we are somehow trying to compete with them in working on black turnout for the RNC."
"We are a nonprofit that is trying to raise money from wealthy individuals and foundations. Maybe one of those individuals got confused," he said. "We have nothing to do with voter turnout or voter suppression or anything to do with voters of any kind."
Indeed, the Urban News Service website hosts a range of innocuous content with only the gentlest rightward tilt, with headlines like "Indianapolis' Oaks Schools use student diversity to teach and learn."
But group's new plan appears to depart dramatically from that approach, and from Miniter's description of the venture as apolitical. Along with promising negative coverage of Clinton and Obama, the plan described to BuzzFeed News included explicit references to voters and to key swing states including Florida, Pennsylvania, and Ohio.
The suggestion that the Urban News Service could stealthily insert political messages into local newspapers follows a recent controversy over the American Media Institute, Miniter's parent organization. The liberal group Media Matters accused AMI last week of "duping mainstream media outlets into running its right-wing investigations," and noted that AMI is itself largely funded by a conservative group. The group's board of directors also includes conservative luminaries like former Bush aide Richard Perle.
Miniter rejected the accusation of bias, noting that AMI aggressively covered allegations against Trump University during the Republican primary.
"We hit both sides because we are in the news business, not the politics game," Miniter said.
In any event, the details of the new plan shared with BuzzFeed News suggest a much more direct political agenda than even Media Matters alleged, one linked to the November election.
The plan shared with BuzzFeed News includes an explicit focus on voters in swing states, two sources said, and Miniter was working to raise the money in time for the 2016 election.
The details of Miniter's ability to deliver on that promise aren't clear. Miniter told BuzzFeed News the Urban News Service — the proposed vehicle for anti-Clinton and anti-Obama articles — has been providing content to 214 papers for more than 18 months. A black Trump supporter on AMI's board, Niger Innis, told BuzzFeed News that AMI is pursuing the partnership with the National Newspapers Publishers Association, a nonpartisan trade organization that represents black newspapers all over the country.
Innis, who was involved in the conversations about anti-Clinton articles, also said that Urban News Service is already providing content to 250 outlets including Ebony and Jet.
"We provide them with story and they publish. We're considered an ally," he said.
A Google search turns up UNS articles on black news outlets ranging from Ebony to the Philadelphia Tribune, Indianapolis Recorder, and Charlotte Post as well as one article on blackpressusa, the NNPA's website.
However the president and CEO of the NNPA, Dr. Benjamin Chavis Jr., dismissed the suggestion that they would carry content on the NNPA's newswire written by the AMI's Urban News Service.
"We don't have a relationship," Chavis told BuzzFeed News.
Chavis said the AMI approached the newspaper publishers group in the last week about whether they could place an "ad buy."
"In my view, there's nothing substantive or concrete on the table," he said. "You can't buy the black press."