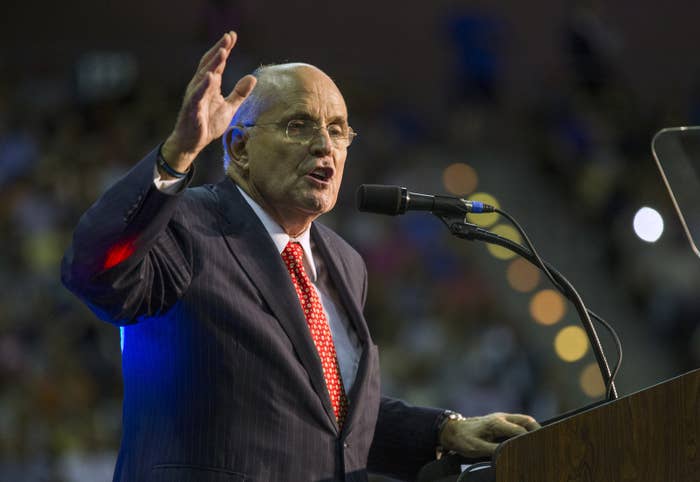 ST. LOUIS — Former New York City mayor Rudy Giuliani said that Donald Trump had a "pretty solid basis" for his conclusion that the Central Park Five are guilty, and that not all DNA evidence is "absolutely conclusive."
The Central Park Five were convicted of raping and beating a woman in 1989 in a racially-charged case over which Trump obsessed. He took out a full-page ad in four New York newspapers calling for the death penalty. The teenagers had confessed to the crimes, but there were unusual circumstances with those confessions and they were convicted on little forensic evidence. They were cleared of the charges in part after another man confessed and DNA was found linking that man, and not them, to the crime. The Central Park Five were released from prison after more than a decade and later reached a $41 million settlement with the city.
"Do I agree with him that those people were criminals and engaged in criminal activity?" Giuliani said. "Yes. I don't know the case, it wasn't my case. I can't tell you all the details of it. They confessed. Their alibi is they were beating someone else up, which I think is pretty weird."
In the 1980s, Giuliani was a federal prosecutor, before being elected New York's mayor in 1993 and overseeing a dramatic change in the city. As other Republicans have abandoned Trump, Giuliani remains one of his most steadfast backers.

Last week, in a statement to CNN, Trump maintained he believed the Central Park Five were guilty despite DNA evidence to the contrary. "They admitted they were guilty. The police doing the original investigation say they were guilty," Trump said last week. "The fact that that case was settled with so much evidence against them is outrageous. And the woman, so badly injured, will never be the same."
"The detectives involved in the case are convinced that they participated in both of the crimes," Giuliani said on Sunday night. "So I would have to say that Mr. Trump has a pretty solid basis for his conclusion today — he had a perfectly solid basis when he made the conclusion back then because they had pled guilty. What was he supposed to do? Think that their plea of guilty wasn't true?

"These guys have lied so many times it's hard to know what the truth is," Giuliani said.
Asked by BuzzFeed News to clarify what he meant by "these guys", Giuliani said, "I mean the criminals. They're definitely criminals. All we're talking about is what crime did they commit. Their alibi is that they were committing another crime."
What about the DNA evidence, though, that helped exonerate them?

"DNA evidence is not absolutely conclusive in all cases, but I think it's absurd to glorify these people who, even if you believe them, were committing another crime."
This post has been updated to clarify the exoneration process.