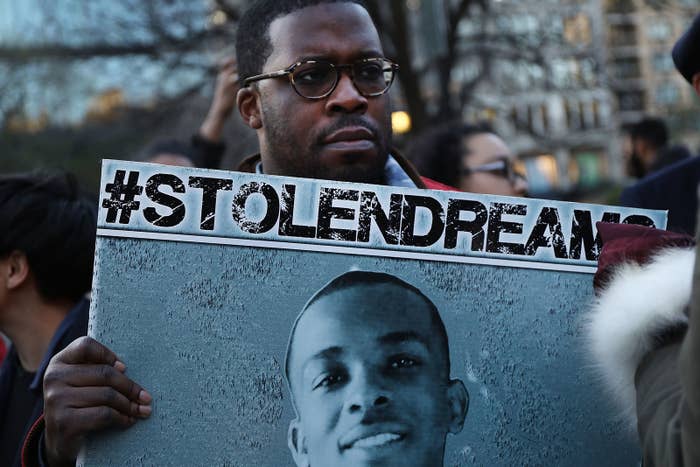 The attorney for the family of Stephon Clark said they were "disheartened" by the White House calling his death a "local matter" as it was thrust Wednesday into the media spectacle of Al Sharpton's annual convention in New York City.

"The family was disheartened because they thought if they were going to have a good chance at justice for Stephon, it was going to come from the federal government," the attorney, Benjamin Crump, told BuzzFeed News.
He said that in Sacramento, there's a lack of trust that local authorities will investigate the shooting and bring charges — though California Attorney General Xavier Becerra has said his office would independently investigate the shooting.
It's been one month since Clark, a 22-year-old father of two, was killed in Sacramento. White House press secretary Sarah Huckabee Sanders said that it was "certainly a terrible incident," but a local matter that should be left up to local authorities. This characterization of the Clark shooting was a major focus of the first day of the convention. Over the last several years, the grieving families of young black men shot and killed by police have attended at Sharpton's annual confab, which combines the National Action Network's advocacy and Sharpton's part-political, part-pastoral leadership in one event.
But this year's event has already taken on a particularly sharp anti-Trump edge. Rev. Shane Harris, a Sharpton deputy from California, worked the crowd into a lather saying that it was unthinkable that the president wouldn't have more to say about these incidents. "This president does not feel that he has to deal with issues of police shooting and police brutality, and he does," Harris told BuzzFeed News, also questioning whether anti-Trump grassroots energy on the left was concerned about the fate of young men like Clark. "We need to continue to challenge him like we are on DACA and everything else. Why are we not pushing the buttons on police shootings?"
Last month, Sanders said during the press briefing, "Certainly we want to make sure that all law enforcement is carrying out the letter of the law. The president is very supportive of law enforcement. But at the same time, in these specific cases and these specific instances, those will be left up to local authorities to make that determination, and not something for the federal government to weigh into."
Curtis Gordon, Clark's uncle, told BuzzFeed News that being thrown into the national spotlight after the killing of a family member was "hell," and said he wasn't surprised by the White House's comments.
"We feel that it's a disgrace and an insult to us as citizens of this country that when it's decided when we're a part of our nation as a whole and when we're separated," said Gordon. "Either we are the United States of America or we're divided. Trump seems to think that when it comes to death by law enforcers it's a local issue. It's an insult to us as people, as Californians and as citizens that our president picks and chooses when to get involved."
Crump said the White House again evoked a "states rights argument" to advocate for "legalized discrimination." "When the White House tries to shift it aside and marginalize the matter as local, we have to stand up and speak up and fight for our children. This is about the lives of our children," said Crump.
Gwen Carr, the mother of Eric Garner, characterized the reaction as racist. "All of our issues began as a local matter," Carr told BuzzFeed News. "But it's what people do nationally across the board which affects the case, so for him to say that was a very racist statement. In other words, it was like he was saying, 'That belongs to the black community and I'm not a part of it.' That's what it sounds like to me."