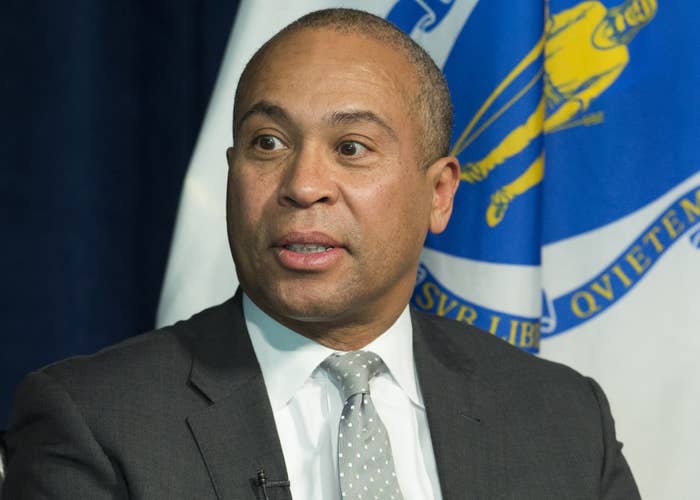 Former Massachusetts governor Deval Patrick's decision not to run for president was a personal decision, sources close to him told BuzzFeed News, and one that will shift how the giant field of potential Democratic presidential candidates approaches the race.
Patrick had said that he would make a decision on whether to run by the end of the year, and has begun telling supporters that he does not intend to run, sources close to Patrick told BuzzFeed News. The decision helps open the path to the nomination for younger, less experienced Democrats, and frees up a deep pool of political talent that had been committed to Patrick. Many high-level Democrats were operating as though Patrick would run — even going as far as identifying candidates for state directors and a campaign manager. His decision was disappointing to Patrick's army but not surprising, an adviser said, knowing that familial and personal considerations would weigh deeply on his conscience.
The news of Patrick's decision was first reported by Politico.
Patrick is expected to post a message to social media with his decision between Wednesday and Thursday morning, finalizing how he never quite got as far on the path to running as his network of contacts around the country thought he did. Four sources briefed on Patrick's choice insisted it was not a political decision, however, each speaking on the condition of anonymity out of respect for the former governor's decision to make a public statement regarding his intentions.
Patrick did not come to the decision suddenly, the sources said. All along, however, he has spoken privately about reasons not to run. Patrick, friends said, enjoys his anonymity and living and working in downtown Boston. According to one friend, Patrick went back and forth on the decision in recent weeks; he is wary of the presidential "bubble" that American presidents indubitably reside in, something that made him concerned about former president Barack Obama's well-being when both men were in elective office. Privately, Patrick sought counsel and listened to stakeholders' analysis of the likely 2020 primary field. He had one such interaction with the Rev. Al Sharpton recently in New York City but told him that soliciting advice wasn't meant to serve as a wink and nod that he was in. He was clear that he had "thinking to do and that he needed time to think through everything," an adviser said.
Patrick, who is a longtime friend of Obama's, was expected to have the support of many of Obama's top allies had he decided to run. Former Obama officials told BuzzFeed News this fall that they were excited about a potential Patrick campaign, and saw him as someone who could continue Obama's legacy. Patrick's allies had gone so far as to form a political action committee that seemed designed to root Patrick on as he weighed his decision.
But Patrick has also for the majority of his political career bristled at how public life has exposed his family. The idea of running for the presidency only magnified those concerns, the people close to him said. One particularly complicated and ongoing situation the Patricks are dealing with privately is just one example of the sort of matter that may have impacted his decision: Earlier this year, Patrick's brother-in-law, Bernard Sigh, was indicted by a grand jury on charges of assault, rape, and kidnapping of a woman. The accusations reopened an old wound from the 1990s, in which Sigh was convicted of the spousal rape of Patrick's sister. Patrick wrote in his memoir that after serving jail time, his brother-in-law and his sister reconciled and rebuilt their lives from ruin, but Patrick characterized the initial report in the local press about the 1993 incident as an unnecessary violation of his family's privacy and was deeply saddened by how it embarrassed them.
The new accusations are a separate and perhaps even more difficult matter, as prosecutors in the more recent case have drawn a parallel between the two cases. In April, Sigh was arrested for violating a restraining order when he tried to contact the alleged victim. And a judge in July ordered Sigh to remain in jail until his trial. Patrick and his family would almost certainly have had to deal with the case in plain view if he had chosen to run for president. As governor, Patrick removed the chair of the Sex Offender Registry Board, explaining that he had decided to replace the official in part because she had tried to convince a hearing officer to change his brother-in-law's offender classification. Patrick said at the time he fired her due to "cumulative loss of confidence." The former chair sued Patrick in 2015 for wrongful termination. Patrick has long resented how the situation violated his family's privacy and caused some to call his own character into question.
Patrick's wife, Diane, who has been open about her own mental health struggles, was walked through the demands of a political campaign by former first lady Michelle Obama and top Obama adviser Valerie Jarrett, the New York Times reported.

But Patrick himself has repeatedly said over the course of his flirtation with the presidency that he was unsure if there was a place for him in the primary. "It's hard to see how you even get noticed in such a big, broad field without being shrill, sensational, or a celebrity — and I'm none of those things and I'm never going to be any of those things," he said several times over the course of the midterm elections as he campaigned for Democrats. Family considerations aside, though, Patrick had assuaged his own concerns about whether a message centered around kindness and restoring the moral character of the country in a grassroots campaign was something that could draw people in, advisers say.
Patrick, who is notoriously his own harshest critic, became convinced that his message was resonating and that there was a path to scale a grassroots campaign nationally. He expressed wistfulness over the people who approached him to encourage him to run, and told BuzzFeed News those interactions were weighing on his decision. The former governor is wrongly caricatured as politically timid and ill-suited for a protracted primary battle and had privately expressed confidence about his ability to beat Trump and ascend to the presidency, two sources said. His decision not to run is not a signifier that his personal ambition has dimmed, those sources said.
Patrick has expressed a willingness to help a Democratic presidential candidate who he believes will run at the grassroots and with the "politics of conviction," a style of public engagement in the political realm that has endeared Patrick to smaller groups of voters across the country involved in House races where Democrats typically did not compete. Aides said that they were disappointed because Patrick, whether he won or lost, would have brought a needed sense of distinction and gravitas to the race, talking about the issues he carried into the midterms.
Most polling had Patrick near or at the bottom of a crowded potential Democratic field, but he was prepared to build a campaign from the ground up. People close to Patrick said it's not in his character to defer to other candidates; he, for instance, said it didn't matter to him that people had a criticism that there was already a first black US president, and that the country was possibly not ready for another. Nor was Patrick intimidated by the sheer number of candidates in the race.
Rather, advisers said that the decision might seem sudden to outside observers because politicians sometimes say what they don't mean and make calculated choices based on their political expediency, echoing a comment about Patrick that close adviser John Walsh made to BuzzFeed News in 2015: "If there's a political doctrine that consistently governs Deval Patrick's actions as a political player, it's that if you want to know what he thinks, you can literally just listen to what he says."