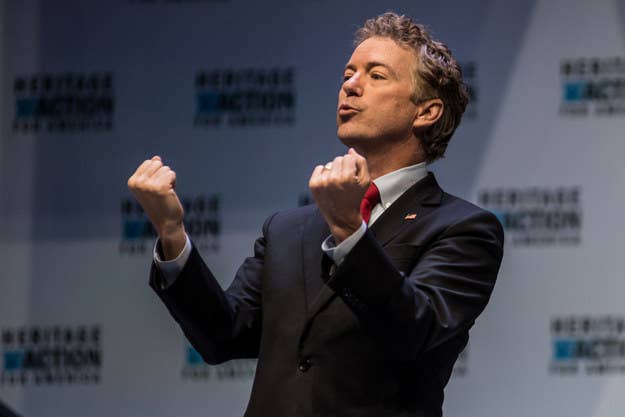 WASHINGTON — Students in DeRay Mckesson's class at Yale say Sen. Rand Paul, the Republican candidate for president, was wrong for criticizing the material the Black Lives Matter activist used in the course.
As part of Yale Divinity School's Transformational Leadership for Church and Society, the activist's lecture featured a text that drew Paul's attention: an essay by Willie Osterweil titled "In Defense of Looting," which casts looting as an anti-white supremacist protest tactic, and offers a critique and thesis regarding Ferguson.
"I frankly wouldn't pay for my kids to take a class from somebody lecturing on the benefits of looting or why looting is OK," Paul told TheBlaze on Wednesday. "There are some crazy courses out there on a lot of campuses."
Deniqua Washington, a first-year student at Yale Divinity School said that's not what happened at all, calling Paul's response "uneducated" given that he wasn't in the room.
"We talked about the effects and history of looting, trying to really get down to the core of it and understand where it comes from," Washington said. "It wasn't about why we should be looting and why we should glorify and romanticize it as if it's this great thing. We intellectualized looting in a way that I've never done before."
Another student, Andrew Doss, said the text helped illuminate for him how anger and pain play out in protest. With looting, the outcry is manifested "in ways that people might not necessarily agree with."
"Rand Paul says some thing that are relevant and important, but this is not one of them," Doss told BuzzFeed News. "The people who are there know exactly what it was."
In a brief interview, Mckesson questioned the the senator's devotion to free speech.
"In his statement, he advocates for free speech while simultaneously advocating for restricting free speech," Mckesson told BuzzFeed News. "He does not deal with the full truth but with the convenient truth — by his logic, we would also not teach about the Revolutionary War or the Boston Tea Party."
A spokesperson for Paul did not immediately return a request for comment.
Mckesson's lecture course, titled "Transformational Leadership in the Black Lives Matter Movement," is one of a series offered by the school. The other lectures in the series feature Paul's Democratic colleague Sen. Chris Coons and the Rev. Nancy Taylor, the pastor of Old South Church in Boston. Both Yale Divinity School graduates, Coons and Taylor are scheduled to lecture on transformational leadership in public service and in the face of disaster, respectively. (Old South Church is located near the finish line of the Boston Marathon.)
Other required reading for Mckesson's course includes Ta-Nehisi Coates's best-seller Between the World and Me; Derrick Bell, Silent Covenants: Brown v. Board of Education and the Unfilled Hopes for Racial Reform; a Huffington Post essay called "How the Black Lives Matter Movement Changed the Church"; and the May 2015 New York Times Magazine piece on the movement, which highlighted the experiences of Mckesson and fellow activist Johnetta Elzie.