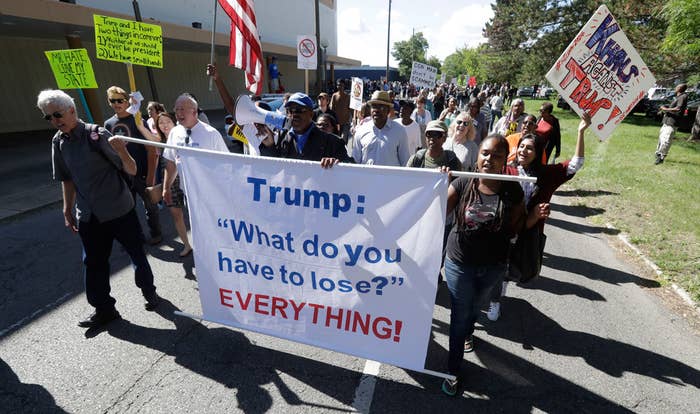 WASHINGTON — The Democratic National Committee is planning a seven-figure ad buy designed to engage communities of color in the final stretch run to the election.

A radio ad, titled "Protecting the Progress," featuring Michelle Obama will run on nationally syndicated African-American radio programs.
"For the past eight years I've seen firsthand what it takes to be president," Michelle Obama says in the ad. "And I can tell you it's the highest stakes, hardest job you can possibly imagine. But Democrats have stood with Barack every step of the way. Now we have to protect all the progress we've made together."

A DNC official said Mrs. Obama will ask voters to visit iwillvote.com to register. The DNC would not give the exact amount of the spend but only say it was a "seven-figure" buy.
"The DNC will also run ads on radio, print and digital outlets popular with Hispanic and Asian-American and Pacific Islander communities, with additional communities to be announced in the days ahead," the DNC said.
For example, the ad will play on The Steve Harvey Show, The Tom Joyner Morning Show, Keep Hope Alive with Rev. Jesse Jackson, Keepin it Real with Rev. Al Sharpton, and The DL Hughley Show.

The minority push comes as jittery Democrats have fretted that the Clinton campaign is falling short of exciting black and Latino millennials in the way President Obama did in 2008 and 2012. Clinton supporters on a campaign call two weeks ago pressed officials for details on how they planned to reach young Hispanics and what the Spanish-language strategy was.
A week later the Clinton campaign began rolling out new Spanish-language ads, which continued Monday, with ads aimed at Trump on the Cuban embargo in Florida and the way he treats his hotel workers airing in Nevada and Ohio.
In a statement, interim chair Donna Brazile said the buy comes as "the future of the country is at stake," with minority voters playing a "critical" role in the success of Democrats in November.
"We know how critical it is to reach voters where they are, and the DNC is determined to remind voters that the best way to protect the tremendous progress we've made under President Obama's leadership is to elect Democrats across the country from the courthouse to the White House."