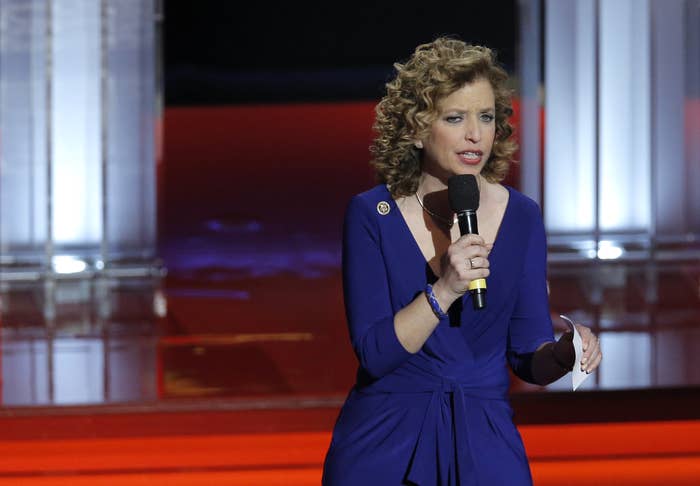 WASHINGTON — The Democratic National Committee on Tuesday will publicly release a breakdown of its hiring and contracting practices that reveal incremental gains in diversity and inclusion over the past five years.
A DNC official said the move is part of a commitment that the DNC's staff reflects the "great variety of perspectives, backgrounds and experiences that make up our party and our country," according a release made available to BuzzFeed News.
In 2015, women made up 48% of DNC employees, according to a memo reviewed by BuzzFeed News; 35.9% were people of color, up from 32.1%. Blacks made up of 18.9% of the party's workforce last year, and 7.7% of employees were Hispanic-American; 8.1% were Asian-American or Pacific Islander; 1.2% were Native American.
"The statistics also reflect that half of the Democratic National Committee's senior staff members are now female and that two-thirds are persons of color," the memo reads.
The Democrats said diverse suppliers and vendors registered to do business with the DNC had also improved — something that has been a source of scrutiny and contention in the past. The DNC said it has a directory of close to 500 minority-owned businesses. In 2015, nearly a quarter of DNC contracts (25% of the total dollars spent by the DNC) went to such small businesses.
"A commitment to diversity takes more than words on paper," DNC Chair Debbie Wasserman Schultz said in an email statement to BuzzFeed News. "It takes a concerted effort to expand outreach and engage diverse communities at every level. Democrats fundamentally believe in the American promise that everyone, regardless of who they are or what their last name is, should have a fair shot at the American Dream, and I am proud of the Democratic Party's diversity goals and achievements."
On Monday, several groups gave the DNC credit for its commitment to increased transparency.
Inclusv, a group started this election cycle that challenged electoral campaigns to release their numbers on diversity and inclusion, applauded the release and its content. In December, Inclusv asked the DNC to release diversity numbers. They met in January, and the DNC agreed to release them to the general public.
"Inclusv applauds this significant and transparent step by the DNC to publish its staff and contracting diversity data," Inclusv co-founder Alida Garcia told BuzzFeed News in a statement. "This sets a great example for state parties to follow to ensure that diversity and inclusion are prioritized across the country to build efforts that are truly reflective of the American electorate."
Kouri Marshall, the executive director of Democratic GAIN, a progressive membership association that facilitates recruitment and training in politics, said the numbers signaled marked improvement but warned that the Democrats work is not done.

"These numbers are a step forward. However, there is still more work to do in terms of diversity especially as it relates specifically to contracting opportunities for minority owned firms and vendors," Marshall told BuzzFeed News in an interview. "On paper commitments to diversity and inclusion only work well when they are followed up by action. We are all hoping to see that action during the 2016 cycle and beyond."
The DNC named Gregory Hinton, who led the effort behind researching and reporting diversity numbers, to the role of chief diversity officer in 2011. "That role has been responsible for developing a pipeline of talent that is helping the DNC and other Democratic Party committees identify talent across every relevant field in political campaign operations," the memo reads.
"Diversity is the definition of the American experience, and if the Republican Party continues to alienate and divide, it should expect to continue to lose the White House for generations to come," Wasserman Schultz said.