Congressional Black Caucus Slams Grand Jury Decision On Ferguson
The Congressional Black Caucus has strongly denounced the decision late Monday out of Missouri that set off the latest round of protests against the shooting death of Michael Brown.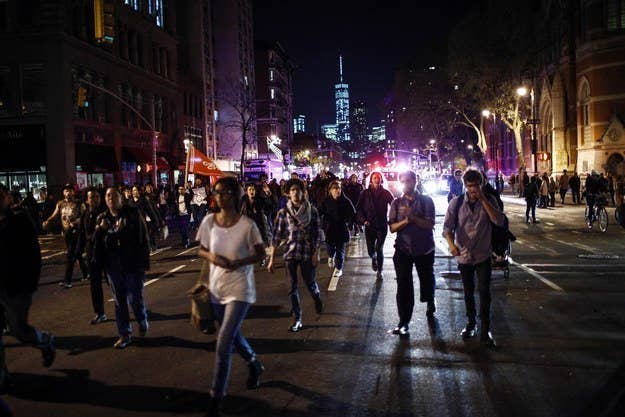 WASHINGTON — Members of the Congressional Black Caucus have come out in unison over a St. Louis County grand jury's decision not to indict a police officer in the shooting death of an unarmed 18-year-old.
"The Ferguson Grand Jury's decision not to indict Officer Darren Wilson in the death of Michael Brown is a miscarriage of justice," Rep. Marcia Fudge, the CBC chair, said in a statement. "The decision seems to underscore an unwritten rule that Black lives hold no value; that you may kill Black men in this country without consequences or repercussions. This is a frightening narrative for every parent and guardian of Black and brown children, and another setback for race relations in America."
Rep. Hakeem Jeffries, of Brooklyn, New York, who spoke this past week against the killing of a 28-year-old man by the New York Police Department in his district, seemed to make a connection the shootings.
BuzzFeed News reported on Friday that the Brooklyn District Attorney's Office has launched an investigation into the shooting of Akai Gurley.
"From Ferguson to Brooklyn, the zip codes may be different but the issue of police officers shooting young, unarmed African-American men without justification is exactly the same," he said in a statement. "Throughout this country, we need a dramatic change in the manner that law enforcement authorities engage communities of color."
Jeffries reiterated a hope for the Justice Department's investigation into the matter.
"But justice delayed is not justice denied," Jeffries said. "We now need the federal civil rights investigation to take center stage, and do the right thing for the family of Michael Brown."
"From the onset, Ferguson law officials have been negligent in their handling of this tragic death," said Rep. Karen Bass of California. "Ferguson officials botched this case from the beginning when they left Michael Brown's body on the street for over four hours after he was killed. They were mean-spirited when they leaked information to the media to assassinate Michael Brown's character. The Ferguson Police Department violated the constitutional rights of the Ferguson community when they attacked and teargassed lawful protesters. And tonight the grand jury attacked justice by not holding Officer Wilson accountable for his actions."
President Obama made a rare appearance in the White House press briefing room, shortly after prosecutor Bob McCulloch announced Wilson would not be indicted, producing striking split screens between violence in Ferguson and the calm of the briefing room.
On social media, an avalanche of criticism toward the president followed, for what some considered too apolitical remarks in the face of an unfavorable decision.
The CBC, which dubs itself the "conscience of the Congress," also echoed some similar cautions.
"I know this hard. I know this is difficult. Do not succumb to the temptations of violence. There is a more powerful way," a tweet by Rep. John Lewis said late Monday.
"Only love can overcome hate," he wrote. "Only nonviolence can overcome violence … You can't become lost in a sea of despair. You have to keep pushing and pulling, you have to keep moving forward."
Sen. Cory Booker joined the chorus of members with words of comfort for Brown's family and reframed his killing as a sign of progress yet to be made. "My thoughts and prayers go out to the family of Michael Brown and the entire Ferguson community. I echo their calls for peace and nonviolence. More violence is unacceptable. Michael Brown's legacy must amount to much more than tragedy and violent protest — it must be a catalyst for meaningful conversation and ultimately substantive improvements in policing and the overall U.S. justice system. Our nation will not come to agreement on all of the issues surrounding the events in Ferguson."
"Yet, we can agree on and advance strategies to make our criminal justice system more reflective of our common values," he wrote. "We have work to do."
Said Rep. Barbara Lee of California tweeted, "Beyond disappointed in lack of #Justice4MikeBrown. We must demand change [and] work to end racial [and] structural bias in a peaceful manner."