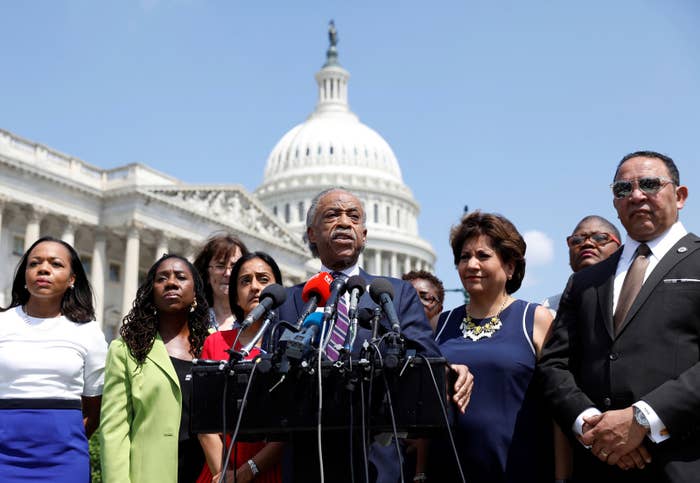 National civil rights groups announced a campaign to fight President Donald Trump's nominee to the US Supreme Court, urging several hundred activists on a private call Wednesday night to contact their US senators as part of the beginning of a "timeline of events" aimed at delaying a confirmation vote.
One by one, leaders struck urgent, plaintive — and even optimistic — notes, framing Brett Kavanaugh's nomination to the court as an existential threat to decades of civil rights progress in the US.
A recording of the conference, provided to BuzzFeed News by sources Wednesday night, began with the National Urban League President and CEO Marc Morial.
"We feel that it is our responsibility and our duty to put up a fight," he said.
Morial instructed listeners to put out the call for a united front and begin contacting senators Thursday morning, providing the number for the main switchboard at the US Capitol. Democrats face a very difficult task in blocking any nomination to the Supreme Court: Although narrowly, Republicans control the Senate, and in the early going, potential Republican swing voters like Sens. Lisa Murkowski and Susan Collins have not raised serious objections to Kavanaugh.
A composed Sherrilyn Ifill, president and director-counsel of the NAACP Legal Defense Fund, opened with, "It is no exaggeration to say that we are at the precipice of a constitutional crisis in this country."
Ifill said that Trump's closest advisers remain engulfed in criminal investigations. "And yet too many in this country want to behave as if this is business as usual," she said.
Looming large was a grievance over former president Barack Obama's nomination in 2016 of Merrick Garland. Obama's nominee never received a hearing or a vote from the Republican-controlled Senate, which argued that the nomination should wait until after the 2016 election. Ifill said that Garland was an "extremely reasonable" nomination to the court and that Justice Neil Gorsuch's seat "essentially was stolen."
"Republican senators would not even meet with [Garland]," said Ifill.
Ifill said Justice Kennedy was not a liberal but "the person that you could argue to and hope that you could win him over. And we did."
Kavanaugh, she said, has made it clear that the president cannot be prosecuted or indicted. "The president selected this candidate thinking about his own future," said Ifill, then called Kavanaugh a "deeply flawed" jurist and someone "we can beat," adding, "Your senators need to hear that you expect them to stand and fight for our rights and for the future of our children and the future of our grandchildren."
The Rev. Al Sharpton connected the civil rights struggle of the last 60 years to the challenge ahead.
"We make [a] mockery of all of that if we do not have a strong, definitive, clear movement to preserve the Supreme Court beyond this kind of manipulation so that this cannot be used to undermine the Voting Rights Act, the Civil Rights Act, criminal justice, women's rights, labor rights, LGBTQ rights. They will wipe it all out in a short period of time," said Sharpton.
"History should not record that we were the generation that dropped the ball."