Chicago Board Chair In Middle Of Library Decision Gave Thousands To Obama Campaigns
The board's at the center of a contentious issue: whether to cede public park land for the potential construction of the Obama's presidential library. The previous president of the city's parks board stepped down for conflict of interest reasons.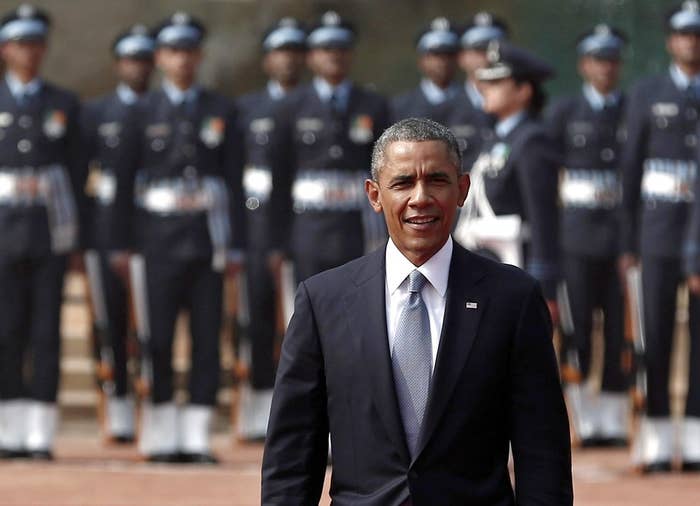 WASHINGTON –– The chair of the Chicago parks committee negotiating the terms of a land deal which could tip an effort to host Barack Obama presidential library in favor of the University of Chicago has donated thousands to Obama's political campaigns.
Avis LaVelle is the vice president on the park district's board of commissioners — the board at the center of the decision whether to use public park land for the construction of the Obama presidential library. She took over late last year after the former chair recused himself citing personal conflict of interest.
LaVelle, who served as Bill Clinton's national press secretary during his first campaign for president, donated at least $8,750 to Obama's 2004 Senate and 2008 and 2012 presidential campaigns.
Last year, the park district board's president, Bryan Traubert, who is the husband of Commerce Secretary Penny Pritzker, recused himself from the process, citing a conflict of personal, philanthropic and professional interests. The Chicago Sun-Times reported he informed the board of his decision at a Nov. 12 board meeting. Pritzker, a billionaire and member of the family known for the Hyatt hotel fortune, lassoed hundreds of thousands of dollars Obama's way en route to his 2008 ascent to the presidency.
Traubert and Pritzker are expected to be major donors for the Obama library.
"Because this opportunity for the city also creates an intersection of my personal, my philanthropic and my professional interests," Traubert said in a statement at the time, "I have conflicts with this and so I am disclosing that I will personally not take any formal action in my capacity as President of the Chicago Park District Board of Commissioners during the site selection process and further, I am recusing myself from any and all formal discussions representing the Chicago Park District related to the site selection for a potential presidential library, and I am relinquishing those responsibilities to Vice President LaVelle."
Traubert also said he would recuse himself from a board vote on the issue, should the decision come down to it.
Contacted Monday, LaVelle said that Traubert stepped down because his wife is a current cabinet member, not because he'd contributed to Obama's campaigns -- or because he'd planned to contribute to Obama's library. LaVelle said her involvement does not present a conflict of interest.
Asked whether she'd planned on contributing financially to the library, she demurred. "Who knows? You're asking me something about something in future. I'm from Chicago. I'm Chicagoan and I want [the Obama library] to come to Chicago."
The land transfer –– the particulars of which were submitted in an ordinance introduced by Mayor Rahm Emanuel last Wednesday –– calls for land controlled by the Chicago Parks District to be transferred to the city of Chicago. That is only in the event that the Obama foundation chooses the University of Chicago's bid, which until about a month ago seemed a foregone conclusion.
Emanuel raced to a series of fixes, after problems with that bid became apparent.
One of those were two public hearings over which LaVelle presided and cut an imposing figure. When supporters grew rowdy over the appearance of Jesus "Chuy" Garcia, a mayoral candidate, LaVelle stepped in.
"If you respect him," she said as supporters finally died down, "allow him to speak."
The University of Chicago proposed and recently presented to the surrounding community a plan that includes building on one of two sites in neighoring Jackson or Washington Park. Should the board decide to approve the land deal, it could make way for Obama's presidential library to be built of on some of Chicago's most prized parkland, a proposition which has been met with sizable opposition since the University of Chicago presented what it submitted to the Obama foundation in public hearings on the South Side two weeks ago.
"In light of her former role with the University of Chicago, it certainly does call into question her ability to lead a fair and impartial process," said Alderman Bob Fioretti in an email to BuzzFeed News. Fioretti is one of Emanuel's opponents in the Feb. 24 election.
LaVelle, a veteran of the Chicago Democratic political machine like many top officials in Chicago, was once an aide to Mayor Richard M. Daley. She also has a special affection for Michelle Obama. "There are some people in public life who smile at you, and the smile doesn't ever get to their eyes," LaVelle told Chicago Magazine about Obama in 2009. "You can clearly see that she's opening herself to you."