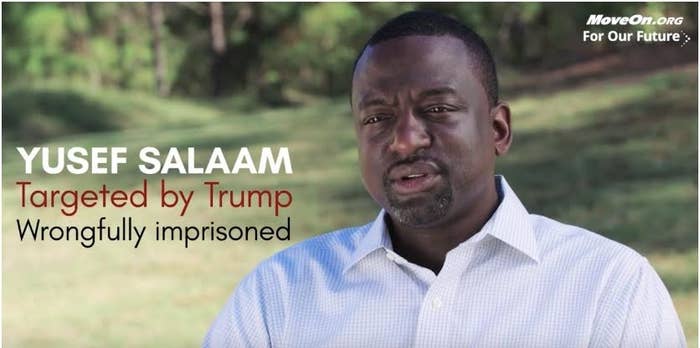 WASHINGTON — Yusef Salaam said Donald Trump's infamous full-page ad calling for the deaths of the Central Park Five would in an earlier era been the impetus that sparked "mob justice" — in a new ad against Trump.
"They had our names, our phone numbers and addresses in the papers so what would've happened? Somebody from the darkest places of society would've come to our homes, kicked in our doors, and drug us from our homes and hung us from the trees in Central Park. That would've been the type of mob justice that they were seeking."

The quote is in a new anti-Trump ad by For Our Future PAC and MoveOn.org Political Action provided to BuzzFeed News. It recounts the story of the Central Park Jogger Case — how Salaam and four others were convicted of rape, and later exonerated after DNA evidence linked another man to the crime, and the role the Republican nominee for president played during that era in New York City. Trump bought full-page ads in newspapers writing, "I am not looking to psychoanalyze or understand them, I am looking to punish them."
"He was the fire starter," Salaam says.
The Central Park Jogger case, which dominated the New York newspapers and tabloids in the late 1980s, is back into public view this election as Trump's faces intense scrutiny over his negative rhetoric about minorities and criticism over his treatment of women — issues that have long dogged his campaign but been magnified by his conduct in recent days.
To racial justice advocates, the Trump's role in the case is a harbinger of what to expect under a potential "law and order" Trump presidency.
The ad plays footage from a video Trump did with Larry King about the case in 1989. "Let's all hate these people, because maybe hate is what we need to get something done," said Trump.
Trump last week reiterated and defended his position that Central Park Five are guilty, although the convictions were overturned. In a statement, Trump said, "They admitted they were guilty. The police doing the original investigation say they were guilty. The fact that that case was settled with so much evidence against them is outrageous. And the woman, so badly injured, will never be the same."

Former New York City Mayor Rudy Guiliani told BuzzFeed News he believed Trump had a "pretty solid basis" for defending his position.