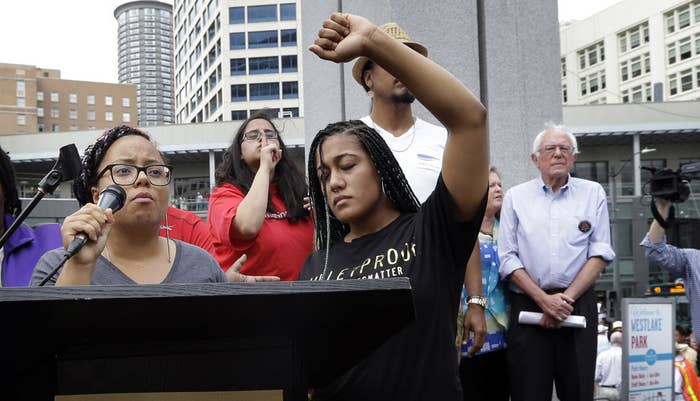 WASHINGTON — Black Lives Matter protesters on Saturday shut down a Bernie Sanders rally in Seattle.
The interruption marks the second time Sanders' campaign has been confronted by an action planned and executed Black Lives Matter activists. The first came during an action at Netroots Nation in Phoenix nearly a month ago.
CNN reported the protesters — Marissa Janae Johnson and Mara Jacqeline Willaford, co-founders of the Black Lives Matter chapter in Seattle — held a banner that said "Smash Racism" before interrupting the rally.
One of the activists, given the opportunity to address the thousands who had gathered to hear from Sanders, responded to what multiple news outlets described as a less than warm reception that included boos.
"I was going to tell Bernie how racist this city is, filled with its progressives — but you already did it for me, thank you," she said.
The activists demanded four-and-a-half minutes of silence to commemorate the one-year anniversary of Mike Brown. They were granted the request.
Eventually, when it became clear to organizers that the activists weren't giving up the mic, the rally's organizers brought the it to a halt.
"I think it is unfortunate because, among other things, I wanted to talk about the issues of black lives, the fact that the American people are tired of seeing unarmed African-Americans shot and killed," Sanders told CNN's Dan Merica, after the event. "But there are other issues as well that we have to talk about, and that is the fact that the middle class of this country is disappearing and most importantly, we don't bring change in this country... unless all people stand together. That is what we have to do."
Sanders continued on the defensive Saturday.
"I am disappointed that two people disrupted a rally attended by thousands at which I was invited to speak about fighting to protect Social Security and Medicare," the Vermont senator said in a statement Saturday night. "I was especially disappointed because on criminal justice reform and the need to fight racism there is no other candidate for president who will fight harder than me."
The Seattle chapter of Black Lives Matter issued a statement on its Facebook page Saturday.
"Bernie Sanders will not continue to call himself a man of the people, while ignoring the plight of Black people. Presidential candidates will not win black votes without putting out an explicit criminal justice reform package."
Messages to the chapter went unreturned Saturday night.