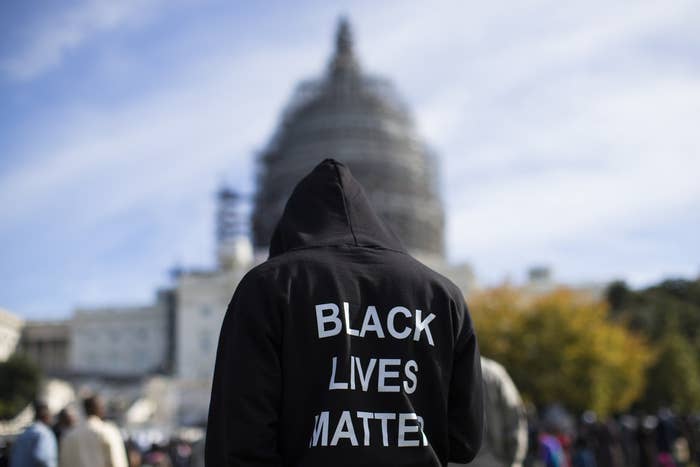 WASHINGTON — Wired magazine named Campaign Zero, a group affiliated with the Black Lives Matter movement, as one of the top 20 tech insiders defining the 2016 presidential elections on Tuesday.
A spokesperson for Wired said its addition of Campaign Zero onto its "Clout List" was because the magazine's editors "think that they are as influential over this campaign as the Facebook's, Google's, etc."
The accolade is just the latest indicator of the Black Lives Matter movement, and Campaign Zero in particular, increasing its efforts to make inroads with major Silicon Valley companies.

On Wednesday, DeRay Mckesson, a Campaign Zero leader, was slated to speak in San Francisco at Slack's headquarters in San Francisco. He has met with Reed Hastings of Netflix and talked via phone with the head of Flipagram. He is something of a regular at the New York offices of Medium, has strong relationships with executives at Slack and Twitter, and has a fledgling relationship with top heads at Facebook.

And activists from Campaign Zero and Twitter executives were — and reportedly still are — working behind the scenes to host a presidential forum on issues around police violence and racial and criminal justice. It is unclear how far planning for the event has progressed. A Twitter spokesperson told BuzzFeed News there was no update on its progress.
Cultivating relationships and counsel from tech giants inside Silicon Valley — like high-profile forums with presidential candidates — has become a major tactic of Campaign Zero. Those relationships have not just increased the group's profile, but have opened broad access to tools and resources to advance the movement's platforms in 2016, insiders told BuzzFeed News.

Campaign Zero is not the only group within the broader Black Lives Matter movement to use technology to push its message to the masses, nor the only to attract Silicon Valley's powerful and often wealthy allies.
In 2015, Twitter named #BlackLivesMatter "one of the top 10 most influential moments of the year" with the hashtag or phrase tweeted 9 million times in 2015, a Twitter spokesperson said.

But Campaign Zero's inclusion on the list perhaps christened it anew as the movement platform most closely aligned with Silicon Valley. "The platforms know how influential they are," Issie Lapowsky, a staff writer for Wired who worked on the list, told BuzzFeed News. "They are definitely known quantities."
If Campaign Zero and other Black Lives Matter groups continue to make friends in Silicon Valley, they will have some of the most powerful allies in the country.
"The tech sector has a kind of disproportionate political and economic influence that's representative of how our politics have evolved," said Decker Ngongang, a senior fellow with Frontline Solutions, a Washington-based consulting firm.
Ngongang said the platforms allows groups fighting for racial justice to bypass legacy entities and philanthropic institutions. That ability to level the playing field represents a major opportunity for Black Lives Matter, Ngongang said: "The Ford Foundation has this $12 billion endowment, but I bet Mark Zuckerberg could pull that together with a few neighbors and friends."
Mckesson also appeared on The Late Show with Stephen Colbert on Monday. The show has become, in its latest iteration with the former Comedy Central host, a platform for tech CEOs on late night TV, a space traditionally occupied by Hollywood entertainers. Alongside those celebrities, Travis Kalanick, the chief executive of Uber, was among Colbert's first guests. Colbert also interviewed the CEOs of Snapchat and Tesla. They all appeared as guests within the show's first month, according to Mashable.

On the show, Mckesson — holding an iPhone in one hand and wearing an Apple watch on his other wrist — told Colbert there are ways to use his own platform to dismantle white privilege and promote the need for racial justice. He said technology had helped accelerate the pace of organizing and amplify the message.

"When you think about what is different about the civil rights movement now, it's really about technology," Mckesson said when prompted with a question about the evolution of the movement. "The issues are the same, and we didn't invent resistance, and we didn't discover injustice, but technology has allowed us to amplify these messages in ways that we couldn't before and accelerated the pace of organizing in ways that are really powerful."