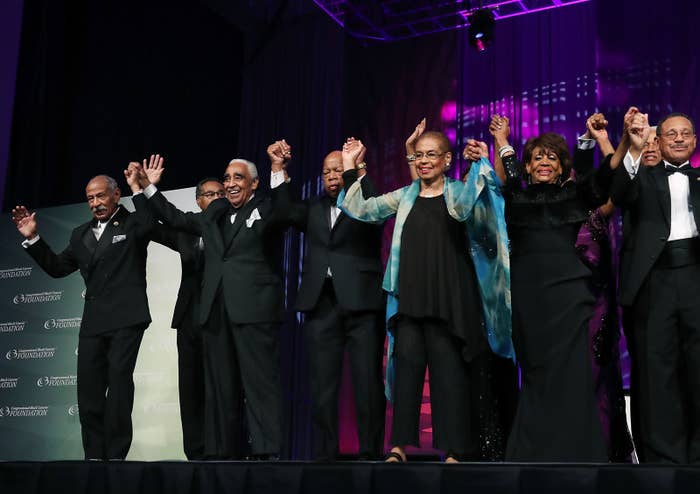 WASHINGTON — Members of the Congressional Black Caucus delivered a blistering critique of Donald Trump Friday, calling his candidacy for president a byproduct of his declaration that President Obama was not a citizen of the United States.
The Congressional Black Caucus political action committee hastily gathered the press outside of the Walter E. Washington Convention Center after Trump's admission that Obama was born in the United States, after years repeatedly questioning the president's citizenship.
On Friday, Trump said, "President Barack Obama was born in the United States, period. And now we all want to get back to making America strong and great again."
G.K. Butterfield, the chairman of the Congressional Black Caucus gave a blistering attack, saying, "This is a disgusting day. By any definition Donald Trump is a disgusting fraud."
"Donald Trump's presidential campaign has been based on the birther movement which he founded, make no mistake," Rep. Barbara Lee of California said. "He founded and that catapulted into his campaign for the presidency."
The birther movement preceded Trump's raising it, but for years he popularized the issue, questioning the validity of Obama's birth certificate as late as the past year.
Ahead of the Congressional Black Caucus Foundation holding its annual policy agenda conference, the gathered officials echoed a popular sentiment that Hillary Clinton should have not have walked back her comments that half of Donald Trump's supporters fit into "a basket of deplorables."

Congressional Black Caucus PAC Chairman Rep. Gregory Meeks, referenced the issue while talking about Trump's conduct. "That's what is was — deplorable."
Rep. Hakeem Jeffries called Trump a "two-bit racial arsonist who for decades has done nothing but fan the flames of bigotry and hatred" and said that his "leadership" in the birther movement was "nothing more than a fraud designed to appeal to "the racists, bigots and xenophobes who wanted to delegitimize the first black president of the United States of America."
The black lawmakers demanded an apology from Trump, called for him to drop out of the race, and used the opportunity to encourage Americans to get out the vote. But they stressed that birtherism was not just about Barack Obama's citizenship, but a dog whistle questioning the legitimacy and dignity of black Americans and people of color.
Georgia Rep. Hank Johnson said that Trump had used to the issue to was going to continue to fuel his candidacy. Rep. Charles B. Rangel of New York said the issue was a calculated strategy, saying it sent "a signal out that he's not a citizen to remind Americans to know that his father and his ancestors were from Africa — reminding them that in their minds you have to be a European American in order to become president."
"No one can challenge that when Donald Trump put out the word that he has reason to believe that this black president was not a citizen, that he [didn't] know at the time that he was."
Meeks had the final word Friday. In recent days, he came under fire for saying on CNN that "deplorables attract deplorables" and that not all Trump's supporters are deplorable "but some are." Closing, he used the phrase again and again urging people to get out and vote for Clinton.