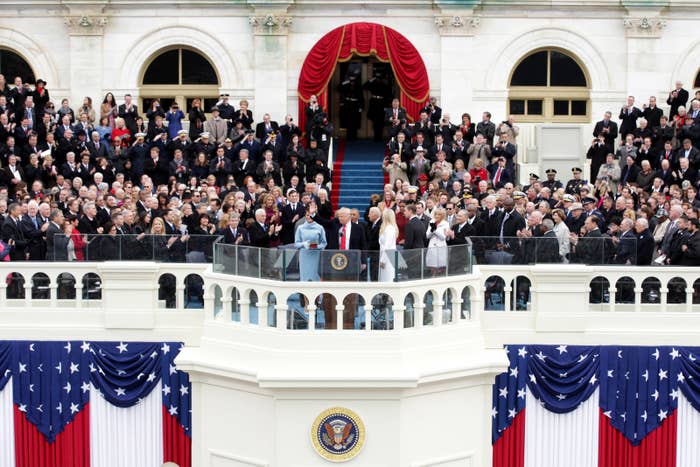 WASHINGTON — A third of House Democrats chose to boycott President Trump's inauguration, but many members of the Congressional Black Caucus showed up anyway, saying they did so out of a sense of duty and to see the peaceful transfer of power.
For many, it was not an easy decision to attend: over the past few weeks, various CBC members have voiced their opposition to Trump publicly. When Trump attacked Rep. John Lewis, one of the CBC's most beloved members and a civil rights icon, it led even more members to consider whether to boycott the festivities. Members were borderline despondent about marking a new era, in which the CBC — an influential and mostly-Democratic body in Congress — will now have to contend with Trump in the White House.
The decision of the group's chairman, Louisiana Rep. Cedric Richmond, to attend was significant. On Thursday, he announced his intention to attend the inauguration as a way to mark "the peaceful transfer of power from one of the greatest, most underappreciated presidents in the modern era to Donald Trump." Richmond said he'll work to educate Trump on issues affecting black communities, but said he found Trump's address lacking.
"I thought it was petty and beneath the office of the presidency of the United States," he said.
Texas Rep. Eddie Bernice Johnson said she attended because she felt it her civic duty, even as she disagreed with President Trump's characterization of the state of America. Asked what she thought of Trump's speech, she said "nothing" and turned away.
"I wish for the best and I'll work to see if we can get the best out of him. But it's the American way, it's how we elect our president whether you're for or against."
Missouri Rep. Emanuel Cleaver said he thought Trump should have thanked the Obamas for their service, or at least acknowledged them for the "grace and dignity" they brought to the presidency. (Trump did thank the Obamas for their "gracious" help in the transition process).
"Most people come to the inauguration hoping for soaring oratory that inspires," Cleaver said. "They come to hear a vision of what's to come and learn what their role is in that as a citizen," he said. "The crime-infested inner-cities, protect our borders—what they heard was a campaign speech."
Cleaver, a devoutly religious ordained pastor, was annoyed that Rev. Franklin Graham, who spoke Friday, had cast the rain that fell as Trump took centerstage as a sign and a blessing from God himself. "No student of theology would say that God just made it rain in tribute to you becoming president. Not only is that illogical and arrogance, but its theological ignorance."
New York Rep. Gregory Meeks said he felt let down by what is supposed to be a momentous occasion, with a speech that would go down in the annals of history.
"I feel worried for our nation and discouraged by just about everything I heard," he said. "To have someone who is the president of the United States who apparently thinks this is the worst country he's ever seen, I have no idea what direction we're going in and I've never seen an Inaugural address in my estimation that was so poor."
Meeks said he remained convinced that Trump's low approval ratings are accurate, and a reflection that he is wildly unpopular. "I think it means that there's already buyer's remorse."