Black Lawmakers And Their Staffers Split On Bernie Sanders
The generational divide in Democratic politics is exploding into public view these days. Last week, the Congressional Black Caucus PAC endorsed Hillary Clinton in a display of unity. Inside the CBC, there's less unity — some young staffers like Bernie, or don't like the attacks on him, or have questions about the Clintons.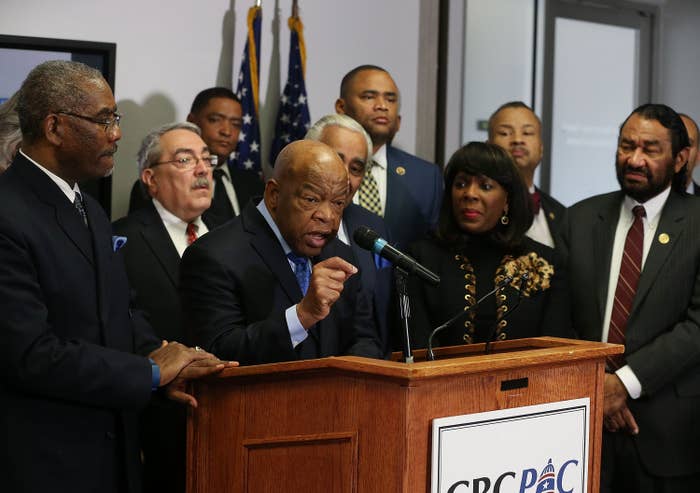 WASHINGTON — Rep. Maxine Waters had a question.
She emerged on Capitol Hill on Thursday, after the cameras had gone and the spectacle was finished. The Congressional Black Caucus PAC had just endorsed Hillary Clinton, and nearly two dozen members of the CBC had stood behind a lectern and extolled Clinton's many virtues, and criticized the plans and interests of Bernie Sanders. "Our goal and responsibility is to make sure they do their homework," one lawmaker had said of young voters enamored by the idea of "political revolution."
Waters, the California Democrat and Clinton supporter, did not participate — and apparently had not watched.
After the event, with her colleagues mostly gone, Waters walked out and wanted to know: Had her colleagues publicly chastised young voters for their naivete?
Some lawmakers had, onlookers told her. Her face dropped.
"You can't do that," she said. "That's why I can't stand behind them. Because I don't want my young people to think I think that way."
And off she went, flanked by an aide.
In recent weeks, Sanders has surged and Clinton has stumbled. Sanders is very popular with young voters, especially young white voters, and Clinton is less popular. And the generational tensions within the Democratic Party have burst into public, as party elders unleash their frustrations with the, for instance, young women voters not rallying behind Clinton.
Now that the primary is moving into more diverse states, the generational question is taking on new, added dimensions of race and racial politics. Even in Washington inside the Congressional Black Caucus, there is a generational divide, particularly between the lawmakers and their staffers.
The split between comes at a time of heightened tension. For months, the assumption has been that Sanders could never win over minority voters, but that tenet has frayed somewhat, bolstered by a cultural conversation online and in other places about Sanders, Clinton, and the past. Last week, the leftist intellectual Ta-Nehisi Coates and Michelle Alexander, both widely read black authors, wrote on the topic of Clinton vs. Sanders — and, particularly in the case of Alexander, found Clinton wanting.
On Capitol Hill, four staffers told BuzzFeed News that they had sent Coates and Alexander's essays to their bosses. The staffers feared a social media backlash from activists during the CBC PAC endorsement, which came one day after Alexander's essay was published. In her essay ("Why Hillary Clinton Doesn't Deserve the Black Vote"), Alexander criticizes the Clintons for the tough-on-crime, anti-welfare-state policies and politics they championed in the 1990s. The optics of so many CBC lawmakers endorsing Clinton together on the day after Alexander published her essay, the staffers felt, could create problems.
And Alexander's essay was particularly piercing, three CBC lawmakers told BuzzFeed News. One lawmaker told BuzzFeed News that people had flooded his email with the articles by Alexander and Coates. "And most of them were young people."
"I do think that there is a clear divide between the caucus and some of our constituents," the lawmaker said. "I think a lot of them are upset with us. I think they saw what happened with the president — and I am a big supporter of him and will defend him to the end — but I think a lot of them think that we sold ourselves too cheap, particularly our young people."
According to the lawmaker, it was clear that their young staffers and constituents wanted them to take the criticisms of Clinton seriously. "The younger generation has begun to look at us and they're asking the question, Is Hillary really on my side? When my brother was put in jail for marijuana under her husband? Welfare was taken away, and so forth."
This is not to say there is not vast support for Clinton among aides inside the CBC. "It has been frustrating to watch the level of discourse play out among people who clearly have no clue how government works, nor understand Congress's role, nor have any sense of historical context when it comes to our country 20 to 25 years ago," said a pro-Clinton aide, who works for a member also supporting Clinton.
But there is a growing sense among young CBC staffers that the attacks lobbed at Sanders are unseemly. In recent days, black lawmakers have called Sanders an "absentee" on issues important to black voters. On Wednesday — the day the endorsement was first reported — three aides said they had been asked to draft talking points for lawmakers on how to hit Sanders indirectly.
"It's not stately," a senior aide to a member of the CBC granted anonymity so that the aide could speak freely. "I'll kiss the ring of whoever my party nominates, but right now I'm with Bernie and I've seen the behind the scenes efforts to discredit and suppress him. It's not us and it's not the way we should be approaching this."
Said another aide, "I am pretty unconvinced that having [Clinton's] CBC surrogates blast Bernie is the right strategy."
Rep. Bennie Thompson of Mississippi said he was endorsing Clinton in part because he trusts her record of service. An early beneficiary of the Children's Defense Fund, Thompson came out for her early but said he understands why young people are gravitating to Sanders.
"I can see somebody in college staring at $75,000, $80,000 in debt would want to support Bernie Sanders," he said. "But I also understand that you've got to have a pragmatic approach to fixing the problem. I can identify with the problem, I just haven't heard the solution from Bernie Sanders."
That general idea — that Sanders hasn't been specific enough, or realistic enough, about what he plans to accomplish and how — has informed much of the CBC lawmakers' critique of Sanders. It's also informed a primary in which Clinton and Sanders often spend debates trading, respectively, granular policy proposals and progressive indictments of problems in the United States.
"Obviously Bernie is appealing" to voters, Rep. Elijah Cummings told BuzzFeed News. "To raise $6 million is nothing to sneeze at. And you're talking about people with a little bit of money. So he is appealing to a group of people who Hillary needs to pay attention to. While the polls show that she's got some of the black vote, those '$34' people probably fit into the same economic situation as many African Americans — and you still don't know how many of those are African American."
Cummings said while young black voters were excited about Obama's election, they also "found themselves in a situation where they lost a lot. It wasn't his fault, but they did during that period."
BuzzFeed News first reported Cummings was one of two member of the CBC PAC board who abstained from a vote on either Clinton or Sanders, because of his role on the select committee on Benghazi.
He told BuzzFeed News he believed that Sanders had pushed Clinton toward more progressive rhetoric after she lost in New Hampshire. "That's the best compliment," Cummings said.