Black Democrats Want To Know Why You're Not Standing Up For Maxine Waters
"A deafening silence."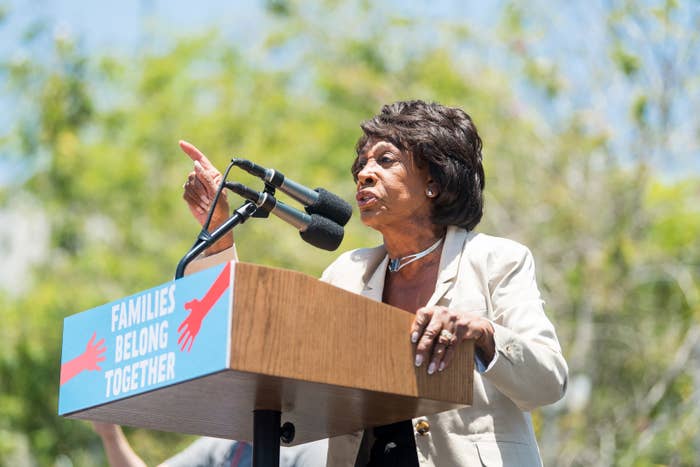 Top Democrats and lawmakers of the Congressional Black Caucus are questioning nonblack members of the House Democratic caucus who haven't stepped up to publicly defend Maxine Waters.

They are also stewing behind the scenes over public rebukes from House Minority Leader Nancy Pelosi and Senate Minority Leader Chuck Schumer, according to three sources familiar with internal conversations.
In particular, at least two black lawmakers were said to be angered by Pelosi's usage of the phrase "make America beautiful again" in her tweet on the subject.
Late last month, Waters encouraged people to confront and protest members of the Trump administration while speaking a rally against family separations at the border. "Let's make sure we show up wherever we have to show up. And if you see anybody from that Cabinet in a restaurant, in a department store, at a gasoline station, you get out and you create a crowd," she said. "And you push back on them. And you tell them they're not welcome anymore, anywhere."

The comments landed amid public confrontations of administration figures like Sarah Huckabee Sanders, and put Waters directly in the center of a complex national debate: What constitutes a peaceful protest? Civility? When, if ever, do the tenuous bounds of peace and disruption in protest veer off into harassment? And what aspects of these dynamics are racial?
Waters, the face of the Trump resistance, has gone through it since. In response to Waters, President Trump tweeted a response saying that Waters had called for "harm" to the "Make America Great Again movement," and followed it with a veiled threat. He's called Waters "an extraordinarily low IQ person"; a California district attorney, Michael Selyem, in a video called her a "loud-mouthed cunt," adding, "in the ghetto, you would think someone would have shot this bitch by now." A conservative watchdog group called for an investigation into her behavior and accused her of inciting "mob violence"; an Arizona Republican introduced a censure measure.
For black Democrats, though, vociferously defending Waters is not a political wager.
Melanie Campbell, chair of Sisters Lead, Sisters Vote and the National Convener of the Black Women's Roundtable, helped create a coalition that wrote to Pelosi and Schumer, expressing full support for Waters. The letter was first reported by CNN. Another letter in the same vein is either being drafted or in the process of being sent to House Speaker Paul Ryan, with signatories again voicing their full support for the California lawmaker, Campbell said.
"All she said was that [people] should use their first amendment rights," Campbell told BuzzFeed News. "There's nothing new about using your voice and speaking up so that they know how you feel. But if you didn't know what she meant after she clarified, all you'd have to do is look at her history. She's never advocated for violence."
The politics around Waters, and the ensuing civility debate, have been playing out in Massachusetts, where a black woman politician, Ayanna Pressley, is challenging incumbent Democratic Rep. Michael Capuano, who Waters has backed. The race highlights another part of the larger debate: What does the posture that you take against what the Trump administration says to your constituents, and about your opinion of the political moment?

"In the case of Congressman Capuano, this is one of those times that if Congresswoman Maxine Waters stands with you, you should stand with her," said Tiffany D. Cross, a political analyst and founder of the Beat DC, which focuses on people of color and issues of color in politics.
It's also why they were particularly irked by a report in the Boston Herald. Though Capuano told the Herald that constituents approached him — "I get talked to when I go shopping and when I go out to dinner. As long as people are respectful in their commentary, I don't mind it. That's part of being a public official" — the Herald described him as not seeing political value in confrontations as a political tactic.
"It would appear to be a one-way street of support," as it concerned Capuano, said Lauren Victoria Burke, a Democratic strategist, and political commentator.
She connected Capuano's lack of support to the "erroneous" decision of Pelosi and Schumer to alienate Waters, a national figure symbolic of the party's two biggest assets as she views them: the Trump resistance and black women. "One would have to ask Capuano to find out why that is, just as someone would have to ask why Pelosi and Schumer thought it was a good communications strategy to step out against Waters."
Symone Sanders, the Democratic political strategist and analyst called the lack of support for Waters from Capuano and nonblack members of the Democratic caucus "a deafening silence."
Responding to an email from BuzzFeed News for clarification on what was meant by not seeing political value in the confrontation, Capuano said through a spokesperson that he is "proud to stand with leaders like Maxine Waters, one of our nation's toughest fighters against inequality, and a champion of everything I believe in." He did not say, however, whether or not he agreed with the substance of Waters' comments, the ones about confronting Trump administration officials. He also did not say whether he didn't defend her from attacks because he believed, as Pelosi and Schumer did, that they deserved a reprimand.
"The most important fight right now is to stop Donald Trump's destructive policies, and I'm on the front lines, working to protect immigrant rights, health care, housing, civil rights, and more — the values that matter to the people of the 7th District," he said.
Pressley has aligned herself with Waters.

In a statement to BuzzFeed News, she said Waters should not be "dismissed," but rather "appreciated" for her statements about confronting Trump administration officials, which serve as "calling us to the task of direct action when necessary."
She echoed similar notes about her thoughts when humanity and dignity are under attack. Creating discomfort, she said, is a political necessity.
"I have no doubt that the activism and civil disobedience of Martin Luther King Jr., Dolores Huerta, and Claudette Colvin also made many uncomfortable," Pressley went on to tell BuzzFeed News. "That is both intentional and core to forcing hard conversations that create a more just and humane nation. Until the rights and dignity of all are recognized, these times cry out for more voices and our collective action."
Together, Capuano and Waters sit on the House Financial Services Committee. Capuano earned his endorsements being a good friend and advocate; Capitol Hill insiders say that Capuano is one of the members that black members of Congress can count on the most and that he knows how to move around Congress.
That was the biggest reason people gave for why the Congressional Black Caucus's political arm endorsed Capuano over Pressley, politically connected black Democrats in Washington say. But Waters took a hit on social media after endorsing Capuano, mostly from young people who did not like that Waters elected not to support a young black woman, at a time when women and people of color — especially black women — are trying to move from important constituency to positions of power.
But it's not clear if Capuano's public statements about civility annoyed Waters. It's also not known how much her colleagues' nonreaction to the fallout from her statements is playing with her, either. She also basks in the adoration of young politicos who seem, by and large, to be backing Pressley instead of Capuano — what of that, too? Calls from BuzzFeed News to Waters' office went unreturned.