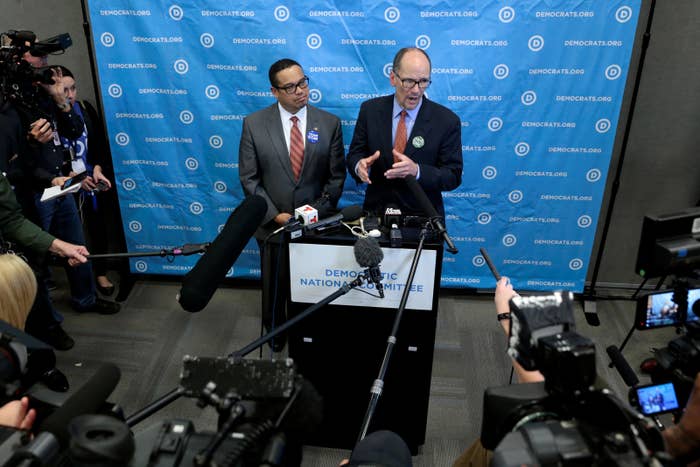 WASHINGTON — As the Democratic Party rebuilds after the 2016 election, a set of black-led political action committees has begun organizing as outside political groups, carving out their own lane for fundraising and their advocacy priorities — things black operatives say have been ignored by the major Democratic campaign committees.
By quickly moving to support black candidates, organize black donors, and lock into a tailored progressive agenda, though, the groups hope to create more leverage inside the party — akin to how EMILY's List, Planned Parenthood Action Fund, and NARAL function.
"There's always been this longing for more support," said Quentin James, a Democratic strategist behind one such group gaining traction, Collective PAC. "[The Democratic committees'] objective is not to elect black people to office. It's to elect Democrats. We have to build independent power outside of any party that prioritizes our values and issues as a community, and to do that I think you have to consider that the DNC is not the sole vehicle to create that pathway and progress."
Jessica Pierce, the national co-chair of Black Youth Project 100, said these new entities exist not just because of a lack of focus on disenfranchised communities and shared priorities — but because of an acknowledgement of the need to make changes at the infrastructure level, policy, staffing, and resources and that "essentially make us feel like we're included" with having to deliver tangibly with changes.
"It's like we're in a bad relationship," she said. "They say, 'Hey, we hear you, we're going to change.' Then they do worse. I think this moment is us finally saying, 'This is not working for us.'"
These outside, splintered groups come at a challenging time for the party: The 2016 primary posed ideological and political questions about the party's direction — how progressive its economic direction should be, what role money in politics should play, what kinds of candidates appeal to which kinds of voters — that remain unresolved. In the weeks after the election, media and some Democratic attention focused on white, working-class voters who voted for Donald Trump in once-Democratic strongholds like Wisconsin, and whether they should be the focus of new party efforts. That post-election emphasis irritated many black operatives; reduced black turnout in states like North Carolina and Michigan likely hurt Hillary Clinton, as well as the failure of the campaign to flip enough affluent white voters in states like Pennsylvania.
The DNC, under the new leadership of Tom Perez, has the slightly challenging task of unifying the various camps produced by the 2016 election. Even if opposing Trump, and doing so in lockstep, has become the driving issue of the early days of the new president's administration — the new groups reflect one way that post-election debate is shaking out.
Donna Brazile, the former chair, called the group's work "long overdue."
"The best way to leverage the increasingly strong clout within the Democratic Party is to build a network of donors to support candidates running for office or those outside the party's mainstream for additional resource allocations," she said in an email to BuzzFeed News.
Perez, asked about the new outside groups, struck the note of inclusion he has since his election to the position last month.
"For too long, the Democratic Party has told young people of color to take a seat at the table, sit down and shut up. That ends now," Perez said in an email to BuzzFeed News. "We need to weave their ideas, their energy, and their leadership into everything we do as a party."
"We talk a lot about millennials and people of color being the future of our party, but frankly that future is now," he said in an email to BuzzFeed News. "Across the country, young people of color are mobilizing to fight for Democratic values. Our job is to turn that energy into electoral success. And the only way we do that is by ensuring that our leadership reflects the communities we represent in every zip code."
The tensions do have a generational component: The new groups' ideology is derived, in many ways, from Black Lives Matter, whose politics, tactics, and decentralized movement confounded Democrats, including, at points, Hillary Clinton's campaign for president. Black Democrats in Washington support the groups, with leaders wary that Perez's vision sound all too familiar saying they the DNC should engage them early and often instead of only a few weeks before an election.
(Not all Democrats, though: "The reality of it is what they're doing ultimately is a good thing, and I applaud them," said Jarvis Stewart, a veteran Washington-based communications strategist. "But I would simply caution that a tone that emphasizes race over a message about Democratic values alienates white voters they need to win, and it further plays into this notion of identity politics that the Democrats are trying to get away from.")
The groups are prepared to deal with dissatisfaction. Higher Heights is organizing 1 million black women, to create a donor base and consolidate their economic and voting power. Groups like Black PAC and Power PAC are organizing black voters of just election years, organizing voters around issues related to the economy, criminal justice and voting rights. Collective PAC aims to identify, recruit, and support progressive black candidates at every level of government. And after a series of fits and starts during the campaign, a collection of organizers and strategists, led by the strategist Jessica Byrd of Three Point Strategies, are engaging to fix a dilemma in Washington: how to increase the political heft of — and coordination with — Black Lives Matter.
"There's a coordinated effort to organize black money to get behind candidates and political initiatives, and if the DNC doesn't follow through with these commitments, I can see these groups becoming stronger and black donors will start giving primarily to outside groups," said James, of Collective PAC. "When that happens you have a much more leverage for demanding change."
On a recent evening in Georgetown, inside a boardroom, Justin Fairfax, a candidate for Lt. Governor in Virginia, spoke quietly about his candidacy, giving a stump speech about his background for a collection of young lawyers.
James doesn't believe that it's fair that pressure has been put on the DNC to be this beacon of diversity and building political power for people of color. Perez could certainly make worthwhile changes, he said, but he and others are unsure if they will be to the level that donors, black political strategists, and activists want. In this shift, James and his wife, Stefanie Brown James, are a major part of a band of political action committees whose sole mission to elect black candidates.
"No one thinks of going to the DNC and saying, 'This is the primary place where we go to elect pro-choice women," said Quentin James. "They go to EMILY's List or the Planned Parenthood Action Fund."
To some Democrats, Perez represented the kind of establishment-backed candidate averse to change.
Strategist Jamal Simmons said the Democratic Party is going to have to get accustomed to a level of discomfort — like. increased transparency in processes, and attracting new grassroots candidates that may not seem viable in Washington.
"These groups have to be brought to the table or else the [rebuild] won't be considered legitimate," Simmons said. "That's the kind of shifting that the establishment is going to have to accept — that it's not going to be congressional leadership making these decisions on its own."
Collective PAC has a lofty goal: It's already working behind the scenes to ready black gubernatorial candidates in Florida, Georgia, and Maryland.
"It's a really galvanizing moment for all of these groups to exist," said Kimberly Allen-Peeler, the co-founder of Higher Heights. "People are like, 'Aren't you guys in competition?' Really for us to get to where we need to be in elected representation we need, like, 20 Black PACs, and [nonprofit organizations] doing this work because there's just so much to be done."
"We're at the point that we know it's up to us to mobilize our voters," she said. "We can't rely on parties or other groups to necessarily do that in a way that's going to be really impactful for our community."