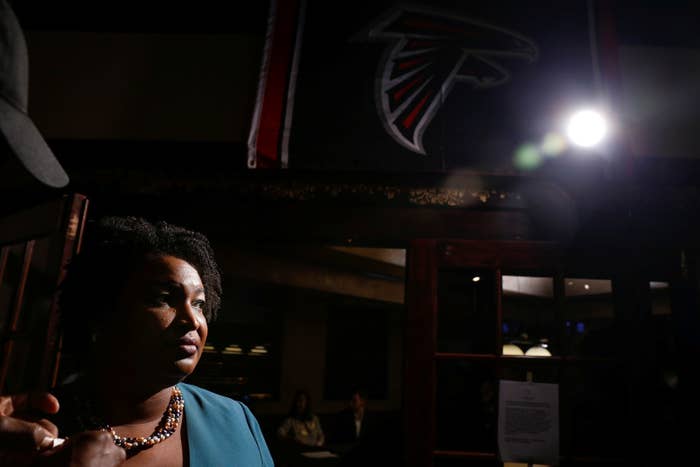 Last year, Atlanta's mayoral race became a contentious, fraught, racially tense contest between two women, one white and one black.

Now-mayor Keisha Lance Bottoms used her conversational style and laid-back demeanor to reduce her opponent to an avatar onto which supporters' could project their own racial anxieties.
Bottoms accused Mary Norwood, her opponent, of trying to portray her as an "angry black woman." She once questioned her intentions behind her use of the word "thug" and called her "tone deaf" on issues of race — and, perhaps of most consequence, characterized her as an apologist for Donald Trump.
Black people all over the state believe Trump has rekindled racial tensions and sparked an upward trend of everyday racism. And while it's impossible to tell if Bottoms' pointed racial critiques, and characterization of Norwood as out of step with the needs of Atlantans and with the city's culture, were a performance, they worked: BuzzFeed News interviewed nearly two-dozen young black women who said they were motivated to vote for Bottoms out of a righteous anger they'd never experienced as voters. Others said they felt obligated to protect the decades-long tradition of black leadership representation at the top levels of city government.
But in a development perplexing national Democrats who have descended on the state, some young black women in Georgia just don't feel the same way — certainly not the same passion — about Tuesday's primary race for governor.
The stakes are obvious: Georgia Democrats could elect the nation's first black woman to be her party's nominee for governor in Stacey Abrams. That alone would be an electoral testament to effective grassroots-level outreach that prioritized mobilizing young voters and voters of color in hopes they'd be energized by the historic nature of her candidacy. And regardless of who wins, either Stacey Evans and Stacey Abrams will need to perform well with young black women to win in November.
Here in Georgia, some young black women have been drawn to Evans' message vowing to bring back a merit-based scholarship — which national education policy experts and a recent study by the Georgia Budget & Policy Institute say mostly benefits white and more affluent families.
These voters are everywhere you go: They are leaning the way of either Abrams or Evans, but not 100% sure. They are wanting to hear more of what Evans has to say before they make a final decision. They saw Abrams on TV, but liked what "white Stacey" is saying about HOPE scholarships. They are voting for Abrams, but had at one point or another considered casting a ballot for Evans.
The same voters who felt that a vote for Bottoms was helping to preserve a cultural legacy are relatively indifferent in this governor's race. Bottoms — with her political profile as a God-fearing, devoted professional who is also a wife and mother — has become a popular figure in Georgia, especially among young, working-class, professional black women. Meanwhile, Norwood was caricatured in political circles as a closeted Republican, a racist being used as a tool of the black political elite.
"I mean, of course I voted for Keisha," said Jessica Tindal, a young restaurant manager. She added that she was definitely going to vote, but that she was going to research the candidates and come to her own conclusion before Tuesday's primary. She and a friend, a pre-K teacher, acknowledged that the stakes this month don't feel as visceral. Asked what she had done to help Bottoms, Tindal didn't flinch. "I told all my people, 'So, this is who you're voting for.'" She was only nominally familiar with Abrams' candidacy.
But Tindal, who lives in DeKalb County but says she'd prefer to live in Gwinnett, is more concerned about inequality in education across the state for her son, Amari. "Why can't I choose any county to live in, get the education my child needs to be the best person he can be? Any county and any place in this state, our children getting the same shot as anyone else." Where she felt Norwood represented a step back no matter what, she now feels that either Abrams and Evans could win her vote. It's her intelligent, curious, willing reader whose future is on the line, after all. "I have seen her billboard, and this is no knock against her," she said, insinuating she was unmoved by Abrams' blackness after seeing her in Facebook ads, too. "I'm absolutely going to vote, but my question is, 'What can both of y'all do for us?'
"I want somebody that's real, authentic, [and] transparent."
There's a real difference in terms of how black women, in particular, are looking at the respective candidacies of Keisha Lance Bottoms and Stacey Abrams, said Dr. Jason Johnson, a professor of political science at Morgan State University and frequent commentator who has written extensively on the race, critically about what he feels is biased coverage by Georgia's political press corps. "It's almost night and day," he said. "People in [the runoff] thought they were facing a threat, not the least of which was decades of the city being run by black folks being ended by a white woman...and a Republican at that.
"So people's response was, 'We can't let that happen.' But [Abrams] doesn't have that [advantage]. There are people who clearly want her to win that just don't see Evans as being an existential or a symbolic threat."
Not only does the opportunity to leverage Evans as a danger to black Georgians not exist, using race as a political cudgel is not in Abrams' style. (Bottoms strongly expressed her support at the time of Evans' endorsement last year, but there has not yet been an official endorsement as mayor.) A former colleague of Abrams, who asked that their name be withheld to speak openly about racial dynamics, told BuzzFeed News that Abrams is infamously comfortable with her limitations and hyper-aware of how notions of race, gender, and perception play into her effectiveness to lead. "I will condemn anyone who turns this into a racial conversation," Abrams said about the race, when late last year a protest of Evans by mostly black demonstrators broke out at Netroots in Atlanta. "But I will never condemn a person for speaking [out] or for protest."

Johnson and others have in the past few days referred informally to a set of focus groups centered on black voters' feelings on the governor's primary. Johnson said that some of the conversations veered off into how race is playing out in Georgia on an everyday basis, and how Trump has emboldened racist whites. The facilitator in one group "had to work to keep them on topic," said Johnson.

Those observations jibe with the findings of a large-sample, multistate poll conducted by BlackPAC, first highlighted by the Atlantic. It found that black voters almost uniformly believe Trump is a racist and that, as a result, everyday racism in the US is on the rise. The poll also found that issues of equality, identity, and racial justice are just as important as the core Democratic message (bad news for people who want "identity politics" to take a backseat to the economy, health care, or the environment).
Adrianne Shropshire said in a written statement that resistance was on the mind of voters, who are taking 2018 seriously. "They see racism on the rise and believe our economy isn't working for them," she said. "They are paying close attention to the news, and discussing what is happening in the country with their families, friends, and coworkers."
Could a lack of an emotional cause be a problem for Abrams at the polls Tuesday, or in November? Even if it is, Abrams' reaction to what she calls Evans' false, misleading attacks is to assume an air of positivity — even when she's using negative language accusing Evans of trying to scare young families.
Abrams' campaign has not invited emotion, though, choosing instead to focus on the issues, on how black voters can help make history in America. This was on full display when BuzzFeed News was invited to knock doors in a lower-income community accompanied by one of Abrams' most talented organizers.

Marijuana smoke wafted out of an apartment where a man who saw Abrams' face on a placard remembered her from TV, but had no plan to vote. At another door, three adorable children were more enthusiastic than their dad, who had been doing work around the house.
The lengthiest conversation was with a young woman who came to the door, showing interest by stepping out a bit. They discussed her plan to expand pre-K, increase access to good-paying jobs, and make fixes to the state's criminal justice system. She was nodding. Would she think about volunteering? "Um, yes," the young woman replied, saying she's leaning toward the Democrat. "Because my grandma always told me about [the importance of] being a Democrat."
"Smart lady," the organizer replied, smiling now. "So do you know—"
"But I'm gonna look into it," she said, looking down at a picture of Abrams. "I have to read it and, you know…"
Afterward, it seemed, surely, they had secured a vote for Abrams, right?
"Well, she said she was leaning Democrat," the organizer said reluctantly, before marking the voter as undecided.
Had she been marking a lot of undecided voters lately?
"Yeah, it's…" and then her voice trailed off. There were more doors to knock.